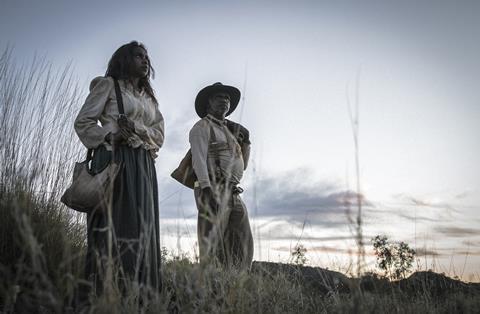 Warwick Thornton's Sweet Country has been named Best Feature Film at the 11th Asia Pacific Screen Awards (APSAs), which took place today (Nov 23) in Brisbane, Australia.
The drama, which is set in Australia in the 1920s and follows an aboriginal farmhand who goes on the run after shooting a white man in self-defence, premiered at Venice Film Festival this year and also played in Toronto, London and Busan.
The win means Thornton has become the first director to have two films win the prize. He is also the only Australian director to win in the category.
Thornton was joined at the ceremony by his producers David Jowsey and Greer Simpkin.
Elsewhere, Andrey Zvyagintsev took the night's Achievement in Directing prize for Loveless, while Feras Fayyad's Last Men In Aleppo won Best Documentary and Mayank Tewari and Amit V Masurkar jointly won Best Screenplay for Newton.
The Best Actor prize went to Rajkummar Rao for Newton and the Best Actress award went to Nata Murvanidze for Georgian-Estonian feature Scary Mother.
Full list of winners:
BEST FEATURE FILM
WINNER: Sweet Country (Warwick Thornton)
BEST YOUTH FEATURE FILM
WINNER: The Seen and Unseen (Kamila Andini)
BEST ANIMATED FEATURE FILM
WINNER: Window Horses: The Poetic Persian Epiphany of Rosie Ming (Ann Marie Fleming)
BEST DOCUMENTARY FEATURE FILM
WINNER: Last Men in Aleppo (Feras Fayyad)
Special Mention: Kim Dotcom: Caught in the Web (Annie Goldson)
ACHIEVEMENT IN DIRECTING
WINNER: Andrey Zvyagintsev for Loveless (Nelyubov)
BEST SCREENPLAY
WINNER: Mayank Tewari, Amit Masurkar for Newton

ACHIEVEMENT IN CINEMATOGRAPHY
WINNER: Pyotr Dukhovskoy, Timofey Lobov for The Bottomless Bag (Meshok Bez Dna)
BEST PERFORMANCE BY AN ACTRESS
WINNER: Nata Murvanidze for Scary Mother (Sashishi Deda)
BEST PERFORMANCE BY AN ACTOR
WINNER: Rajkummar Rao for Newton
Special Mention: Navid Mohammadzadeh for No Date, No Signature (Bedoune Tarikh, Bedoune Emza)
CULTURAL DIVERSITY AWARD UNDER THE PATRONAGE OF UNESCO
WINNER: Dede (Mariam Khatchvani)
Special Mention: Lady of the Lake (Haobam Paban Kumar)
FIAPF AWARD
WINNER: Bianca Balbuena
YOUNG CINEMA AWARD
WINNER: Ilgar Najaf for Pomegranate Orchard (Nar Baği)
ARTISTIC ACKNOWLEDGEMENT
WINNER: Abbas Kiarostami for 24 Frames