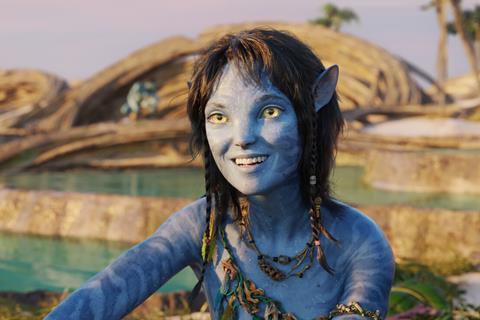 Avatar: The Way Of Water has become the highest grossing release of the pandemic era in France and Italy and is confirmed as the top international release of 2022 after soaring past $800m.
Now on $1.17bn worldwide following a $67.9m global take on Thursday, Disney/Lightstorm's tentpole added $47.9m from international markets to overtake Maverick's $770m and settle on $810.6m.
Latest running totals put James Cameron's action fantasy sequel at $81.6m in France and $27.1m in Italy. Medusa's migrant crisis comedy Tolo Tolo earned $52.2m in 2020 according to Box Office Mojo, however it opened in January and earned some $50m of its final tally within that month, prior to the onset of the pandemic era.
Besides France and Italy Avatar: The Way Of Water ranks as the highest release of 2022 in Germany on $57.5m and Spain on $24.6m.
Despite fierce winter storms across parts of the US and Canada Avatar: The Way Of Water produced the highest-grossing Thursday of the year, adding $20m for a $358m running total. The film has recorded the highest Tuesday, Wednesday and Thursday of the year.
China is the highest grossing territory outside the US for Avatar: The Way Of Water on $115.8m, below expectations due to Covid-19 surges. South Korea has produced $61.6m, the UK $45.1m, India $43.8m, Mexico $32.7m, Australia $29.5m, Brazil $21.6m, and Indonesia $14.3m.
Top Gun: Maverick remains the highest grossing global release on $1.4bn and the second highest of the pandemic era behind Sony's 2021 behemoth Spider-Man: No Way Home on $1.9bn.
Avatar: The Way Of Water has earned close to $300m worldwide over this week's Monday to Thursday period and heads into a third weekend with little competition, putting it on course to surpass Maverick's global haul as early as Sunday or Monday. It is expected to cross $400m in North America by the start of next week.