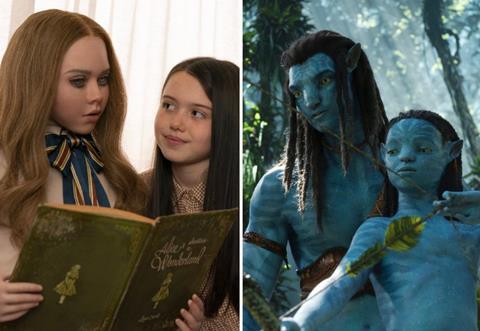 World box office January 13-15
| | | | | | | |
| --- | --- | --- | --- | --- | --- | --- |
| Rank | Film (distributor) | 3-day (world) | Cume (world) | 3-day (int'l) | Cume (int'l) | Territories |
| 1. | Avatar: The Way Of Water (Disney) | $119.7m | $1.9bn | $88.6m | $1.34bn | 53 |
| 2. | M3GAN (Universal) | $33.4m | $90.7m | $15.4m | $34.2m | 65 |
| 3. | Puss In Boots: The Last Wish (Universal) | $33.2m | $247.4m | $19.8m | $141.1m | 78 |
| 4. | A Man Called Otto (Sony) | $17.1m | $33.4m | $4.4m | $14.5m | 31 |
| 5. | Plane (various) | $11.1m | $11.1m | $1.1m | $1.1m | 7 |
| 6. | Operation Fortune: Ruse de Garre (various) | $9.9m | $19.7m | $9.9m | $19.7m | 47 |
| 7. | The First Slam Dunk (various) | $6.7m | $66.1m | $6.7m | $66.1m | 3 |
| 8. | Better Man (Dir: Zhang) (various) | $5.1m | $33.9m | $5.1m | $33.9m | 1 |
| 9. | Whitney Houston: I Wanna Dance With Somebody (Sony) | $4.6m | $49m | $3.4m | $27.1m | 47 |
| 10. | House Party (Warner Bros) | $3.9m | $3.9m | N/A | N/A | 1 |
Credit: Comscore, click top right to expand. All figures are estimates.
'Avatar 2' adds $120m in powerful fifth weekend
Disney's Avatar: The Way Of Water continues to connect with audiences in its fifth week of play, adding another estimated $180m over the past seven days, and boosting its total from $1.71bn a week ago to $1.89bn. The film is now closing in on Spider-Man: No Way Home – which, with $1.92bn, ranks seventh in the all-time global box office chart.
Disney estimates $31.1m for The Way Of Water at the weekend in North America, and $38.5m including the Martin Luther King holiday Monday. For international, the weekend estimate is $88.6m – combining with North America to deliver a $119.7m session.
The film dropped just 32% in North America and 36% in international markets. Respective totals are $563m and $1.33bn.
The Way Of Water is now one of the top five films of all time in major markets Germany and Brazil, and one of the top three US titles of all time in France and Italy.
Regionally, it's about to become the third-biggest film of all time in Europe – if Russia (where The Way Of Water is not released) is excluded from consideration.
The film enjoyed another strong hold in China, declining just 29% there, and overtaking Fast & Furious 9 to become the biggest US studio title of the pandemic era – with a Chinese total of $211.8m.
In the international territory table for the film, France is behind China with $120.5m, followed by Germany ($106.9m), South Korea ($92.7m) and UK/Ireland ($76.8m). Next come India ($56.7m), Australia ($50.9m), Mexico ($48.8m), Spain ($43.7m), Italy ($43.1m), Brazil ($36.8m) and Japan ($26.0m).
Takings on IMAX screens have now reached $212m (and an estimated $214m including Martin Luther King day) – making the Avatar sequel the third-biggest film of all time for the format.
Premium and 3D formats continue to dominate in international markets, accounting for 70% of box office receipts for the film in Europe, 74% in Asia-Pacific, and 54% in Latin America.
The Way Of Water is chasing the $2.74bn achieved by the original 2010 release of Avatar, or $2.92bn if the various rereleases are included.
International expansion boosts 'M3GAN'
The expansion of M3GAN into 30 new international markets (up from 34 to 64) plus solid holds have helped Universal's sci-fi horror achieve an estimated $33.4m for its third week of release, and $90.7m in total.
Universal estimates that the film is in line with horror hits Smile, The Black Phone and The Invisible Man, at the same point in the same international markets.
M3GAN dropped 41% in North America and 34% in holdover international territories.
Among newly opened markets, UK/Ireland led with an estimated $3.0m, the second-biggest horror opening of the pandemic era (behind only A Quiet Place Part II), excluding previews.
Germany opened with an estimated $1.5m – above Smile, The Black Phone and The Invisible Man, while Australia began with a four-day $1.3m.
In cumulative totals, Mexico leads the international pack with $6.5m, ahead of France on $3.2m – both benefiting from three weekends of play on the title. UK/Ireland is already right behind France, after only one session.
Word of mouth will now determine how far M3GAN gets to. In the pandemic era, The Black Phone reached $161.4m, Nope $171.2m and Smile $216.1m. A Quiet Place Part II, which had the benefit of being an already-established film property, achieved $297.4m.
Future key markets for M3GAN are Brazil (this week), South Korea (January 25) and Japan (June 9).
'Puss In Boots 2' closes in on $250m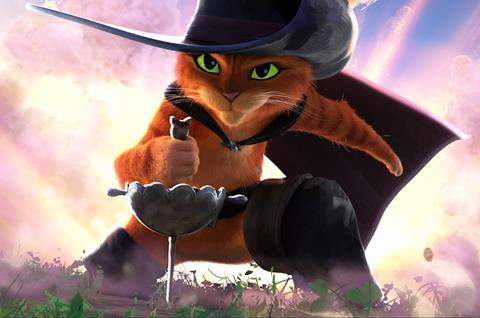 With no new territory openings, it was strong holds – for both domestic and international – that saw Universal's release of DreamWorks Animation's Puss In Boots: The Last Wish achieve another solid session.
The sequel to Shrek spinoff Puss In Boots grossed an estimated $19.8m from 77 international territories (down 23%) plus an estimated $13.1m in North America (not including the Martin Luther King holiday, and down just 1%). Totals are respectively, $141.1m and $106.4m, combining for $247.4m worldwide.
Cumulatively, top foreign territory is France, with $15.5m – and where the film benefits from six weeks of release so far. Next are Mexico ($13.1m after four weeks), Germany ($10.7m after four weeks), Australia ($8.6m in three weeks), Spain ($6.6m in four weeks) and Italy ($5.6m in six weeks).
The Last Wish is chasing a $555.0m total achieved by the original Puss In Boots in 2011 ($149.3m in North America and $405.7m for international), and is now 45% of the way to reaching that target.
For the pandemic era, The Last Wish ranks fifth among animated titles from US studios, behind Minions: The Rise Of Gru ($939.6m), Sing 2 ($408.4m), Encanto ($256.8m) and The Bad Guys ($250.2m). It has already overtaken Lightyear ($226.4m).
Future key markets are UK/Ireland on February 3 and Japan on March 17.
Also for Universal, TÁR began its international rollout, landing in UK/Ireland with an estimated $486,000 from 134 cinemas. The worldwide total including North America is $6.3m.
'A Man Called Otto' powered by US expansion
During awards season, many an adult-skewing drama comes unstuck when it expands from limited to wide release in North America, and that has proved especially true in the pandemic era. But Sony's release of A Man Called Otto is bucking the trend.
The comedy-drama – an English-language remake of Oscar-nominated Swedish hit A Man Called Ove – expanded from 637 to 3,802 theatres in the domestic market, delivering an estimated $12.6m for the three-day weekend (up 199%), and $15.0m including the Monday holiday.
For international, the Tom Hanks starrer expanded from 10 early markets to 30, grossing an estimated $4.4m – down just 26% in holdover territories.
Cumulative totals are $18.9m in North America and $14.5m for international, combining for $33.4m worldwide.
Although A Man Called Otto was initially mooted as an awards contender, the film has achieved very little traction with voting groups. But Sony has not needed to trumpet nominations to connect the film with audiences, instead selling the film's accessible premise, star Tom Hanks and the tagline "Fall in love with the grumpiest man in the world".
'Plane' takes off in North America with $10.0m
Lionsgate's Gerard Butler actioner Plane began with an estimated $10.0m for the weekend period in North America, and $11.6m including the Monday holiday. The film also landed in a few early international markets, grossing an estimated $1.1m.
The timing of the release may be deemed somewhat unlucky, given the crash on Sunday of the Yeti Airlines plan in Nepal, killing at least 68.
In Plane, Butler's pilot character takes off from Singapore to Tokyo, and is forced to make an emergency landing on an unknown island after severe weather including a lightning strike damages the plane. There he and the survivors face a hostile reception from the extremist militia that holds sway, and where the Philippines government has ceded control of the island.
Jean-François Richet (Mesrine, Assault On Precinct 13) directs, from a screenplay by JP Davis (The Contractor) and Charles Cumming. Producers include Butler, Marc Butan (Ad Astra) and Lorenzo di Bonaventura (Transformers series).