Fox's Far from the Madding Crowd narrowly edges out Universal's Unfriended as the week's highest new entry.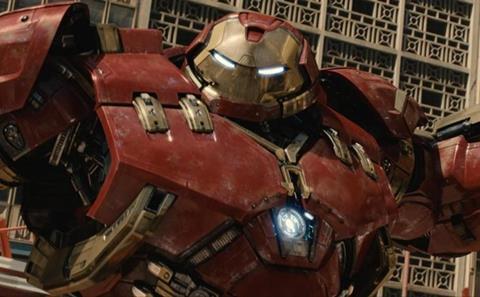 DISNEY
Having recorded the best-ever first seven days for Disney with $33.8m (£22.35m), Avengers: Age of Ultron continued its domination of the UK box office with a $13m (£8.6m) second weekend.
Disney's latest Marvel outing has now amassed a mighty $52.7m (£34.9m) as of Bank Holiday Monday [May 4] and will shortly overtake Iron Man 3's $55.3m (£36.5m) result as the second highest grossing Marvel outing of all time.
Avengers: Age of Ultron's target is the $78.4m (£51.9m) performance of Marvel's Avengers Assemble, which stood at $45.1m (£29.85m) at the end of its second weekend. Excluding Monday, Avengers: Age of Ultron had grossed $48.8m (£32.3m) at the same stage.
Also for Disney, Cinderella has now waltzed to $29.6m (£19.6m) following a $1m (£673,751) sixth weekend.
2015 TOTALS
Bolstered by the terrific run of Fast & Furious 7 and the record-breaking debut of Avengers: Age of Ultron, April saw takings of $172.7m (£114.1m) at the box office which is up 29.6% on April last year.
Overall, January 1-April 30 saw takings of $633.4m (£418.8m), up 11.2% on the same period last year.
FOX
Far from the Madding Crowd was the week's highest new entry with a $2.2m (£1.43m) bow from its 525 sites.
Fox's adaptation of Thomas Hardy's classic novel added $602,000 (£397,984) on Monday to lift its gross to $2.8m (£1.8m) and looks well-set to prosper midweek due to its older-skewing audience.
Also for Fox, Home rounded off this week's top five with a $1.1m (£732,514) seventh weekend and an excellent running total of $33.5m (£22.1m).
UNIVERSAL
Matching its successful domestic bow, Unfriended logged into the UK box office with a strong $2m (£1.34m) debut from its 436 sites to chart third, enjoying the second strongest site average in the top ten in the process.
Universal's micro-budget horror is up to $2.6m (£1.7m) as of Monday and will hope that its healthy word-of-mouth and critical response will see it avoid the usual fast-burn nature of genre films at the box office.
Also for Universal, Fast & Furious 7 held well in its sixth weekend with $1.7m (£1.1m) for a current running total of $55.8m (£36.87m).
It will be overtaken by Avengers as the year's highest grossing film, but still has an outside shot at £40m.
EONE
Two by Two floated to $853,000 (£564,000) from its 428 sites on its UK bow through eOne, rising to $1.2m (£785,000) as of Monday.
Also for eOne, Child 44 posted a third weekend of $171,000 (£113,000) for $2m (£1.3m) to date, while The DUFF has reached $3m (£2m) after four weeks in play.
ENTERTAINMENT
Now in its fourth week of release, Entertainment's Woman in Gold grossed an extra $356,000 (£235,668) over the four-day weekend to lift its tally to a solid $3.6m (£2.4m).
PARAMOUNT
The SpongeBob Movie: Sponge Out of Water has now soaked up $11.9m (£7.85m) following a $307,000 (£203,000) sixth weekend through Paramount.
METRODOME
In its second weekend, Metrodome's The Falling added $105,000 (£69,515) from its 55 sites and has now grossed $483,000 (£319,456) to date.
CURZON FILM WORLD
Force Majeure is edging towards to the £500k mark in the UK after taking a further $74,000 (£49,024) for $694,000 (£459,124) to date through Curzon Film World.
Also for Curzon Film World, A Pigeon Sat on a Branch Reflecting on Existence posted a minimal drop on its way to a $45,000 (£29,591) second weekend for $143,000 (£94,876) so far.
VERTIGO FILMS
Monsters: Dark Continent got off to a soft start with a UK debut of $53,000 (£35,024), including previews, from its 101 sites.
Vertigo Films' sequel is up to $66,000 (£43,790) as of Monday, still well short of the $527,000 (£348,577) bow from 164 sites of Monsters.
UPCOMING RELEASES
This week sees saturation releases for Entertainment's The Age of Adaline, Paramount's Top Five, Pinewood Pictures' Spooks: The Greater Good (opens April 30) and eOne's Big Game.
Soda Pictures' Phoenix receives a wide release, while Kaleidoscope's A Funny Kind of Love, The Works' Rosewater and StudioCanal's Girlhood are among the films receiving a limited release.