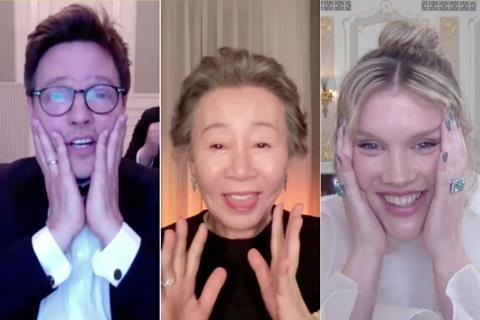 The main 2021 Bafta ceremony took place online on April 11; but that didn't prevent various winners from taking centre stage with their speeches.
The British national character emerged as a recurrent theme, with Thomas Vinterberg, winner of best film not in the English language, joking, "I did have a small suspicion that you Brits might like a film about drinking."
There was further amusement from Minari's best supporting actress Yuh-jung Youn, who was grateful to be "especially recognised by British people, known as very snobbish people; and they approve me as a good actress so I'm very privileged and happy." Alongside her slightly lost-in-translation compliment, she also expressed condolences for the death of Prince Philip, the Duke of Edinburgh on Friday.
Vinterberg also gave a touching tribute to his late daughter Ida, who died in a car crash in 2019. "She was more enthusiastic about this project than anyone else has ever been. It made her miss her hometown Copenhagen and now we miss her, and we made this movie for her so the honour granted by you, Bafta voters, means more to us than you can ever imagine."
"I'm French as you can hear, but in my heart I'm English," was the reaction of Florian Zeller to his best adapted screenplay win for The Father. "It has been a real honour to work in your country which is really the country of theatre; when I started dreaming about making this film it was clear to me it had to be a British film."
Accepting original screenplay and outstanding British film from a decadent London hotel room, Emerald Fennell thanked her cast and the film's US producers FilmNation Entertainment and Focus Features, plus UK firm LuckyChap Entertainment. "I only have this chocolate Bafta which has melted in my hand because my palms are so sweaty," she laughed.
In her press conference following the latter win, she reinforced recent calls for greater childcare support in the industry. "Anything we can do to help cast and crew members with childcare would make a huge difference," said Fennell. "The hours are so long – it's impossible to have a young family and also work in this industry."
Three of Fennell's fellow producers on the film – FilmNation's Ben Browning and Ashley Fox, and Lucky Chap's Josey McNamara – also tuned in to accept the second prize. Browning has recently been hired as head of content at Archewell Productions, the production arm of the Duke and Duchess of Sussex's company; but gave "no comment" in response to questions about his new role.
Love and light
One of the most impressive speeches of the night came from the youngest winner – 19-year-old Rising Star awardee Bukky Bakray. Following what looked like genuine shock at the result, the Rocks lead composed herself to thank God; her friends and family – several of whom were present with her; and her Rocks collaborators. She also offered a touching tribute to several people who have passed away recently, including US rapper DMX and Richard Okorogheye, the UK student found dead in Essex having been missing for two weeks.
"Sleep well to everyone else who has died last year and this year, who went to bed infinitely. I truly believe it is the love and light which you have left on this universe which is holding us all today," said Bukray.
With four awards, Nomadland got more moments in the spotlight than any other film. Cornwall native Joshua James Richards quoted the Morrissey line used in the film – "Home: is it just a word or is it something you carry with you?" – while best director and best film winner Chloé Zhao raised another of the film's themes – age. "How we treat our elders says a lot about who we are as a society and we need to do better," she remarked.
The film's other winner, best actress Frances McDormand, was notable by her absence, with presenter Richard E. Grant quipping that her brief acceptance speech was sent "by carrier pigeon" from "somewhere in the wilds of North America."
Her male counterpart, best actor Anthony Hopkins, also missed the main ceremony; having just returned to his native Wales from his home in the US, he was "very jet-lagged and didn't think he would win", according to The Father's UK distributor Lionsgate.
Hopkins confirmed this when appearing in the press conference later, and revealed he had been indulging in another art form when the awards were given out.
"I'm sitting here painting – I'm covered in paint, look [Hopkins showed his hands to the camera] – and I heard this cheer go up from next door. 'What the hell's happened?' - I thought somebody was watching a football match," he said. "I haven't seen the programme yet, but I wish all the nominees and winners congratulations,"