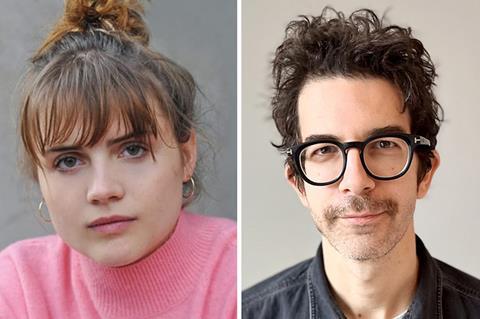 UK sales outfit Bankside Films has boarded worldwide sales on director Ido Fluk's feature Köln 75, that tells the little-known story of one of the best-selling jazz records of all time, US pianist Keith Jarrett's 1975 Köln Concert, and how one maverick German teenager was instrumental in its creation.
The film meets teenager Vera Brandes while she is still in high school and starts producing and promoting music concerts in Cologne, and risks everything to put on what will become Jarrett's legendary show.
German star of And Tomorrow The Entire World and Skin Deep Mala Emde plays Brandes and Showing Up and The Big Short US actor John Magaro is in the role of Jarrett.
The cast is rounded out by German stars Alexander Scheer, Ulrich Tukur, Jördis Triebel, Jan Bülow, Leo Meier, Shirin Eissa, Marie-Lou Sellem and Susanne Wolff.
It is produced by Sol Bondy and Fred Burle of Berlin-based One Two Films, who most recently produced Ali Abbasi's Cannes title Holy Spider. Oren Moverman of Sight Unseen Pictures and The Tale writer-director Jennifer Fox serve as executive producers. Stephen Kelliher and Sophie Green executive produce for Bankside.
The title is in pre-production and will shoot this year in Poland and Germany. Bankside will launch sales at the upcoming EFM. Alamode Film hold the distribution rights for German-speaking Europe and also serve as co-producers.
With backing from the Polish Film Institute in place, Ewa Puszczyńska of Extreme Emotions co-produces, as well as Annegret Weitkämper-Krug of Germany's Gretchenfilm.
Israeli-born, US-based filmmaker Fluk's 2011 debut feature Never Too Late is billed as the first Israeli crowd-sourced film ever made. His further credits include 2016 Tribeca premiere The Ticket. In the works he has 24 Hours In June, a re-telling of the final day in the life of Ethel and Julius Rosenberg, US citizens who were convicted of spying on behalf of the Soviet Union and is set to be produced by James Schamus and Joe Piro. He is also developing the recently-announced HBO series Empty Mansions for director Joe Wright and Fremantle.
"From the moment I heard Vera's story, about how as a high school teenager she organised one of the greatest concerts in history, I knew her story had to be told," said Fluk.
"We were immediately exhilarated by Vera Brandes' remarkable story. Her strength, courage and sheer belief in herself and the music of Keith Jarrett will entertain and inspire audiences around the world," added Kelliher.