US actor starred in 120 episodes of hit superhero series.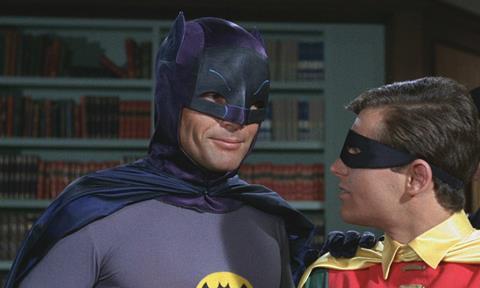 US actor Adam West has died at the age of 88.
Fondly remembered as the star of hit 1960s TV series Batman [pictured], West received acclaim for his portrayal of the caped crusader alongside co-star Burt Ward, who played his sidekick Robin.
Prior to a three-year stint in the role beginning in 1966 - shooting 120 episodes as well as a theatrical film spin-off - West had parts in feature films including the Paul Newman-starring The Young Philadelphians and sci-fi Robinson Crusoe On Mars.
After Batman, he struggled to carve a different niche for himself in the entertainment industry, but more recently returned to prominence as a voice actor on long-running Fox animated comedy series Family Guy.
West, birth name William West Anderson, died in Los Angeles on Friday night after a battle with leukaemia, a spokesperson confirmed on an official Facebook page.
The statement read:
"It's with great sadness that we are sharing this news…Adam West passed away peacefully last night after a short but brave battle with leukemia. He was a beloved father, husband, grandfather, and great-grandfather. There are no words to describe how much we'll miss him. We know you'll miss him too and we want you to know how much your love and support meant to him throughout the years. Hug your loved ones today. - The West Family"
He is survived by his wife, six children, five grandchildren and two great-grandchildren.
Since the news was announced, tributes have been pouring in on social media channels.
Those include Hollywood icons such as Star Wars actor Mark Hamill, who posted a picture of himself with West on Twitter accompanied by the following text: "#AdamWest was such a wonderful actor & so kind, I'm so lucky to have worked w/ him & tell him how much he meant to me & millions of fans."
Jamie Lee Curtis posted on her Twitter account: "Holy heartbreak Batman. Adam West was a big part of my childhood. We were acquaintances in my adulthood. A wonderful man who will b missed."
Family Guy writer David Goodman added through his Twitter: "RIP Adam West. Great, sweet, nutty guy."