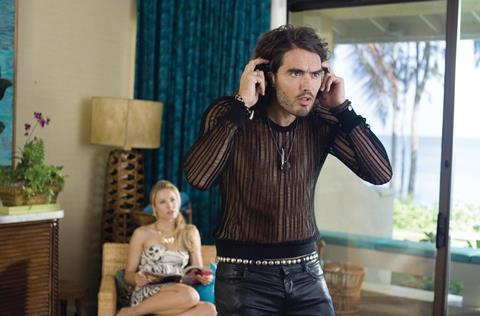 The BBC, Channel 4 and production company Banijay UK have launched investigations into the behavior of UK film and TV actor, TV and radio presenter and comedian Russell Brand while working on their programmes following accusations of rape, sexual assaults and emotional abuse by four women between 2006 and 2013.
The allegations were revealed in a joint investigation by The Times and Channel 4's 'Dispatches' programme.
Brand denies the allegations and says his relationships were "always consensual".
During this period Brand also starred in films including Arthur (2012), Get Him To The Greek (2010), Forgetting Sarah Marshall (2008) St Trinian's (2007) and was the subject of a documentary by Ondi Timoner called Brand, A Second Coming, that opened the SXSW festival in 2015.
The Times said one woman had made an allegation of rape, while another said Brand assaulted her when she was 16 and still at school. Two of the accusers reported the incidents occurred in Los Angeles.
Today, The Times said that more women have come forward with allegations about their treatment by Brand since the investigation was published over the weekend.
On Friday, before the allegations were published, Brand released a video online where he denied the allegations.
"Amidst this litany of astonishing rather baroque attacks, are some very serious allegations that I absolutely refute," Brand said.
"These allegations pertain to the time when I was working in the mainstream, when I was in the newspapers all the time, when I was in the movies. And as I've written about extensively in my books, I was very, very promiscuous," Brand said.
"Now, during that time of promiscuity, the relationships I had were absolutely always consensual."