EXCLUSVE: Geraldine Atlee and Eva Yates join from Film4.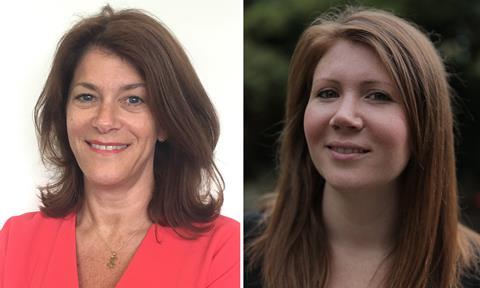 BBC Films has hired Geraldine Atlee as head of business affairs and Eva Yates as commissioning executive.
The duo both join from Film4, where Atlee was head of business affairs, scripted content and acquisitions, and Yates was creative executive. They will work closely with director of BBC Films, Rose Garnett, who joined in February, also from Film4.
Atlee (pictured top, left) will lead commercial rights and business affairs activities for BBC Films, working with the legal team comprised of Livy Sander, Helen Giles and Ruth Sanders.
She joined Film4 in 2011 to run the business affairs team, and previously worked at PolyGram Filmed Entertainment, Universal Pictures International, BBC Worldwide and the UK Film Council across film development, production and financing. Atlee returns to BBC Films, having served as legal and business affairs manager from 2003-2008.
Yates (top, right) will be responsible for developing relationships with new British talent including up-and-coming writers, directors and producers to seek out content for BBC Films' slate.
She had worked at Film4 since 2009 and managed new talent outreach since 2015, working across development and production for both shorts and feature films.
She is executive producer on Rungano Nyoni's I Am Not A Witch, Andrea Arnold's American Honey, Todd Haynes' Carol and upcoming London-set musical Been So Long starring Michaela Coel and Arinze Kene. Before Film4, Yates worked at the development fund at the UK Film Council and Revolution Films.
The roles were advertised on the BBC Careers site and were filling empty positions.
Rose Garnett said: "I'm thrilled Geraldine and Eva are coming to join BBC Films. They are both brilliant at what they do and their arrival is a sign of the ambition and dynamism of the department."
Atlee said: "I've loved my time at Channel 4, and will seriously miss the brilliant Film4 team. However, I'm delighted to be returning to BBC Films and to be getting the chance to work with Rose again, who is a true champion of independent British cinema."
Yates said: "Though I'm sad to be leaving Film4, this exciting moment of renewal at BBC Films is a great time to be joining Rose and her team, as we bring new talent and filmmakers to the heart of a slate which will represent British culture in all its forms."
Upcoming BBC Films projects include include Stephen Frears' Victoria and Abdul; Andy Serkis' directorial debut Breathe, which opens the BFI London Film Festival; Yardie, Idris Elba's directorial debut and Stan & Ollie starring Steve Coogan and John C. Reilly.