Movie adaptation of BBC teen magazine show Friday Download to begin shooting this week.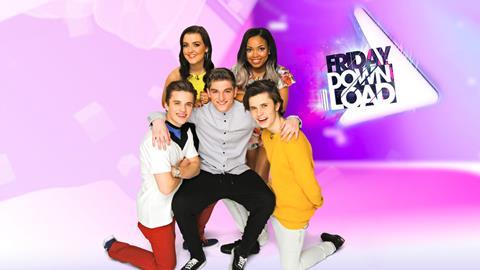 Friday Download, the BAFTA-winning kids TV show that begins its eighth series on CBBC in the UK next month, is to be adapted for the big screen.
The Friday Download Movie will begin a four-week shoot on Sept 6, primarily in Wales, in and around Swansea.
It will be directed by John Henderson (The Borrowers) and the script has been written by Toby Davies, who has penned British TV series such as Yonderland, Crackanory and Sorry I've Got No Head.
Producers are Pilot Media directors Jules Elvins and Dan Shepherd (Chalet Girl, Mr Nice), and Jeremy Salsby of Saltbeef TV, who created the show.
The film has been fully financed by Great Point Media, run by producers Jim Reeve and Robert Halmi Jnr.
International sales will be handled by Genesis Film Sales.
The TV series, which launched in 2011, is a weekly magazine show that features several segments (titled 'downloads'), most of which are fronted by a different presenter. Each download features information on subjects ranging from dance, style and music to gaming, film and TV.
The film will see the gang head off on a holiday, where they seem inexplicably drawn to Hill House, a creepy old mansion in the middle of nowhere.
The cast will include the current line-up of presenters: Dionne Bromfield, Richard Wisker, Shannon Flynn, George Sear and guest presenter Bobby Lockwood.
Also attached is actor and former Friday Download presenter Tyger Drew Honey, who has gone on to star in BBC comedies Cuckoo and Outnumbered, and Louisa Connolly-Burnham.
In addition, there will be cameo appearances from pop band The Vamps and Britain's Got Talent stars Bars and Melody.
In a joint statement, Elvins and Shepherd said: "Friday Download is a terrific brand and we have an excellent script, great cast and a first-class director attached.
"Friday Download targets a TV audience that is under-represented in the cinema and we hope to put that right."
Salsby added: "Turning a hit entertainment show into a big screen adventure has been really great fun and there seems to be a real appetite for a fun, funny and spooky movie for the demanding PG audience."