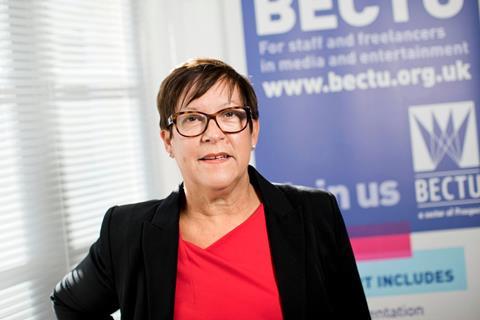 Bectu has appointed its first female head to succeed Gerry Morrissey, who is stepping down after more than 10 years at the helm of the broadcasting union.
Philippa Childs, a former national secretary at parent trade union Prospect, will oversee Bectu's five divisions: BBC, London production, regional production, independent broadcasting and arts and entertainment.
She takes up the role after Union Week concludes in mid-November.
"It's a huge honour to be head of Bectu, and I'm proud to be the first woman to hold the position," said Childs.
"I look forward to working alongside our members and reps to continue to fight for – and win – better working conditions for staff and freelancers in creative industries, through practical measures that make a real difference to their working lives."
A former civil servant, Childs joined Prospect in 2000, having previously worked for education and civil service unions.
Morrissey, who started his career as a catering buyer at the BBC, took up the role unopposed in 2007 following the death of previous head Roger Bolton.
In a note to members, Morrissey thanked the "members, reps, officials and staff who have supported me during my time as head of the union".
He said: "It's been an honour and a privilege to serve as Head of Bectu and I'm in no doubt that our union is heading in the right direction, with membership across the old Bectu divisions now exceeding 30,000 for the first time."
Morrissey urged members to give Childs "the same outstanding level of support" that he had been granted over the past decade.
This story first appeared on Screen's sister site Broadcast