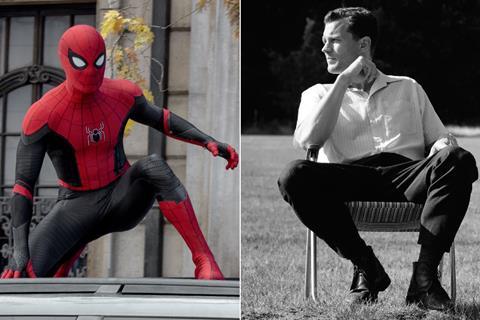 | | | | | |
| --- | --- | --- | --- | --- |
| Rank | Film (Distributor) | Three-day gross (Jan 21-23) | Total gross to date | Week |
| 1 | Spider-Man: No Way Home (Sony) | £2.3m | £87.4m | 6 |
| 2 | Belfast (Universal) | £2.2m | £2.3m | 1 |
| 3 | Scream (Paramount) | £1.3m | £4.8m | 2 |
| 4 | Nightmare Alley (Disney) | £549,831 | £549,831 | 1 |
| 5 | The King's Man (Disney) | £398,508 | £7.1m | 4 |
GBP to USD conversion rate: 1.35
Spider-Man: No Way Home held off the challenge of Belfast to top this UK-Ireland box office for a sixth consecutive weekend.
The Sony blockbuster grossed £2.3m from Friday to Sunday, a drop of just 27% on its previous session. It now has £87.4m in the territory – the seventh highest-grossing film of all time, and coming up fast on Avengers: Endgame's £88.7m.
Its sixth weekend total is ahead of the £2m taken at the same point by No Time To Die, keeping alive hopes that No Way Home could catch the £96.5m total of the latest James Bond film.
It has also equalled the six-weekend run atop the UK-Ireland charts of Joker from autumn 2019; and will look to challenge the eight consecutive weekends (10 weekends total) of Avatar from 2009/10.
Universal's Belfast opened with £2.2m, and was the number one film in 412 of its 705 locations. It also took the number one spot for Friday alone.
It was the eighth-widest release of all time in the territory and saw a location average of £3,121. It performed especially well in Northern Ireland and Ireland. The 102 cinemas playing the film there accounted for 20% of its total takings, from just 14.5% of its locations. 60% of that figure came from Northern Ireland alone, which accounted for just 29.4% of the total cinemas in that region.
Northern Ireland grossed £264,037 – 12% of the UK-Ireland total, from just 4.5% of the locations; at a far higher location average of £8,801.
Paramount's Scream dropped 49% on its opening session, with a £1.25m second weekend bringing it to £4.75m and third spot.
Guillermo del Toro's Nightmare Alley opened to £549,831 for Disney. Playing in 575 locations, it took an average of £956 per site.
Disney's The King's Man fell 38% on its previous session, with £389,508 bringing it to £7.1m from four weekends.
Figures are still to come for eOne's Clifford The Big Red Dog.
Encanto increase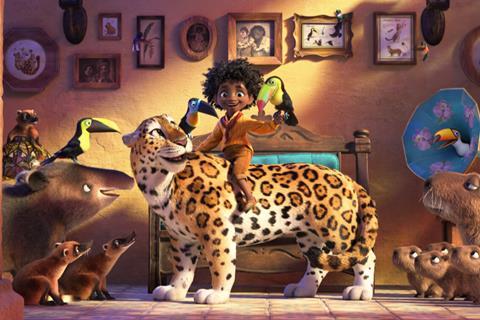 Encanto, another Disney title, was one of few films to go up this weekend, with a 1% increase of £223,671 bringing it just below £7.1m from nine sessions.
Licorice Pizza dropped 49.5% for Universal, with £198,977 taking it to just shy of £2m from three weekends.
After several steady weekends, Disney's West Side Story dropped 45%, with £198,132 taking it to almost £7.1m from seven sessions.
Warner Bros' slate continues to be led by The Matrix Resurrections, which fell 46.6% on its fifth weekend with £159,472 taking it to £7.3m.
Universal's House of Gucci added £102,887 – a 40.8% drop – and has £9.6m from nine sessions.
The 355, also from Universal, fell back 64%, with a third session of £58,142 bringing it to £854,524 from three weekends.
Sony's Ghostbusters: Afterlife added £58,000 and has £11.5m from a lengthy 10 weekends.
The studio also opened A Journal For Jordan to £51,000 from 195 locations, at an average of £262.
Playing on a single day on Sunday, Trafalgar Releasing's Jewels – Bolshoi Ballet 2022 took £47,316 from 136 sites at a £348 average, with 21 sites still to report.
Vertigo Releasing's Boiling Point took £46,830 on its third weekend – a drop of 36.3% on its previous session. It is now up to £305,864.
Sovereign Films' Memoria added £13,701 this weekend from select shows at 40 sites. It has £110,429 to date, with an additional 57 sites coming on board with select shows from this Friday.
Studiocanal's The Electrical Life of Louis Wain is closing out, with a fourth weekend of £8,224 bringing it to £398,365.
Joana Hadjithomas and Khalil Joreige's Berlinale 2021 title Memory Box opened to £6,705 from 10 sites, with £10,160 including previews. Distributor Modern Films also has Drive My Car in cinemas, which is now up to £141,997 with 20 locations this week.
Park Circus opened documentary Brian Wilson: Long Promised Road to £1,200 from 29 locations, with further sites adding on this week.