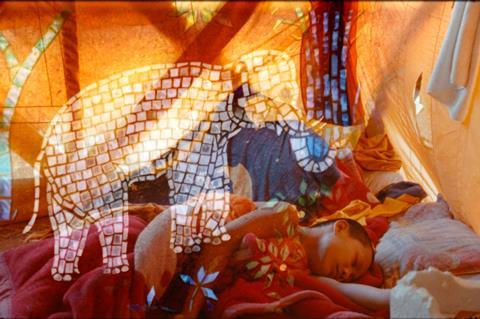 Spanish sales company Bendita Films has acquired international rights to Lois Patiño's third feature Samsara, which plays in the Berlinale's Encounters section
Samsara is a Sanskrit word referring to the cycle of birth, life, death and re-incarnation. Patiño's film travels from the temples of Laos to the beaches of Zanzibar, accompanying a soul in transit from one body to another.
Patiño's Red Moon Tide premiered in the Berlinale Forum in 2020 while Coast of Death won the best emerging director prize at Locarno in 2013. His short film The Sower Of Stars was Berlin's entry for the short film category at the European Film Awards last year.
Samsara is produced by Sr. & Sra., the San Sebastian-based outfit founded by Leire Apellániz and director Aritz Moreno. The production company is also behind Pablo Herrando's A Whale, scheduled for shooting in April.
"Lois is one of the most original voices in Spanish cinema, and we believe Samsara is his finest work to date. We are confident that it will haunt and surprise international art house audiences, and we can't wait to bring it to the market", said Bendita Films' Luis Renart.
Patiño's film draw on his experience of making creative documentaries and have a strong visual, poetic appeal. He describes Samsara as a "reflection on the relationship between the human being and the landscape, an anthropological interest focused especially on the mythical and spiritual or the will to take the viewer to an intimate and meditative experience."
Samsara's cinematography is by Jessica Sarah Rinland (Those That, At A Distance, Resemble Another) and Mauro Herce, a regular collaborator of Laxe and Patiño. The script is by the director and Garbiñe Ortega, who also executive produces.
Patiño belongs to a group of art house filmmakers known as "New Galician Cinema", which includes Oliver Laxe, the director of Fire Will Come, winner of the Un Certain Regard Jury Prize in 2019, and Mauro Herce, a cinematographer and director whose Dead Slow Ahead took the Special Jury Prize at 2015's Locarno Festival.
Bendita Films' slate at the Berlinale also includes Juan Sebastián Torales' debut film Almamula, which plays in Generation 14Plus, and other three movies at the market: David Kapac and Andrija Mardešić's The Uncle, Matías Bize's The Punishment, and Jonás Trueba's You Have To Come And See It.