The British star has been cast in the lead role of Universal Pictures and Illumination Entertainment's 2017 holiday season release.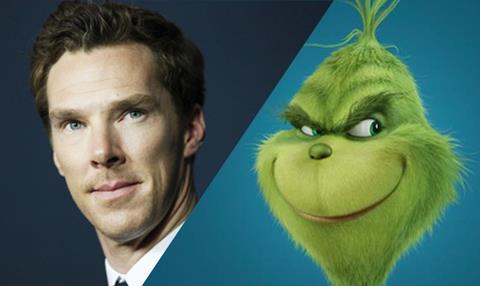 Pete Candeland and Yarrow Cheney will direct the children's film adapted from the Dr. Seuss book by Michael LeSieur.
Illumination head Chris Meledandri, who made the announcement during the Universal presentation at Cinemacon on Wednesday evening, will produce alongside Janet Healy and Scott Mosier. Audrey Geisel and Chris Renaud are executive producers.
Dr. Seuss' How The Grinch Stole Christmas is scheduled for November 10, 2017, and will mark the first cinematic return to the property since Jim Carrey starred in Universal's 2000 live-action version.
In other casting news, Meledandri revealed that South Park and Broadway smash The Book Of Mormon co-creator Trey Parker will voice the villain Balthazar Bratt in Despicable Me 3, set to open on June 30, 2017.
Bratt is an embittered former TV child star hell-bent on becoming the scourge of all those who mocked when he lost his TV show in the 1980s at the onset of puberty. The animation executive showed early tests of the character walking and dancing.
It also emerged that Steve Carell will voice the character of Dru, the warm, charming and long-lost twin brother to Gru.
Attendees at the Colosseum in Caesars Palace also got to see a new short, Mower Minions, that will screen with Illumination's July 8 release, The Secret Life Of Pets. Meledandri showed an unfinished ten-minute piece from the latter.
Universal Pictures chairman Donna Langley introduced Duncan Jones to cue up a teaser from June 10 online game adaptation Warcraft, on which the studio has partnered with Legendary.
Tate Taylor came on stage to present the first view of a trailer for The Girl On The Train, which stars Emily Blunt and will be the first release under Universal's deal with DreamWorks.
Ring announcer Michael Buffer brought his unique voice to the occasion when he took to the stage to welcome Kevin Hart, who arrived flanked by dancers to talk up his comedy tour film What Now? Hart also voices a character in The Secret Life Of Pets called Snowball.
Producer Frank Marshall turned up to promote Jason Bourne, and showed the first ever trailer of Matt Damon in action. The thriller opens on July 29.
Meledandri rounded out the session by introducing a 20-minute incomplete sequence from the December 21 release, Sing.