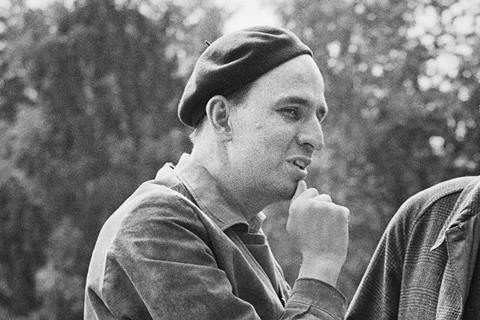 German filmmaker Margarethe von Trotta is directing a new feature documentary about Ingmar Bergman, which will premiere in 2018 as part of the Bergman centenary.
"When I was first asked to make a film about Ingmar Bergman, I wondered if there was anything left unsaid or unwritten about him," she said today at the Bergman 2018 launch in London. "It was hard to contemplate that I could add something important to his legacy. But it was Bergman who inspired me to become a filmmaker, so I was unable to resist this impossible task."
The filmmaker, who knew Bergman after he praised her film The German Sisters, continued, "This is my first documentary and I will take a very personal approach, not only my own reflections about his films which meant so much to me when I was younger, but also speaking to other directors who came to age under his influence."
She added, "In terms of his biography I will also speak about his exile, which is perhaps one aspect of his life not so well known outside of Germany." He spent nearly a decade in exile in Germany after being accused of tax evasion in Sweden.
Germany's C-Films and France's Mondex & Cie are producing von Trotta's Ingmar Bergman – Legacy Of A Defining Genius, with Cinema Management Group (CMG) handling international sales. The Ingmar Bergman Foundation and SF are backing the documentary.
There will be at least a further two more Bergman documentaries premiering in2018: Manuelle Blanc's Persona: Le film qui sauvé Bergman for ARTE in France, and an as yet untitled documentary directed by Henrike Sandner to be broadcast on Germany's 3-Sat.
A global celebration
This Bergman Jubilee, starting this month and continuing throughout 2018, will be the largest event devoted to a single filmmaker.
"The centenary will recognize all of Bergman's work and legacy," said Jan Holmberg, CEO of Ingmar Bergman Foundation. The celebrations will include film retrospectives; book launches; more than 50 theatre, music and dance productions, museum exhibitions; and new film and TV projects about or inspired by Bergman.
The Swedish Ministry of Culture has pledged additional funding for the various Swedish institutes and bodies working on Bergman 2018.
Among the global film screenings, BFI will host a Bergman major retrospective at BFI Southbank from January to March 2018.
Geoff Andrew, programmer at the BFI and curator of the retrospective said, "The BFI's last Bergman retrospective was in 2003, this time around it will be even bigger, it will include [his last film] Saraband, but more of those films seldom seen or little seen in the UK that were written by Bergman but directed by others."
Andrew continued, "100 years after his birth, Bergman still matters enormously…he changed the way people thought about the cinema."
The Swedish Film Institute has digitized and added subtitles to all of Bergman's 41 features as well as his 12 shorts and commercials. Swedish Film Institute CEO Anna Serner said, "Ingmar Bergman is the most significant Swedish filmmaker we have so far."
Serner noted that new government support will help for the heritage of Swedish films beyond Bergman's works. "The Swedish government has announced that preservation and accessibility of Swedish film heritage will become a permanent part of our work [at Swedish Film Institute]. All of our films from the Swedish film industry will be digitized and ill be accessible to all. It is a great opportunity to keep up the work we have started."
New films
The Swedish Film Institute is also backing six new short films inspired by Bergman, in a project called Bergman Revisited, including projects from Swedish directors such as Tomas Alfredson, Lisa Aschan and Pernilla August. Those films will premiere at the Goteborg Film Festival in January 2017.
Another project being readied in 2018 is the first major Bergman remake, a new version of 1973's Scenes From A Marriage created by In Treatment's Hagai Levi.
Swedish broadcaster SVT will broadcast Fanny and Alexander this Christmas season and then show a Bergman film every Friday night throughout the summer, in addition to other special projects.
The Bergman Centre on Faro also has special plans including a VR experience and an enhanced Bergman Week.
The plans were announced today at an event in London at the Swedish Ambassador's Residence.
Liv Ullmann remembers Bergman
Filmmaker and frequent Bergman collaborator and muse Liv Ullmann said at today's launch of the jubilee, "Ingmar's art cannot be summarized in a few words. I wouldn't even try. It cannot be summarised in an hour either, nor by he whole year of 2018. To celebrate Ingmar Bergman hundred years since he was born, no witnesses are present, we are celebrating his writing, his films, his theatre productions; all about human beings finding wisdom beyond knowledge. He created the possibility of love and unfulfilled love. The longing to come close to someone else and his deep understanding of those who failed in this."
She continued, "It was written when he died that his film were just long and dark night of the soul. It was not so, his films are about you and me, about finding wisdom by recognizing it in others, about striving to connect."
Bergman was born in Uppsala, Sweden on 14 July 1918 and died in 2007 at the age of 89.