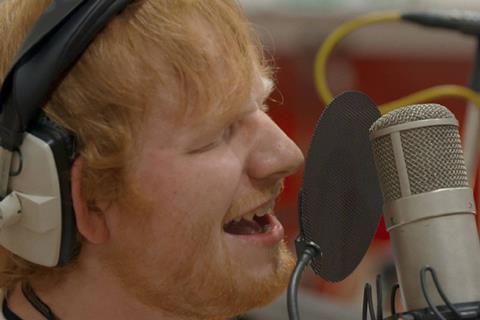 Erik Poppe's Anders Breivik drama 'U - July 22' has been added to the competition line-up for 2018 Berlin Film Festival, it was announced today (6 Feb) at the official programme press conference.
Dieter Kosslick, in his penultimate year as festival director, also revealed that the final Berlinale Special title will be Ed Sheeran documentary Songwriter, directed by Murray Cummings. Both films will have their world premieres in Berlin.
It was announced that Willem Dafoe, Beki Probst, Katriel Schory and Jiri Menzel will be honoured at the event, which runs from 15 Feb-25 Feb.
Dafoe, nominated for an Oscar this year for The Florida Project, will be presented with an Honorary Golden Bear on February 20 before a screening of Daniel Nettheim's 2011 film The Hunter. The festival will screen 10 of his films, including Antichrist, Mississipi Burning and Platoon. Dafoe served a member of the festival's International Jury in 2007.
Kosslick announced that the Berlinale Camera award, which pays tribute to personalities or institutions that have a made a unique contribution to film, will be presented to Beki Probst, President of the European Film Market (EFM), which launched 30 years ago at the Berlinale in 1988.
The other two Berlinale Cameras will go to Katriel Schory, head of the Israel Film Fund, and Czech actor-director Jiri Menzel.
International Jury members
In addition, the other members of this year's International Jury, headed by German filmmaker Tom Tykwer, were revealed today.
The director of Run Lola Run will be joined by the Belgian actress Cecile de France, Japanese composer Ryuichi Sakamoto, US critic Stephanie Zacharek, Moonlight producer Adele Romanski, and Spanish film historian Chema Prado.
Pattinson, Nighy, Daniels among guests
Robert Pattinson, Bill Nighy, Jeff Daniels, Tilda Swinton, Joaquin Phoenix, Isabelle Huppert are among the international guests who will present their films in Berlin.
During the press conference, Kosslick said there would not be a dress code for the Berlin red carpets. He said: "There has never been a dress code at Berlinale. "There has never been a dress code at the Berlinale. I am not telling a woman not to wear flat shoes or a man not to come wearing heels."
This could be a reference to the Cannes Film Festival controversy in 2015, when some women were turned away from a screening for not wearing high-heel shoes.
In an extensive statistical overview which also included a breakdown according to gender, the festival revealed that a total of 7,991 films were submitted for consideration in one of the festival sections (up from 7,421 in 2017) and 385 films were then selected for the festival programme (excluding the films in the LOLA@Berlinale section).
The number of screenings at the EFM has increased from 935 to 1,109 this year (including the 81 LOLA@Berlinale screenings).
Competition films:
3 Tage in Quiberon (3 Days in Quiberon) by Emily Atef (Germany / Austria / France)
7 Days in Entebbe by José Padilha (USA / United Kingdom) – Out of competition
Ága by Milko Lazarov (Bulgaria / Germany / France) – Out of competition
Ang Panahon ng Halimaw (Season of the Devil) by Lav Diaz (Philippines)
Black 47 by Lance Daly (Ireland / Luxembourg) – Out of competition
Damsel by David Zellner and Nathan Zellner (USA)
Don't Worry, He Won't Get Far on Foot by Gus Van Sant (USA)
Dovlatov by Alexey German Jr. (Russian Federation / Poland / Serbia)
Eldorado by Markus Imhoof (Switzerland / Germany) – Documentary, out of competition
Eva by Benoit Jacquot (France / Belgium)
Figlia mia (Daughter of Mine) by Laura Bispuri (Italy / Germany / Switzerland)
Las herederas (The Heiresses) by Marcelo Martinessi (Paraguay / Uruguay / Germany / Brazil / Norway / France) - First Feature
In den Gängen (In the Aisles) by Thomas Stuber (Germany)
Isle of Dogs by Wes Anderson (United Kingdom / Germany) – Animation
Khook (Pig) by Mani Haghighi (Iran)
Mein Bruder heißt Robert und ist ein Idiot (My Brother's Name is Robert and He is an Idiot) by Philip Gröning (Germany / France / Switzerland)
Museo (Museum) by Alonso Ruizpalacios (Mexico)
La prière (The Prayer) by Cédric Kahn (France)
Toppen av ingenting (The Real Estate) by Måns Månsson and Axel Petersén (Sweden / United Kingdom)
Touch Me Not by Adina Pintilie (Romania / Germany / Czech Republic / Bulgaria / France) - First Feature
Transit by Christian Petzold (Germany / France)
Twarz (Mug) by Małgorzata Szumowska (Poland)
Unsane by Steven Soderbergh (USA) – Out of competition
Utøya 22. juli (U - July 22) by Erik Poppe (Norway)
Berlinale Special films:
AMERICA Land of the FreeKS by Ulli Lommel (Germany / USA) – Documentary Form
The Bookshop by Isabel Coixet (Spain / United Kingdom / Germany)
Gurrumul by Paul Williams (Australia) – Documentary, debut film
The Happy Prince by Rupert Everett (Germany / Belgium / Italy)
The Interpreter by Martin Šulík (Slovak Republic / Czech Republic / Austria)
Monster Hunt 2 by Raman Hui (People's Republic of China / Hong Kong, China)
RYŪICHI SAKAMOTO: async AT THE PARK AVENUE ARMORY by Stephen Nomura Schible (USA / Japan) – Documentary
Das schweigende Klassenzimmer (The Silent Revolution) by Lars Kraume (Germany)
Songwriter by Murray Cummings (United Kingdom) - Documentary
Unga Astrid (Becoming Astrid) by Pernille Fischer Christensen (Sweden / Germany / Denmark)
Usedom – Der freie Blick aufs Meer by Heinz Brinkmann (Germany) – Documentary
Viaje a los Pueblos Fumigados (A Journey to the Fumigated Towns) by Fernando Solanas (Argentina) - Documentary
Berlinale Special - Berlinale Series:
Bad Banks - Director: Christian Schwochow - Head writer: Oliver Kienle, based on a concept by Lisa Blumenberg (Germany / Luxembourg)
Heimebane (Home Ground) - Creator: Johan Fasting - Director: Arild Andresen (Norway)
Liberty - Creator: Asger Leth - Director: Mikael Marcimain (Denmark)
The Looming Tower - Creators: Dan Futterman, Alex Gibney, Lawrence Wright - Director: Alex Gibney - Written by Dan Futterman, based on the book by Lawrence Wright (USA)
Picnic at Hanging Rock - Director: Larysa Kondracki (episodes 1-3) - Written by Beatrix Christian, Alice Addison (Australia)
Sleeping Bears - Creator and director: Keren Margalit (Israel)
The Terror - Showrunners: David Kajganich and Soo Hugh - Director: Edward Berger (episodes 1-3), (USA)