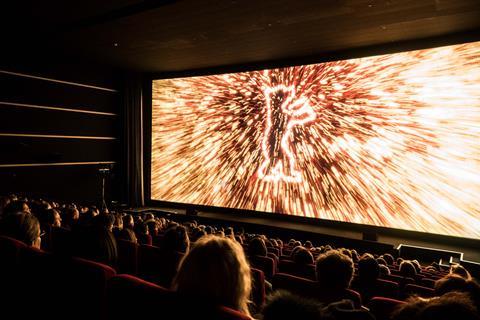 Ticket sales for the ongoing Berlinale are already up 70% on last year's Covid-impacted edition but has yet to match figures from 2020.
The festival reported that 267,000 tickets have already been sold during its 73rd edition, which opened on February 16 with the world premiere of Rebecca Miller's She Came To Me and runs until February 26.
This is up more than 70% on the 156,472 tickets sold for the entire festival in 2022, when seating capacity was reduced to 50% due to Covid-19 restrictions.
"We're very pleased to see that the cinemas are at full capacity, that audiences are once again able to experience cinema together and that the festival is once again a place for exciting experiences, inspiring encounters and vivacious exchange," said Berlinale co-directors Mariette Rissenbeek and Carlo Chatrian in a joint statement.
With five days remaining, organisers will hope to approach the 330,681 tickets sold for the 70th edition in 2020 – the last before the pandemic sparked a near-global lockdown.
In 2021, the festival did not take place in its usual February slot but a Summer Special event saw 57,962 tickets sold for 130 films (in 2020, the Berlinale screened 341 films).
Today's ticket update also reported that new Berlinale venue Verti Music Hall has been "very well-received by audiences" and that screening attendance by industry and press is also "very high" at an average of 90%.
On Sunday, the final day of the festival, there will be encore screenings for audiences. The Berlinale Publikumstag (public day) will see numerous festival films from various sections repeated at Berlinale venues.