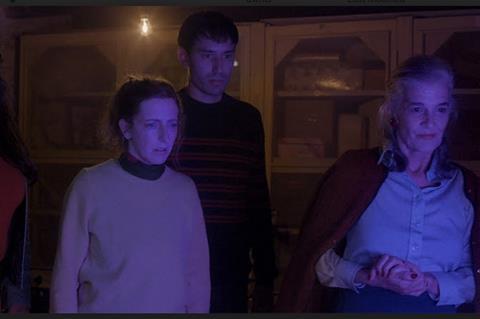 Berlinale Teddy winner Brief Story From The Green Planet is among the selection at 2019 Outfest Los Angeles LGBTQ Film Festival, set to run from July 18-28.
The festival will feature 28 world premieres across features, short films and special events, including Rodrigo Bellott's Tu Me Manques inspired by his hit play from Bolivia, and Elegance Bratton's documentary Pier Kids, which follows the queer and trans POC youth who gather at New York City's Christopher Street pier.
The roster includes Megan Rossman's The Archivettes, a profile of New York's Lesbian Herstory Archives, and Molly Hewitt's Holy Trinity, an absurdist comedy featuring members of Chicago's queer artist community.
International and North American premieres include Graham Kolbeins' Queer Japan; Kai Kreuser's Label Me, about the power struggle in a relationship between a Syrian refugee and a German man; and Australian filmmaker Samuel Van Grinsven's Sequin In A Blue Room, about a teenager on a dangerous quest to find the stranger with whom he had a memorable encounter.
Sundance hit To The Stars featuring Malin Åkerman, Tony Hale, and Adelaide Clemens, SXSW award-winners Saint Frances and The Garden Left Behind, and Berlinale selection A Dog Barking At The Moon will also screen.
The event includes the third annual Trans Summit with keynote speaker Angelica Ross from FX's Pose, as well as 'Crazy Queer Asians', a panel on the future of Asian LGBTQ representation in media. 'Scream Queen! My Nightmare on Elm Street' offers a sneak preview of the documentary in which Mark Patton (the first male scream queen) gathers cast and crew from A Nightmare On Elm Street 2: Freddy's Revenge to re-evaluate its legacy and queer aesthetic. Patton, Robert Englund and additional cast from A Nightmare on Elm Street 2 will attend.
Women, people of colour, and trans filmmakers directed more than two-thirds of the selections from 33 countries. As previously announced the festival will open with Rachel Mason's documentary Circus Of Books on July 28, and closes with Hannah Pearl Utt's family comedy Before You Know It featuring Judith Light, Alec Baldwin, and Mandy Patinkin.
"As my tenure comes to an end I am most proud of Outfest's increased visibility in Hollywood and our ever-growing stature within the industry," said Outfest executive director Christopher Racster. "For the second year in a row, more than two-thirds of Outfest Los Angeles' content is directed by women, people of color and trans filmmakers. Our communities have long been advocating for this inclusion. A remarkable filmmaker like Nisha Ganatra, our Achievement Award recipient, should have so many more features to her credit, in the two decades that have elapsed between her award-winning first film and her current box-office smash Late Night. Outfest Los Angeles continues to shine a spotlight on those stories we must see and those creatives whose voices we need to hear."
For full details click here.