The Berlinale is to reduce the number of films across its official selection for its February 2021 edition as a result of restrictions on cinemas during the pandemic.
Speaking on a panel of European winter festival directors during the latest ScreenDaily Talks, Berlin International Film Festival executive director Mariette Rissenbeek revealed submissions of features for were up 5% on last year but that Covid-19 safety rules would impact the number of titles they would select.
The full ScreenDaily Talks session is available to watch above. The panel was made possible with the support of the European Regional Development Fund and Enterprise Estonia.
"Cinemas are only allowed to take about 45-50% of seating capacity in screening rooms so we'll have to reduce the number of films a little in each of the sections to ensure we can repeat the films more often," said Rissenbeek.
"We also need more time between screenings to make sure the audience can exit and enter the room without crossing paths, so you'll have less screenings per day for some cinemas."
She added the 71st edition of the festival, set to take place as a physical event form February 11-21, 2021, may retain the usual number of titles in the official competition and Encounters sections, "but it will be less in total, for sure".
Discussing the European Film Market (EFM), which runs alongside the festival and has already been confirmed to take place as a hybrid event, Rissenbeek said: "EFM, an event which works with a lot of international guests, has to adapt itself majorly to the new conditions, travel regulations and restrictions. That is a part of our event which will certainly be in a very different shape."
Collaboration with cinemas
In the latest edition of the ScreenDaily Talks series that explored how Europe's winter film festivals are navigating the pandemic, Rissenbeek was joined by Tiina Lokk, director of Tallinn Black Nights Film Festival; Vanja Kaludjercic, director of International Film Festival Rotterdam (IFFR); and Marge Liiske, director of Industry@Tallinn & Baltic Event.
At a time when many festivals are shifting online or including virtual screenings into their offering, Kaludjercic stressed the need to get audiences back into cinemas and the potential to collaborate with theatres going forward.
"Cinema is essential for us festivals, we cannot go on without cinemas," said Kaludjercic, whose first edition as IFFR director will be in February. "When cinemas reopen, we have to find ways to collaborate more and contribute in bringing the audience back in.
"If we can collaborate even more throughout the year, beyond our regular festival experience, it's potentially a way to help cinemas and diversify their programmes… We'll have to mobilise together with cinemas to help create campaigns for audiences to return."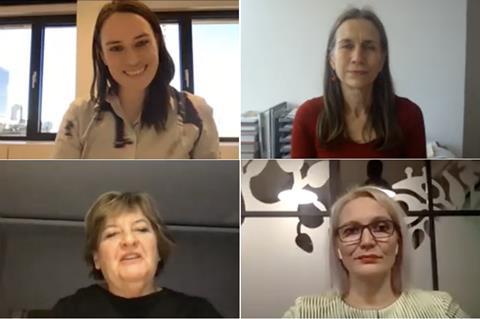 Kaludjercic recently revealed details to Screen of the Covid-era redesign for IFFR's 50th anniversary, which will extend its run from February to June 2021.
Lokk, who launched a physical edition of Tallinn Black Nights last Friday, said: "The pandemic situation has changed people's habits and traditions so much. They're becoming used to staying at home, watching films online…
"Now, they are buying one ticket for online and are watching with at least with two people… so we are rapidly losing money. If this situation continues, we could lose audiences in cinemas and will have to work hard to get them back."
But, from an industry standpoint, Liiske highlighted the benefits of moving online, revealing that Tallinn's industry platform has 850 participants from 60 countries this year – up from 617 from 54 countries in 2019, as a result of participants not having to make the journey to Estonia.
"As we know, industry is 800 people in the same room, talking loudly, partying and is absolutely the worst case for an event in closed rooms," said Liiske. "Therefore, even though our hearts were bleeding, we decided that we would include everybody [by moving online] and not exclude those who couldn't travel.
"It was our aim to include more territories and more people so we're happy. At the same time, I think online fatigue is definitely there but our platform will remain open [after the event ends]."
Safety measures
Looking ahead to the Berlinale, Rissenbeek said that individual temperature checks – as seen at the widely-praised Venice Film Festival – would not be practical for such large audiences.
However, she added: "We have a social distancing concept – wearing masks, 1.5 metre distance, making sure people wash their hands very often, this kind of thing."
In Estonia, measures such as mask-wearing were introduced on the eve of Black Night's opening, which led to some audience members using "not the most beautiful words when asked to put on a mask," according to Lokk.
"But now everything is ok," she added of how audiences have adapted. "For me, philosophically, it's very important right now to run the festival. I do hope that I can run it successfully to the end because it's a sign to society that… we don't have to hide ourselves under a blanket and think about Covid. We need to learn to live with this Covid."