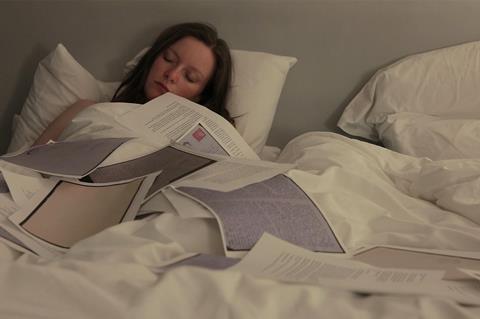 This year's Forum programme at the Berlin Film Festival (Feb 7-17) will feature 39 films, including 31 world premieres.
The Forum brings together challenging and thought-provoking filmmaking that brings together film with visual art, theatre and literature.
Highlights include a Super 8 silent vision of Elfriede Jelinek's ghost novel 'Die Kinder der Toten' in a film of the same name by Kelly Copper and Pavol Liska, Ghassan Salhab's "essayistic collage" An Open Rose for which the filmmaker has used the letters from prison by Polish Marxist Rosa Luxembourg, and the documentary Landless, the feature debut of Brazilian filmmaker Camila Freitas, who looks at how soil can be farmed more ecologically viablly and the struggles of Brazil's Landless Workers' M0vement.
Berlinale Forum line-up
African Mirror by Mischa Hedinger, Switzerland – WP
Aidiyet (Belonging) by Burak Çevik, Turkey / Canada / France – WP
Bait by Mark Jenkin, United Kingdom – WP
Breathless Animals by Lei Lei, United States – WP
Chão (Landless) by Camila Freitas, Brazil – WP
Chun nuan hua kai (From Tomorrow on, I Will) by Ivan Marković, Wu Linfeng, Germany / People's Republic of China / Serbia – WP
Demons by Daniel Hui, Singapore
El despertar de las hormigas (Hormigas) by Antonella Sudasassi Furniss, Costa Rica / Spain – WP
Erde (Earth) by Nikolaus Geyrhalter, Austria – WP
Fern von uns (Far from Us) by Verena Kuri, Laura Bierbrauer, Argentina – WP
Fortschritt im Tal der Ahnungslosen (Progress in the Valley of the People Who Don't Know) by Florian Kunert, Germany – WP
Fourteen by Dan Sallitt, United States – WP
Fukuoka by Zhang Lu, Republic of Korea – WP
Heimat ist ein Raum aus Zeit (Heimat Is A Space in Time) by Thomas Heise, Germany / Austria – WP
Kameni govornici (The Stone Speakers) by Igor Drljača, Canada / Bosnia and Herzegovina – IP
Kimi no tori wa utaeru (And Your Bird Can Sing) by Sho Miyake, Japan – IP
Die Kinder der Toten by Kelly Copper, Pavol Liska, Austria – WP
Lapü by César Alejandro Jaimes, Juan Pablo Polanco, Colombia
Malchik russkiy (A Russian Youth) by Alexander Zolotukhin, Russian Federation – WP
Man you (Vanishing Days) by Zhu Xin, People`s Republic of China
Monștri. (Monsters.) by Marius Olteanu, Romania – WP
Mother, I Am Suffocating. This Is My Last Film About You. by Lemohang Jeremiah Mosese, Lesotho – WP
MS Slavic 7 by Sofia Bohdanowicz, Deragh Campbell, Canada – WP
Nasht (Leakage) by Suzan Iravanian, Iran / Czech Republic – WP
Ne croyez surtout pas que je hurle (Just Don't Think I'll Scream) by Frank Beauvais, France – WP
Nos défaites (Our Defeats) by Jean-Gabriel Périot, France – WP
Olanda by Bernd Schoch, Germany – WP
Oufsaiyed Elkhortoum (Khartoum Offside) by Marwa Zein, Sudan / Norway / Denmark – WP
The Plagiarists by Peter Parlow, United States – WP
A portuguesa (The Portuguese Woman) by Rita Azevedo Gomes, Portugal
Querência (Homing) by Helvécio Marins Jr., Brazil / Germany – WP
Retrospekt by Esther Rots, Netherlands / Belgium
A rosa azul de Novalis (The Blue Flower of Novalis) by Gustavo Vinagre, Rodrigo Carneiro, Brazil – IP
Serpentário (Serpentarius) by Carlos Conceição, Angola / Portugal – WP
So Pretty by Jessie Jeffrey Dunn Rovinelli, United States / France – WP
Gli ultimi a vederli vivere (The Last to See Them) by Sara Summa, Germany – WP
Une rose ouverte / Warda (An Open Rose) by Ghassan Salhab, Lebanon – WP
Weitermachen Sanssouci (Music and Apocalypse) by Max Linz, Germany – WP
Years of Construction by Heinz Emigholz, Germany – WP