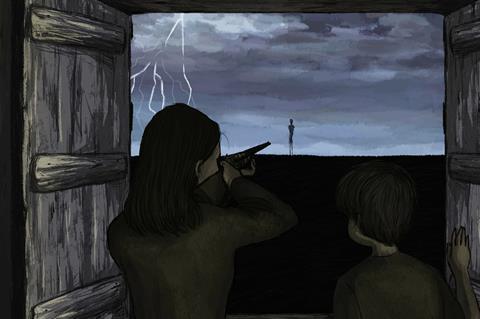 Finnish director Marko Mäkilaakso got a little more than he bargained for when his political agenda came under scrutiny at Blood Window's first Beyond The Window genre pitch session at Ventana Sur on Tuesday (November 28).
Mäkilaakso and writer-producer Vesa Virtanen flew into Argentina to pitch their comedy-horror Manslaughter In Buenos Aires, one of three titles invited to participate in the non-competitive Spotlight On International Projects.
While Mäkilaakso described as "pure fun" the story of a washed-up Finnish glam rock band who go ahead with a gig in Buenos Aires in defiance of a plot by feminists called Chiquita Bananas to kill them onstage, one audience member wanted to know how the project would sit against a background of rising feminism across Latin America.
Producer-director Cíntia Domit Bittar of Brazil's Novelo Filmes asked Mäkilaakso whether he would side with the chauvenists or the feminists given the current climate in the region. The Ni Una Menos movement in particular has gained momentum in Argentina and Brazil in response to violence against women.
However the Finnish director, who said Manslaughter In Buenos Aires would be a cross between Spinal Tap and Tucker And Dale vs Evil, insisted he would not take sides, hinting that there was even a romantic element in the project.
Mäkilaakso and Virtanen expect to get roughly half of the $600,000 budget from the Finnish Film Foundation and other sources in their country, and hope to find the balance from Argentina or another Latin American source. Production is expected to take place mostly in Buenos Aires.
Rounding out Spotlight On International Projects were two other well-received pitches from Spain, both of which participated in Sitges Pitchbox earlier this year.
David Casademunt of Fitzcarraldo Films showed an atmospheric four-minute teaser for The Beast (La Bestia, pictured), a story about a young boy living in a remote house who must confront a terrifying entity in order to save his mother. Casademunt likened the $1.2m paranormal project to Robert Eggers' recent US horror sensation The Witch in tone, and also drew parallels with Jennifer Kent's acclaimed Australian horror The Babadook.
Aitor Garay pitched Calypso Nova, a non-linear tale set in a Matrix-like world where a man tries to win back his lover. "The story is about loving each other responsibly," Garay said. "When you fall in love with a person you fall in love with the fiction you create around that person."
The competitive section saw pitches from: Nocturna (Argentina) by Alejandro Narvaez, Gonzalo Calzada, and Javier Diaz; I Love Zombies (Colombia) by Natalia Agudelo Campillo, César Oropeza, and Nicolás Herreño; Operación Trineo (Mexico) by Gabriel Guzman Sanchez and Luis Enrique Murrieta Okusono; and A Musica Do Dia (Brazil) by M.M. Izidoro.
Pitches included: La Noche Es De Los Animales (Argentina-Chile) by Juan Schnitman; Gualicho (Argentina) by Leonardo Christian Rosales; The Eternal White (Argentona-Brazil) by Pablo Robert; and Colapso (Uruguay) by Patricia Prevett. Beyond The Window pitches resume on Wednesday.