SCREEN FILM SUMMIT: BFI chief executive Amanda Nevill hopes to see market share of British films double in the UK.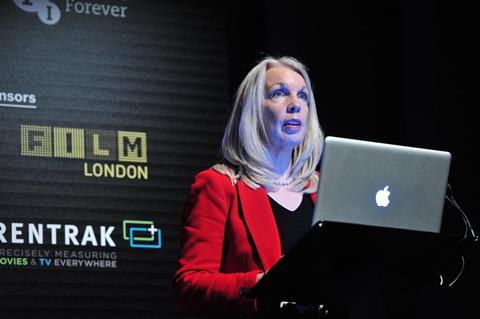 Amanda Nevill, the chief executive of the British Film Institute (BFI), has revealed an ambition to see the market share of British films in the UK double to 16%.
Speaking at the Screen Film Summit in London this morning, Nevill said: "The share of UK films in our home theatrical market has been bumping along at around 8% for the past five years with the occasional spike when we have films such as The King's Speech, The Woman in Black or The Inbetweeners. I don't think 8% is good enough.
"What would the world look like if that doubled. Imagine the cultural change that would make, imagine the additional opportunity that would make for our aspiring writers, directors, actors. Just imagine the financial benefit that it would bring to indigenous producers and the sector as a whole."
Nevill also considered the question of how that could be achieved. "It's a complex algorithm that involves so many sectors: production, distribution, exhibition, education and audience development," said the BFI exec.
"It needs a real focus on supporting audience growth out of London, where most of the UK population actually is.
"I know it's a tough ask. It needs some really forward thinking for our film value chain working together to solve this ambition. It's a challenge we should set ourselves and a challenge the BFI would really like to take on."
Asia growth
Nevill also pointed to Asia and the digital market as areas of growth on which to focus.
"I've been to China twice in the past 18 months and the opportunities there are something we should be grasping," she told delegates.
"In mainland China, the number of cinema screens have doubled to over 18,000 screens in the last few years. There are 10 new screens opening every day. The value of the Chinese box office is forecast to outstrip the US within five years and 41% of our export is to the US market so the Chinese export market could become as important as the US is for us now."
Nevill also hinted that a co-production agreement between the UK and China was close to completion.
"We've been working very actively and closely with the government to negotiate a co-production treaty with China which is very close to ratification so that we can work much more closely with our Chinese partners to get more British films into that Chinese market and create more co-pros," she said.
Digital growth
Nevill pointed to South Korea to discuss growth in the digital space and the lessons that can be learned.
"We can learn from South Korea in how they have transited into the digital age," said Nevill.
"They have broadband connections that are lightning speeds ahead of ours and will get faster still. But what we couldn't have predicted is that as a result of that rapid take up of digital in Korea is that it killed off DVD because piracy became so rife.
"How did they respond to this terrible piracy which meant they had to leapfrog DVD? First the government responded with some really tough anti-piracy laws. Secondary, the industry responding by collapsing their windows, reducing prices and adopting a day-and-date model. As a result of that, theatrical admissions have grown 45% in the past three years and show no sign of being cannibalised by the equally rapid growth in digital consumption."
Nevill added that further digital growth is necessary in the UK.
"We all know our current UK model will not sustain exactly as it is," she stated. "For one thing, consumers are becoming increasingly frustrated. Theatrical admissions are plateauing and the CEA is working on this.
"Digital revenues are slow. We need to look at what we can do to speed up growth here.
"One thing is for certain. We need to be bold, we need to think differently to keep pace with the digital evolution, and we need to be nimble and flexible in how we respond to audience need."