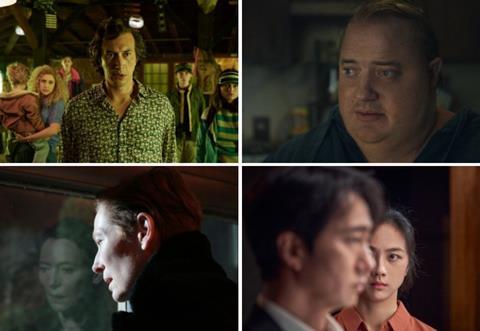 Darren Aronofsky's The Whale, Noah Baumbach's White Noise, Joanna Hogg's The Eternal Daughter, and Park Chan-wook's Decision To Leave are among the titles that will play at the 66th BFI London Film Festival (LFF), that runs from October 5-16.
A total of 164 feature films (up from last year's 159), including 23 world premieres, six international premieres and 15 European premieres have been programmed, with a curated programme of over 20 features and 15 short films available digitally across the whole of the UK on BFI Player until October 23.
Scroll down for the full LFF 2022 line-up
Over 60 countries are represented, with 41% of the programme from female and non-binary directors and creators or co-directors and co-creators. This is up from last year, when this figure stood at 39%.
Ethnically diverse directors and creators make up 34% of the line-up. This is down from last year's 40%, but this could be partly owing to a change in the festival's definition of 'ethnically diverse' – this now does not include all Latin American filmmakers, only indigenous and Black Latin Americans.
The festival is maintaining the thematic strands from previous additions: Love, Debate, Laugh, Dare, Thrill, Cult, Journey, Create, Experimenta, Family and Treasures, and, as per last year, the strands will also include TV series.
As previously announced, the festival will open with the world premiere of Roald Dahl's Matilda The Musical, and close with the European premiere of Rian Johnson's Glass Onion: A Knives Out Mystery. World premiere features include stop-motion animation Guillermo del Toro's Pinocchio and Asif Kapadia's Creature.
Following last year's debut, the LFF Series will also return with eight series, which will include, as previously announced, the world premiere of Hugo Blick's series The English, starring Emily Blunt and Chaske Spencer, and the third season of Lars von Trier's The Kingdom Trilogy.
Debuts
LFF will also feature 39 debut features, with UK debuts including Medusa Deluxe from Thomas Hardiman – a murder mystery set in a competitive hairdressing competition, that was produced by Emu Films and world premiered at Locarno. Further UK debuts include Georgia Oakley's Blue Jean, that stars Screen Star of Tomorrow 2022 Rosy McEwen and is set in Margaret Thatcher-era Britain, in which a teacher grapples with concealing her sexuality, debuting in Venice's Giornate Degli Autori section. Both play in the first feature competition.
Another UK debut is Screen Star of Tomorrow 2019 Dionne Edwards' Pretty Red Dress, which world premieres in the Love strand. The film stars Natey Jones, singer Alexandra Burke, and new talent Temilola Olatunbosun, in the story of a south London family and how their lives revolve around one red dress.
LFF will return to the BFI Southbank and the Southbank Centre's Royal Festival Hall, which between them will host galas, special presentations and official competition. Films and series from all strands of the festival will screen in select cinemas in London with a curated selection of features showcased at 10 partner venues across the UK, which include Home in Manchester, Watershed in Bristol and the Glasgow Film Theatre.
Industry
The majority of this year's industry and education programme will be events and activities taking place in person as well as being accessible online. Discussions and events will look at topics including how technology is expanding the possibilities of creativity; how screen storytelling is challenging how we see and respond to the world; and how the sector is exploring ways to engage audiences faced by a world in economic turmoil, social and political flux.
The festival's UK Talent Days (7-10 October), now running in-person for a second year, will connect major international industry professionals with UK creative talent and emerging professionals. This strand of activity includes the festival's third edition of a works-in-progress showcase, which will be presenting feature films and documentaries made by emerging talent to international buyers, commissioners, producers and programmers.
The industry programme also includes the two-day Film London Production Finance Market (October 11-12), which connects filmmakers and financiers from around the world. This year the market returns as an in-person event for the first time since 2019. Full industry programme details will be announced later this month.
Tricia Tuttle, BFI London Film Festival director said: "As we emerge from an unprecedented period of disruption and change – a global health crisis, instability, climate change, artists are our north star, helping guide us and shape our understanding in a complex and often confusing world. And the work here reminds me again of why we love films, television, visual storytelling of all kinds…it has the power to help us see."
LFF 2022 programme line-up
*denotes world premiere
Headline Galas
Roald Dahl's Matilda The Musical (UK) opening night
Dir. Matthew Warchus
Glass Onion: A Knives Out Mystery (US) closing night
Dir. Rian Johnson
Empire Of Light (UK-US)
Dir. Sam Mendes
Bardo, False Chronicle Of A Handful Of Truths (Mex)
Dir. Alejandro G. Iñárritu
Decision To Leave (S. Korea)
Dir. Park Chan-wook
Living (UK)
Dir. Oliver Hermanus
Guillermo del Toro's PInocchio (US)*
Dirs. Guillermo del Toro, Mark Gustafson
She Said (US)
Dir. Maria Schrader
The Son (UK)
Dir. Florian Zeller
Till (US)
Dir. Chinonye Chukwu
The Whale (US)
Dir. Darren Aronofsky
White Noise (US)
Dir. Noah Baumbach
The Wonder (UK-Ire)
Dir. Sebastián Lelio
Special presentations
Allelujiah (UK)
Dir. Richard Eyre
Causeway (US)
Dir. Lila Neugebauer
The English (UK-Sp) TV series*
Dir. Hugo Blick
The Eternal Daughter (UK-US)
Dir. Joanna Hogg
Holy Spider (Den-Ger-Swe-Fr)
Dir. Ali Abbasi
My Imaginary Country (Chile-Fr)
Dir. Patricio Guzmán
My Policeman (UK)
Dir. Michael Grandage
Nanny (US)
Dir. Nikyatu Jusu
Nil By Mouth (UK)
Dir. Gary Oldman
The Swimmers (UK)
Dir. Sally El Hosaini
Triangle Of Sadness (Swe-Ger-Fr-UK)
Dir. Ruben Östlund
Women Talking (US)
Dir. Sarah Polley
The Inspection (US) BFI Flare special presentation
Dir. Elegance Bratton
Piaffe (Ger) Experimenta special presentation
Dir. Ann Oren
Official competition
Argentina, 1985 (Arg)
Dir. Santiago Mitre
Brother (Can)
Dir. Clement Virgo
Corsage (Austria-Lux-Ger-Fr)
Dir. Marie Kreutzer
Les Damnes Ne Pleurent Pas (Fr-Belg-Mor)
Dir. Fyzal Boulifa
Enys Men (UK)
Dir. Mark Jenkin
Godland (Den-Ice-Fr-Swe)
Dir. Hlynur Palmason
Nezouh (UK-Syria-Fr)
Dir. Soudade Kaadan
Saint Omer (Fr)
Dir. Alice Diop
First Feature
1976 (Chile-Arg-Qat)
Dir. Manuela Martelli
Blue Jean (UK)
Dir. Georgia Oakley
Jeong-Sun (S Kor)
Dir. Jeong Ji-hye
Joyland (Pak)
Dir. Saim Sadiq
Medusa Deluxe (UK)
Dir. Thomas Hardiman
Our Lady Of The Chinese Shop (Ang)
Dir. Ery Claver
Robe Of Gems (Arg-Mex)
Dir. Natalia López Gallardo
Rodeo (Fr)
Dir. Lola Quivoron
Documentary competition
All That Breathes (India-UK-US)
Dir. Shaunak Sen
All That Beauty And The Bloodshed (US)
Dir. Laura Poitras
Casa Susanna (Fr-US)
Dir. Sébastien Lifshitz
The Future Tense (Ire-UK)
Dirs. Christine Molloy, Joe Lawlor
Kanaval: A People's History Of Haiti In Six Chapters (Haiti-UK)*
Dirs. Leah Gordon, Eddie Hutton Mills
Lynch/Oz (US)
Dir. Alexandre O. Philippe
Name Me Lawand (UK)*
Dir. Edward Lovelace
What About China? (US-China-Sing)
Dir. Trinh Minh-ha
Immersive/XR competition
All Unsaved Progress Will Be Lost (Fr)
Lead artist: Melanie Courtinat
Apparatus Ludens (UK-Swe)
Lead artist: Untold Garden
As Mine Exactly (UK)
Lead artist: Charlie Shackleton
The Choice (Can-Pol)
Lead artist: Joanne Popinska
Black Movement Library – Movement Portraits (US)
Lead artist: LaJune McMillian
Digital Motions (Ger)
Lead artists: Helge Letonja, Marcel Karnapke, Bjorn Lengers, Anke Euler
Framerate: Pulse Of Earth (UK)
Lead artists: Matthew Shaw, William Trossell, ScanLAB Projects
The Infinite Library (India-Ger-Cze)
Lead artist: Mika Johnson
In Pursuit Of Repetitive Beats (UK)
Lead artist: Darren Emerson
Intravene (UK-Can)
Lead artists: Darkfield, Crackdown, Brenda Longfellow
The Last Time I Saw Snow (UK)
Lead artists: Isabel Mascarenhas-Whitman, Alex Tennyson
Line Of Contact (Neth-UK-Ukr)
Lead artist: Dani Ploeger
Monoliths (UK)
Lead artists: Lucy Hammond, Hannah Davies, Asma Elbadawi, Carmen Marcus
Missing Pictures Ep. 3: Catherine Hardwicke: The Monkey Wrench Gang (Fr-UK-Tai-Lux-S Kor)
Lead artist: Clement Deneux
On The Morning You Wake (To The End Of The World) (UK-Fr-US)
Lead artists: Jamaica Heolimeleikalani Osorio, Mike Brett, Steve Jamison, Arnaud Colinart, Pierre Zandrowicz
Pan + Tilt (UK)
Lead artists: Ruth Gibson, Bruno Martelli
Planet City (US-China)
Lead artists: Liam Young, Kayvan Boudai, Eilliot Ordower, James Clar
Walzer (Neth)
Lead artists: Frieda Gustavs, Leo Erken
Love
Aftersun (UK-US)
Dir. Charlotte Wells
Blue Bag Life (UK)*
Dirs. Lisa Selby, Rebecca Hirsch Lloyd-Evans, Alex Fry
The Blue Caftan (Fr-Mor-Bel)
Dir. Maryam Touzani
Close (Bel-Fr-Neth)
Dir. Lukas Dhont
The Cloud Messenger (Ind)
Dir. Rahat Mahajan
Lady Chatterley's Lover (UK)
Dir. Laure de Clermont-Tonnerre
Last Flight Home (US)
Dir. Ondi Timoner
Love Life (Jap-Fr)
Dir. Kôji Fukada
Malintzin 17 (Mex-Switz)
Dirs. Eugenio Polgovsky, Mara Polgovsky
Mammals (UK)*
Dir. Stephanie Laing
Maya Nilo (Laura) (Swed)
Dir. Lovisa Sirén
More Than Ever (Fr-Ger-Lux-Nor)
Dir. Emily Atef
One Fine Morning (Fr-Ger)
Dir. Mia Hansen-Løve
Pretty Red Dress (UK)*
Dir. Dionne Edwards
A Room Of My Own (Georgia-Ger)
Dir. Ioseb 'Soso' Bliadze
She Is Love (UK)*
Dir. Jamie Adams
Tori And Lokita (Bel-Fr)
Dirs. Jean Pierre and Luc Dardenne
Winter Boy (Fr)
Dir. Christophe Honoré
Debate
Blaze (Australia)
Dir. Kathryn Barton
Blue Island (Hong Kong-Jap-Taiwan)
Dir. Chan Tze-woon
Bobi Wine: Ghetto President (Uganda)
Dirs. Moses Bwayo, Christopher Sharp
Brainwashed: Sex-Camera-Power (US)
Dir. Nina Menkes
Call Jane (US)
Dir. Phyllis Nagy
Declaration (Ind)
Dir. Mahesh Narayanan
Exterior Night (It-Fr)
Dir. Marco Bellocchio
Hidden Letters (China-US-Nor-Ger)
Dirs. Violet Du Feng, Zhao Qing
If The Streets Were On Fire (UK)*
Dir. Alice Russel
Klondike (Ukr)
Dir. Maryna Er Gorbach
Next Sohee (S. Korea)
Dir. July Jung
Palm Trees And Power Lines (US)
Dir. Jamie Dack
Stonewalling (Jap)
Dirs. Huang Ji, Ryuji Otsuka
The Store (Swe-It)*
Dir. Ami-Ro Sköld
Laugh
Chee$e (Trinidad and Tobago-US)
Dir. Damian Marcano
The Estate (US)*
Dir. Dean Craig
Fast & Feel Love (Thai)
Dir. Nawapol Thamrongrattanarit
I Love My Dad (UK-US)
Dir. James Morosini
Klokkenluider (UK-US)*
Dir. Neil Maskell
The Middle Ages (Arg)
Dirs. Luciana Acuña, Alejo Moguillansky
Rimini (Austria-Fr-Ger)
Dir. Ulrich Seidl
Sick Of Myself (Nor-Swe)
Dir. Kristoffer Borgli
Dare
Butterfly Vision (Ukraine-Czech-Cro-Swe)
Dir. Maksym Nakonechnyi
Coma (Fr)
Dir. Bertrand Bonello
De Humani Corporis Fabrica (Fr)
Dirs. Lucien Castaing-Taylor, Verena Paravel
EO (Pol-It)
Dir. Jerzy Skolimowski
Horseplay (Los Agitadores) (Arg)
Dir. Marco Berger
Inland (UK)*
Dir. Fridtjof Ryder
Into The Ice (Den-Ger)
Dir. Lars Henrik Ostenfeld
Manticore (Sp)
Dir. Carlos Vermut
Pacifiction (Fr-Sp-Ger-Port)
Dir. Albert Serra
Shttl (Ukraine-Fr)*
Dir. Ady Walter
Subtraction (Iran-Fr)
Dir. Mani Haghighi
Unrest (Switz)
Dir. Cyril Schäublin
The Woodcutter Story (Fin-Neth-Den-Ger)
Dir. Mikko Myllylahti
Xalé (Senegal-Ivory Coast)*
Dir. Moussa Sène Absa
Thrill
Ashkal (Fr-Tunisia-Qatar)
Dir. Youssef Chebbi
The Blaze (Fr)*
Dir. Quentin Reynaud
Boy From Heaven (Swe-Fr-Fin-Den)
Dir. Tarik Saleh
Emily The Criminal (US)
Dir. John Patton Ford
Faraaz (Ind)
Dir. Hansal Mehta
The Good Nurse (US)
Dir. Tobias Lindholm
L'Origine Du Mal (Fr-Can)
Dir. Sébastien Marnier
Senorita 89 (Mex)
Dirs. Lucía Puenzo, Nicolás Puenzo, Jimena Montemayor, Sílvia Quer
A Spy Among Friends (UK)*
Dir. Nick Murphy
The Stranger (Australia)
Dir. Thomas M. Wright
The Woman In The White Car (S. Korea)
Dir. Christine Ko
Cult
The Attachment (Den)
Dir. Gabriel Bier Gislason
The Kingdom Exodus (Den)
Dir. Lars von Trier
Linoleum (US)
Dir. Colin West
New Normal (S. Korea)
Dir. Jung Bum-shik
The Nightmare (Nor)
Dir. Kjersti Helen Rasmussen
The Origin (UK)*
Dir. Andrew Cumming
Unicorn Wars (Sp-Fr)
Dir. Alberto Vázquez
You Won't Be Alone (Australia)
Dir. Goran Stolevski
Experimenta
100 Ways To Cross The Border (US-Mex)
Dir. Amber Bay Bemak
Becoming Plant (UK-Den-Nor)*
Dir. Grace Ndiritu
Qualities Of Life: Living In The Radiant Cold (Ger)
Dir. James Richards
The Blue Rose Of Forgetfulness (US)*
Dir. Lewis Klahr
Roary (UK)
Dir. David Lester
Staging Death (Austria-Ger)
Dir. Jan Soldat
Jill, Uncredited (Can-UK)
Dir. Anthony Ing
Blind Yellow Sunshine (UK)
Dir. Adonia Boucherhri
Herbaria (Arg-Ger)
Dir. Leandro Listorti
Seaweed (UK)
Dir Julia Parks
The Unites States Of America (US)
Dir. James Benning
Patent 1,571,148 (US)
Dir. Kevin Jerome Everson
Transparent (UK)
Dir. Siobhan Davies
Aribada (Col-Ger)
Dirs. Simon(e) Jaikiriuma Paetau, Natalia Escobar
The Severed Tail (Ger)
Dir. Marianna Simnet
I'll Be Back (UK)
Dir. Hope Strickland
Chuu Chuu (US)
Dir. Adam Kossoff
Vision Of Paradise (Bra-US)
Dir. Leonardo Pirondi
The Ocean Analog (Sp-Mex)
Dir. Luis Macias
Sappukei (Taiwan)
Dirs. Chun Wang, Hikky Chen
A Sod State (Ire-Neth)
Dir. Eoghan Ryan
45th Parallel (UK)
Dir. Lawrence Abu Hamdan
Chants From A Holy Book (Bra)
Dirs. Cesar Gananian, Cassiana Der Haroutiounian
Takbir (It-Afg)
Dir. Aziz Hazara
As If No Misfortune Had Occurred In The Night (UK-Den)
Dirs. Larissa Sansour, Soren Lind
Journey
After Sherman (US)
Dir. Jon-Sesrie Goff
Aisha (Ire)
Dir. Frank Berry
Alcarràs (Sp-It)
Dir. Carla Simón
Autobiography (Indo-Fr-Sing-Pol-Phil-Ger-Qat)
Dir. Makbul Mubarak
Crows Are White (US)
Dir. Ahsen Nadeem
The Girl From Tomorrow (It-Fr)*
Dir. Marta Savina
High School (US-Can)
Dir. Clea DuVall
Know Your Place (US)
Dir. Zia Mohajerjasbi
Liquor Store Dreams (US)
Dir. So Yun Um
Nayola (Port-Belg-Fr-Neth)
Dir. José Miguel Ribeiro
The Passengers Of The Night (Fr)
Dir. Mikhaël Hers
Shabu (Neth)
Dir. Shamira Raphaëla
Small, Slow But Steady (Jap-Fr)
Dir. Shô Miyake
Summer With Hope (Can-Iran)
Dir. Sadaf Foroughi
Super Eagles '96 (UK-Nig)*
Dir. Yemi Bamiro
Under The Fig Trees (Tunisia-Fr-Switz-Ger-Qat)
Dir. Erige Sehiri
Utama (Bol-Uru-Fr)
Dir. Alejandro Loayza Grisi
Create
The African Desperate (US)
Dir. Martine Syms
Creature (UK)*
Dir. Asif Kapadia
Fragments Of Paradise (US)
Dir. KD Davison
Geographies Of Solitude (Can)
Dir. Jacquelyn Mills
Getting It Back: The Story Of Cymande (UK)
Dir. Tim Mackenzie-Smith
God Said Give 'Em Drum Machines (US)
Dir. Kristian R Hill
Leonora Addio (It)
Dir. Paolo Taviani
Meet Me In The Bathroom (UK)
Dirs. Dylan Southern, Will Lovelace
Peter Von Kant (Fr-Belg)
Dir. François Ozon
Self Portrait As A Coffee Pot (S Afr-US)
Dir. William Kentridge
Where Is This Street? Or With No Before And After (Port-Fr)
Dirs. João Pedro Rodrigues, João Rui Guerra da Mata
The Worst Ones (Fr)
Dirs. Lise Akoka, Romane Gueret
Family
The Black Pharaoh, The Savage And The Princess (Fr)
Dir. Michel Ocelot
Mini-Zlatan And Uncle Darling (Swe-Nor)
Dir. Christian Lo
My Father's Dragon (Ire)*
Dir. Nora Twomey
My Robot Brother (Den)
Dir. Frederik Nørgaard
Neneh Superstar (Fr)
Dir. Ramzi Ben Sliman
Suzie In The Garden (Czechia-Slovakia)
Dir. Lucie Sunková
I'm Not Afraid (Ger-Nor)
Dir. Marita Mayer
Aeronaut (Neth)
Dir. Leon Golterman
Bellysaurus (Australia)
Dir. Philip Watts
Zootropolis + "Godfather Of The Bride" (US)
Dirs. Josie Trinidad, Trent Correy
Bristles (Neth)
Dir. Quentin Haberham
Hush, Hush, Little Bear (Latvia)
Dir. Māra Liniņa
Mr. Spam Gets A New Hat (UK)
Dir. William Joyce
Hello To Me In 100 Years (Tai)
Dir. Wu-Ching Chang
Treasures
All That Money Can Buy (US)
Dir. William Dieterle
The Circus Tent (India)
Dir.Aravindan Govindan
Contras' City/Badou Boy (Senegal)
Dir. Djibril Diop Mambéty
Eight Deadly Shots (Fin)
Dir. Mikko Niskanen
Foolish Wives (US)
Dir. Erich von Stroheim
Kamikaze Hearts (US)
Dir. Juliet Bashore
The Passion Of Remembrance (UK)
Dirs. Maureen Blackwood, Isaac Julien
The Queen Of Spades (UK)
Dir. Thorold Dickinson
LFF Expanded
All Unsaved Progress Will Be Lost (Fr)
Lead artist: Melanie Courtinat
Apparatus Ludens (UK-Swe)
Lead artist: Untold Garden
A Mighty Mass Emerges (Switz-Fr-It)
Lead artist: Wu Tsang
As Mine Exactly (UK)
Lead artist: Charlie Shackleton
The Choice (Can-Pol)
Lead artist: Joanne Popinska
Black Movement Library – Movement Portraits (US)
Lead artist: LaJune McMillian
Digital Motions (Ger)
Lead artists: Helge Letonja, Marcel Karnapke, Bjorn Lengers, Anke Euler
Framerate: Pulse Of Earth (UK)
Lead artists: Matthew Shaw, William Trossell, ScanLAB Projects
Haunted Hotel – A Melodrama In Augmented Reality (Ger)
Lead artist: Guy Maddin
The Infinite Library (India-Ger-Cze)
Lead artist: Mika Johnson
In Pursuit Of Repetitive Beats (UK)
Lead artist: Darren Emerson
Intravene (UK-Can)
Lead artists: Darkfield, Crackdown, Brenda Longfellow
The Last Time I Saw Snow (UK)
Lead artists: Isabel Mascarenhas-Whitman, Alex Tennyson
Line Of Contact (Neth-UK-Ukr)
Lead artist: Dani Ploeger
Monoliths (UK)
Lead artists: Lucy Hammond, Hannah Davies, Asma Elbadawi, Carmen Marcus
Missing Pictures Ep. 3: Catherine Hardwicke: The Monkey Wrench Gang (Fr-UK-Tai-Lux-S Kor)
Lead artist: Clement Deneux
On The Morning You Wake (To The End Of The World) (UK-Fr-US)
Lead artists: Jamaica Heolimeleikalani Osorio, Mike Brett, Steve Jamison, Arnaud Colinart, Pierre Zandrowicz
Pan + Tilt (UK)
Lead artists: Ruth Gibson, Bruno Martelli
Planet City (US-China)
Lead artists: Liam Young, Kayvan Boudai, Eilliot Ordower, James Clar
Walzer (Neth)
Lead artists: Frieda Gustavs, Leo Erken