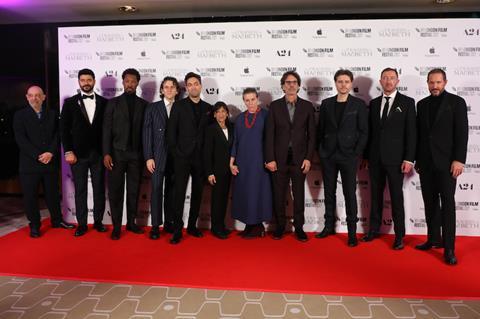 The BFI London Film Festival has contacted festival attendees about two positive cases of Covid-19 at the event, reported since the festival closed on Sunday, October 17.
An email sent on Wednesday evening (October 20) to an as-yet-unconfirmed number of attendees at the event noted positive tests earlier in the day among "a small number of people who attended the BFI London Film Festival".
Guests at the festival have posted news of positive tests online via social media, while others said they had been notified by the NHS app of having been in contact with a person who has tested positive.
The festival closed with the UK premiere of Joel Coen's The Tragedy Of Macbeth at the Royal Festival Hall on the Southbank, followed by a party running from 9pm until 2am at The Londoner Hotel in Soho. Screen has heard from festival attendees who were not at the closing night event, but have received the email.
The text of the email sent to select attendees is below.
Dear LFF Guest,
We hope you enjoyed the BFI London Film Festival this year and thank you for all your support.
As you will no doubt be aware, Covid-19 cases are on the rise nationally. It has come to our attention that a small number of people who attended the BFI London Film Festival have today tested positive for Covid-19. We believe you may have been in contact this weekend with someone who tested positive and are therefore recommending that you take a test to reduce the risk of unconsciously spreading the Covid-19 virus. Information on your testing options is here. Please also be mindful of when you should self-isolate.
Kind regards and stay safe,
The LFF Team