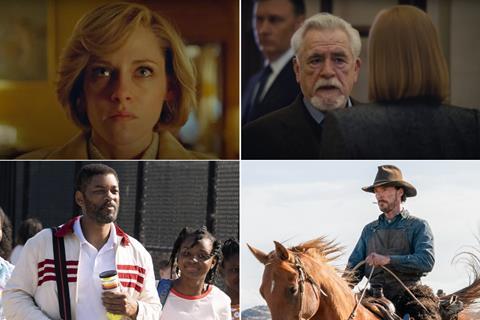 Pablo Larrain's Spencer, Maggie Gyllenhaal's The Lost Daughter and Wes Anderson's The French Dispatch are among the 159 features that will play the 65th BFI London Film Festival (LFF, October 6-17), which will also screen episodes one and two of the third season of HBO's Succession, in what will be the European premiere of the anticipated series.
The festival will play 21 world premieres in its feature programme, including Sarah Smith and Jean Philippe-Vine's Ron's Gone Wrong, the debut feature from UK animation studio Locksmith Animation; Craig Roberts' The Phantom of the Open starring Mark Rylance, Sally Hawkins and Rhys Ifans; and debbie tucker green's ear for eye, based on the director's play of the same name.
Scroll down for the full list
Titles will play both at cinemas in London and UK-wide at 10 LFF partner venues, with select virtual premieres also hosted on the BFI Player online platform.
In a first for the festival, gala titles will play each night at the Royal Festival Hall in London's Southbank Centre as part of the festival's new Southbank hub that will also include BFI Southbank. The Royal Festival Hall has a capacity of 2,700; its usage for LFF will be over 2,000, with the exact number to be confirmed.
The festival is aiming for all screenings to be at 100% capacity by the end of the event, although capacity for the partner venues is at the discretion of the respective exhibitors. Revenues for the partner venue screenings will be split mainly between the distributor and exhibitor, with the festival taking "a small amount" to cover contractual tickets for sponsors, as happened at last year's first pan-UK edition. "We're not paying the cinemas to do it, but we're supporting them through the difficult times [by extending the festival to them]" said Tricia Tuttle, BFI London Film Festival director.
Tuttle told Screen that "about 80%" of filmmakers with films in the festival want to attend the event in-person, with travel details still being ironed out and dependent upon regularly changing rules for each country. The festival will also accommodate those who don't wish to or are not able to travel, via means including recorded introductions. "It's going to be a busy, buzzy festival, with filmmakers here," Tuttle said.
One of the most highly-anticipated titles, the first two episodes of season three of HBO's Succession, will receive its European premiere with a red carpet event at the Royal Festival Hall on the Southbank, with cast and filmmakers in attendance.
"In early 2020, we set out how we would build on the vibrant established film programme at LFF to expand the festival," said Tuttle. "While we had to adapt those ambitions for the pandemic, we are back in full force this year and you'll really see that vision played out in the model for the Festival this year."
Spencer, The Lost Daughter and The French Dispatch are three of 11 Headline Gala titles playing at the festival, alongside Kenneth Branagh's Belfast, Paul Verhoeven's Benedetta, and Edgar Wright's London-set Last Night In Soho.
Reinaldo Marcus Green's King Richard, with Will Smith playing Richard Williams, father of tennis stars Venus and Serena Williams; and Eva Husson's Mothering Sunday are also in the line-up.
Joanna Hogg's The Souvenir: Part II will play as the Londoner Gala, with Jane Campion's The Power Of The Dog a previously-announced Gala selection.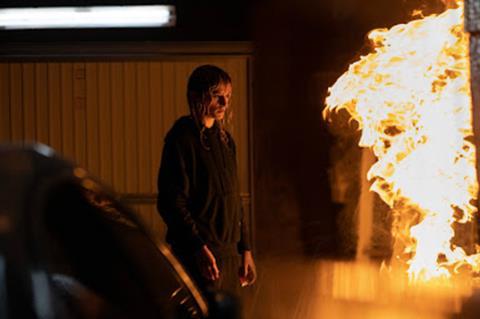 Also playing at the venue will be 12 Special Presentations, including Julia Ducournau's Cannes Palme d'Or winner Titane; Clio Barnard's Ali & Ava; Craig Roberts' The Phantom of the Open; and the Succession episodes.
Competition
For the second successive year, the LFF awards ceremony will take place online, with prizes including the best film, first feature and audience awards, as well as the IWC Schaffhausen Filmmaker Bursary in association with the BFI.
This year's First Feature Competition includes Costa Brava Lebanon, set in a near-future Lebanon where the refuse crisis has made Beirut uninhabitable, from Screen Arab Star of Tomorrow 2016 Mounia Akl; and Lee Haven Jones' Welsh-language horror The Feast.
Andrea Arnold's Cannes title Cow, Alonso Ruizpalacios' hybrid documentary A Cop Movie and Liz Garbus' Becoming Costeau are among eight titles in the Documentary Competition.
The festival is maintaining the thematic strands from previous additions: Love, Debate, Laugh, Dare, Thrill, Cult, Journey, Create, Experimenta, Family and Treasures. For the first time this year, many of the strands will feature series titles.
LFF Expanded, the programme of immersive and extended reality works, also returns, with titles including the world premiere of Laika, a virtual reality animation from Oscar-winning filmmaker Asif Kapadia. The LFF Expanded section will have a physical exhibition at 26 Leake Street and the National Theatre in London, as well UK-wide and internationally on virtual exhibition space The Expanse.
The 159 features in the line-up this year is down from the 229 that played in 2019. (Last year's pandemic-era online edition screened 58 features). The festival said 39% of the entire programme (including shorts) is from female and non-binary directors or co-directors, while 40% has been made by ethnically diverse filmmakers.
"I'm in awe of all of the filmmakers across the world who have found the ways and means – practical, creative, emotional – to get their stories told in such challenging and turbulent times and I want audiences to immerse themselves in the sweet glow of the cinema screen and celebrate their very existence," said BFI CEO Ben Roberts.
Netflix title The Harder They Fall, the debut feature of London filmmaker Jeymes Samuel, was previously announced as opening the festival in its world premiere; with Joel Coen's Shakespeare adaptation The Tragedy of Macbeth closing the festival in its European premiere. Both films will be available at LFF partner cinemas across the UK.
An eight-strong Official Competition was announced last week, including Panah Panahi's Hit The Road, Paolo Sorrentino's The Hand of God and Harry Wootliff's True Things.
Industry details
The festival has confirmed that "the majority" of the industry and education programmes will be events and activities for delegates to attend in-person, as well as being accessible online. This will include press and industry screenings, talks and events, and networking opportunities.
The festival is aiming for eight to 10 industry events. Two or three of those will be virtual as they feature industry guests who are unable to travel; however Tuttle said that international industry executives are confirmed to attend, with the line-up to be announced later this month.
Film London's two-day Production Finance Market returns to the event; the full LFF industry programme will be announced later this month.
BFI London Film Festival 2021 titles
WP - world premiere
Opening film – The Harder They Fall, dir. Jeymes Samuel - WP
Closing film – The Tragedy of Macbeth, dir. Joel Coen
Headline Galas
The Power of the Dog, dir. Jane Campion
Belfast, dir. Kenneth Branagh
The French Dispatch, dir. Wes Anderson
Benedetta, dir. Paul Verhoeven
King Richard, dir. Reinaldo Marcus Green
Last Night In Soho, dir. Edgar Wright
Mothering Sunday, dir. Eva Husson
The Lost Daughter, dir. Maggie Gyllenhaal
The Souvenir: Part II, dir. Joanna Hogg
Spencer, dir. Pablo Larrain
Ron's Gone Wrong, dirs. Sarah Smith, Jean Philippe-Vine - WP
Special Presentations
Ali & Ava, dir. Clio Barnard
Drive My Car, dir. Ryusuke Hamaguchi
Benediction, dir. Terence Davies
Great Freedom, dir. Sebastian Meise
The Phantom of the Open, dir. Craig Roberts - WP
Memoria, dir. Apichatpong Weerasethakul
Titane, dir. Julia Ducournau
Paris, 13th District, dir. Jacques Audiard
The Velvet Underground, dir. Todd Haynes
Flee, dir. Jonas Poher Rasmussen
Neptune Frost, dirs. Saul Williams, Anisia Uzeyman
Succession, creator-showrunner Jesse Armstrong – series
Official Competition
Belle, dir. Mamoru Hosoda
Il Buco, dir. Michelangelo Frammartino
The Hand of God, dir. Paolo Sorrentino
Nitram, dir. Justin Kurzel
Hit The Road, dir. Panah Panahi
Sundown, dir. Michel Franco
Lingui, The Sacred Bonds, dir. Mahamat-Saleh Haroun
True Things, dir. Harry Wootliff
First Feature Competition
The Alleys, dir. Bassel Ghandour
Azor, dir. Andreas Fontana
Costa Brava Lebanon, dir. Mounia Akl
Prayers For The Stolen, dir. Tatiana Huezo
The Feast, dir. Lee Haven Jones
Small Body, dir. Laura Samani
Playground, dir. Laura Wandel
White Building, dir. Kavich Neang
Documentary Competition
All About My Sisters, dir. Wang Qiong
Babi Yar. Context, dir. Sergei Loznitsa
Becoming Costeau, dir. Liz Garbus
The Dance, dir. Pat Collins - WP
A Cop Movie, dir. Alonso Ruizpalacios
Faya Dayi, dir. Jessica Beshir
Cow, dir. Andrea Arnold
Nascondino (Hide and Seek), dir. Victoria Fiore - WP
Love strand
Bantu Mama, dir. Ivan Herrera
Cannon Arm and the Arcade Quest, dir. Mads Hedegaard
Compartment No. 6, dir. Juho Kuosmanen
Our Men, dir. Rachel Lang
The Gravedigger's Wife, dir. Khadar Ayderus Ahmed
The Outlaws, dir. Henrik Martin Dahlsbakken - WP
Language Lessons, dir. Natalie Morales
Petite Maman, dir. Celine Sciamma
Ride The Wave, dir. Martyn Robertson
What Do We See When We Look At The Sky?, dir. Alexandre Koberidze
A Tale of Love and Desire, dir. Leyla Bouzid
Wheel of Fortune and Fantasy, dir. Ryusuke Hamaguchi
Two Friends, dir. Prasun Chatterjee - WP
When A Farm Goes Aflame, dir. Jide Tom Akinleminu
The Worst Person In The World, dir. Renate Reinsve
Debate strand
Ahed's Knee, dir. Nadav Lapid
All These Sons, dirs. Bing Liu, Joshua Altman
Between Two Worlds, dir. Emmanuel Carrere
Burn It Down!, dirs. Tim Travers Hawkins, Celia Aniskovich - WP
The First Wave, dir. Matthew Heineman
A Hero, dir. Asghar Farhadi
The Hole In The Fence, dir. Joaquin del Paso
Little Palestine (Diary of a Siege), dir. Abdallah Al-Khatib
Invisible Demons, dir. Rahul Jain
Mass, dir. Fran Kranz
Leave No Traces, dir. Jan P Matuszynski
The Neutral Ground, dir. CJ Hunt
Rehana, dir. Abdullah Mohammad Saad
Welcome To Spain, dir. Juan Antonio Moreno
ear for eye, dir. debbie tucker green - WP
Dopesick, creator-showrunners Barry Levinson, Danny Strong – series
Laugh strand
7 Days, dir. Roshan Sethi
All My Friends Hate Me, dir. Andrew Gaynord
Bad Luck Banging Or Loony Porn, dir. Radu Jude
The Good Boss, dir. Fernando Leon de Aranoa
Cop Secret, dir. Hannes Thor Halldorsson
Humidity Alert, dir. Bong Soo Ko
The Divide, dir. Catherine Corsini
The Odd-Job Men, dir. Neus Ballus
Queen of Glory, dir. Nana Mensah
Red Rocket, dir. Sean Baker
Dare strand
All Is Vanity, dir. Marcos Mereles - WP
As In Heaven, dir. Tea Lindeburg
The Box, dir. Lorenzo Vigas
Earwig, dir. Lucile Hadzihalilovic
Clara Sola, dir. Nathalie Alvarez Mesen
Les Enfants Terribles, dir. Ahmet Necdet Cupur
Historya Ni Ha, dir. Lav Diaz - WP
Natural Light, dir. Denes Nagy
Memory Box, dirs. Joana Hadjithomas, Khalil Joreige
Pedro, dir. Natesh Hegde
La Mif, dir. Fred Baillif
Petrov's Flu, dir. Kiril Serebrennikov
The Tsugua Diaries, dirs. Miguel Gomes, Maureen Fazendeiro
Users, dir. Natalia Almada
4 Feet High, series, episodes 1-6
Curse of the Chippendales, creator-showrunner Simon Chinn, series, episodes 1-2
Thrill strand
Boiling Point, dir. Philip Barantini
Brother's Keeper, dir Ferit Karahan
Bull, dir. Paul Andrew Williams
Hinterland, dir. Stefan Ruzowitzky
Encounter, dir. Michael Pearce
Munich – Edge of War, dir. Christian Schwochow - WP
See For Me, dir. Randall Okita
Wild Indian, dir. Lyle Mitchell Corbine Jr.
Hellbound, creator-showrunner Yeon Sang-ho, series, episodes 1-3
Cult strand
La Abuela, dir. Paco Plaza
A Banquet, dir. Ruth Paxton
DASHCAM, dir. Rob Savage
Lamb, dir. Valdimar Johannsson
Inexorable, dir. Fabrice du Welz
The Medium, dir. Banjong Pisanthanakun
Juju Stories, dirs. Abba T Makama, CJ 'Fiery' Obasi, Michael Omonua
Mona Lisa and the Blood Moon, dir. Ana Lily Amirpour
She Will, dir. Charlotte Colbert
Shepherd, dir. Russell Owen - WP
The Rope, creators Dominique Rocher, Eric Forestier, series, episodes 1-3
Journey strand
Citizen Ashe, dirs. Rex Miller, Sam Pollard
The Crossing, dir. Florence Miailhe
Luzzu, dir. Alex Camilleri
Freda, dir. Gessica Geneus
Mothers of the Revolution, dir. Briar March - WP
Holgut, dir. Liesbeth De Ceulaer
Mr Bachmann and His Class, dir. Maria Speth
Nudo Mixteco, dir. Angeles Cruz
The Sea Ahead, dir. Ely Dagher
Passing, dir. Rebecca Hall
Sediments, dir. Adrian Silvestre
A River Runs, Turns, Erases, Replaces, dir. Shengze Zhu
The Wolf Suit, dir. Sam Firth - WP
Wood and Water, dir. Jonas Bak
Fires, series
Create strand
8 Bar – The Evolution of Grime, dir. Ewen Spencer - WP
Bergman Island, dir. Mia Hansen-Love
Marx Can Wait, dir. Marco Bellocchio
Quant, dir. Sadie Frost - WP
Money Has Four Legs, dir. Maung Sun
The Real Charlie Chaplin, dirs. Peter Middleton, James Spinney
Omar Amiralay: Sorrow, Time, Silence, dir. Hala Alabdalla - WP
Ripples Of Life, dir. Wei Shujun
The Story of Film: A New Generation, dir. Mark Cousins
The Storms of Jeremy Thomas, dir. Mark Cousins
The Taking, dir. Alexandre O Philippe
We, dir. Alice Diop
Experimenta strand
The Afterlight, dir. Charlie Shackleton - WP
Train Again, dir. Peter Tscherkassky
Anachronic Chronicles: Voyages Inside/Out Asia, dirs. Yu Araki, Lu Pan
The Bang Straws, dir. Michelle Williams Gamaker
Tellurian Drama, dir. Riar Rizaldi
Eye Cut, dir. Sarah Pucill
What We Shared, dir. Kamila Kuc - WP
Lago Gatun, dir. Kevin Jerome Everson - WP
The Landscapes of Resistance, dir. Marta Popivoda
Liberation Radio, dir. Esther Johnson
Family strand
The Ape Star, dir. Linda Hamback
Martin and the Magical Forest, dir. Petr Oukropec
Robin Robin, dirs. Dan Ojari, Mikey Please
Maya and the Three, creator Jorge R. Gutierrez, series, episodes 1-4
Treasures strand
I Know Where I'm Going!, dirs. Michael Powell, Emeric Pressburger
Naked, dir. Mike Leigh
Oliver!, dir. Carol Reed
The Outsiders, dir. Francis Ford Coppola
Sambizanga, dir. Sarah Maldoror