Concert movie Björk: Biophilia Live is to receive its European Premiere at the Karlovy Vary International Film Festival.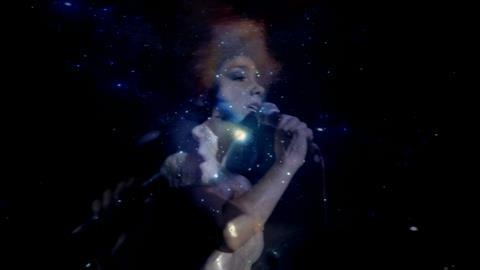 Directors Peter Strickland and Nick Fenton will be on hand for the gala presentation of Björk: Biophilia Live at the 49th KVIFF (July 4-12).
Icelandic artist Björk came out with the Biophilia project in 2011. Beyond her eighth full-length album, the project also includes performances, interactive applications, and educational programs. These have now been augmented by a film of the concert created at London's Alexandra Palace where Björk completed the Biophilia tour; the singer cooperated on the project with Fenton and Strickland.
In addition to Björk, the film features an Icelandic choir, Austrian percussionist Manu Delago, and numerous unusual instruments. The performance is rounded out with collages referencing tectonic plates, DNA, the Moon, mushrooms, and various other objects of scientific interest. The resulting film illustrates songs and concepts from the Biophilia project, plus other well-known songs from Björk's career.
British film editor Fenton has previously worked with Turner Prize winner Jeremy Deller, British director Clio Barnard and Icelandic band Sigur Rós on their films Heima (2007) and Inni (2011), both of which were shown at KVIFF.
Strickland previously made drama Katalin Varga, which was awarded a Silver Bear at the Berlinale for outstanding sound design, while Italian horror tribute Berberian Sound Studio won Strickland a British Independent Film Award for Best Director.
The filmmakers will be present at the screening on July 10 in the Grand Hall.
Björk: Biophilia Live was first screened at the Tribeca Film Festival in April.