Concert film Björk: Biophilia Live to receive its UK premiere at the LFF.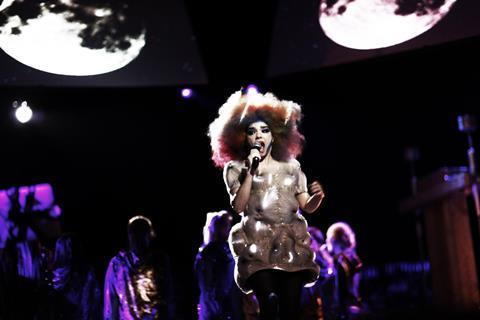 Björk: Biophilia Live will receive its UK premiere as the Sonic Gala at the 58th BFI London Film Festival (Oct 8-19).
Björk will attend the event with directors Peter Strickland and Nick Fenton on Oct 9 at the Odeon West End.
The concert film films the Icelandic artist as she performs songs from her eighth album with visuals provided by designers from around the world.
Directed by Strickland (The Duke of Burgundy, Berberian Sound Studio) and editor Fenton (The Selfish Giant, Sigur Rós film Inni), the concert was recorded live at London's Alexandra Palace in September 2013
The film will be screened at festivals, museums, galleries and cinemas in the UK and worldwide through autumn 2014.
Strickland said: "Being offered the Sonic Gala is gleeful revenge for all those many occasions when people complained about the music I was playing."
Fenton added: "Let's not get too excited as it is only a concert film with some volcanoes and a few viruses; thunder and lightning; plankton and planets. Not forgetting Björk, the jellyfish, David Attenborough and the beautiful sounds of the choir Nobili. So just another Sonic Gala at the BFI London Film Festival."
LFF's Sonic strand features music-inspired films and events. The festival's full programme will be announced Sept 3.