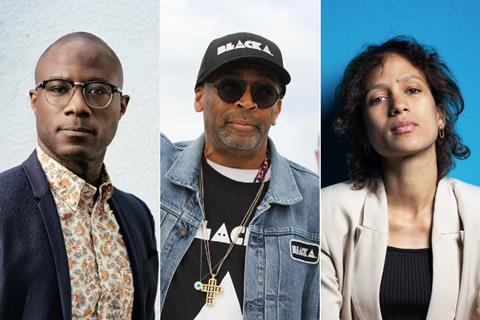 Black filmmakers are being significantly underrepresented in the main sections of the world's major competitive film festivals, according to a Screen study of the last three years.
Screen has surveyed the main international competitions of the 14 A-category festivals to have held an edition in 2018, 2019 and 2021 (several festivals did not take place in 2020 due to the pandemic, while Montreal World Film Festival took place in 2018 but not subsequently).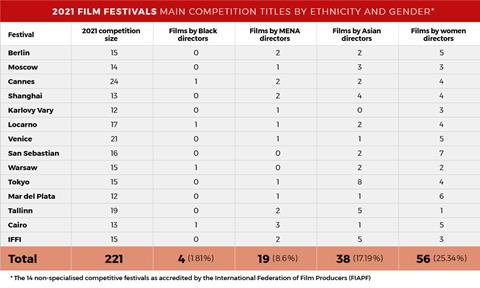 In 2018, just two of 226 films (0.88%) in these sections came from Black filmmakers, with the number at two of 223 (0.9%) in 2019, and four of 221 (1.81%) in 2021.
In total across the three years, only eight of 670 films (1.19%) came from Black filmmakers.
The figures are similar when considering the number of directors. In 2018, only two of 236 directors (0.85%) to work on the competition films were Black; with that number at two of 233 (0.86%) in 2019 and six of 242 (2.48%) in 2021.
No Black director has appeared twice in the main competition at any of the festivals across this time.
Nine of the 14 A-class festivals haven't programmed any Black directors in their main competition section across the past three years.
Black filmmakers who have appeared in competition at major festivals in this time include Barry Jenkins, whose feature If Beale Street Could Talk played at Argentina's Mar Del Plata Film Festival in 2018; Spike Lee, who appeared in Cannes Competition that year with BlacKkKlansman; and Mati Diop, who was in the Cannes section the following year with Atlantics.
Festival classifications are awarded by FIAPF, a body which provides a regulatory framework for international film festivals. It does not award class status, instead separating the competitive festivals by 'specialised' and 'non-specialised'; the 'A-category' is a widely-used industry standard for the 'non-specialised' category, which includes Berlin, Cannes and Venice film festivals.
Screen has contacted the International Federation of Film Producers Associations (FIAPF) for comment on tthe statistics; in response, the FIAPF has said it does not have its own statistics available.
Diversity
For comparison, Screen has also analysed the figures for films by Arab and Asian directors; and for films directed by women, which has previously been highlighted as an area of underrepresentation at major film festivals.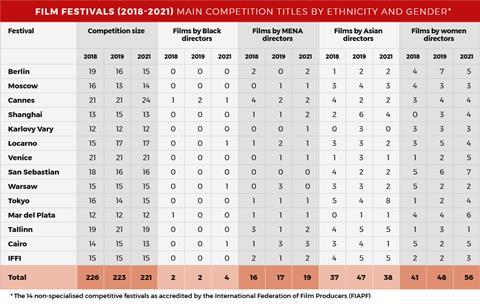 The number of films directed by women in main competition at the major festivals has increased across these three years, from 41 in 2018 (18.14%), to 48 in 2019 (21.52%) and 56 in 2021 (25.34%).
For Arab directors, the number of films has increased slightly, from 16 in 2018 (7.08%) to 17 in 2019 (7.62%) and 19 in 2021 (8.60%).
For Asian directors, 2018 saw 37 titles (16.37%), with a marked increase in 2019 to 47 (21.08%), and a decrease for 2021 to 38 (17.19%).
These figures highlight the relative lack of Black directors included in these sections, and that while there is a slight increase since 2018, it is not keeping pace with inclusion for other global majority identities.
The absence of Black filmmakers at major festivals has a significant effect further down a film's journey, through to awards; for example, none of the 73 films to have won the Oscar for best international feature was made by a Black director.