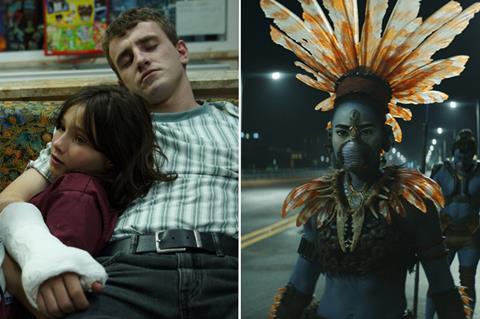 | | | | | |
| --- | --- | --- | --- | --- |
| Rank | Film (distributor) | Three-day gross (Nov 18-20) | Total gross to date | Week |
| 1. | Black Panther: Wakanda Forever (Disney) | £6.2m | £22.7m | 2 |
| 2. | The Menu (Disney) | £918,761 | £931,611 | 1 |
| 3. | Lyle, Lyle, Crocodile (Sony) | £519,000 | £12.2m | 6 |
| 4. | Black Adam (Warner Bros) | £496,379 | £19.3m | 5 |
| 5. | Living (Lionsgate) | £338,287 | £2.6m | 3 |
Black Panther: Wakanda Forever topped the charts and passed £20m as Mubi's awards contender Aftersun scored an excellent per-cinema average on its opening weekend.
Wakanda Forever dropped 50% on its opening weekend, adding £6.2m to reach a strong £22.7m from two sessions.
It is already the 17th -highest-grossing of 29 Marvel Cinematic Universe titles, overtaking 2010's Iron Man 2 (£21.2m) and 2013's Thor: The Dark World (£20.1m). It is slightly down on the £6.9m second weekend of the first Black Panther film, which had almost £30m after its second weekend having opened early in its first week; and the £6.7m second session of Captain Marvel, which was up to £23.6m at this point.
However, Wakanda Forever is tracking ahead of sequels Guardians Of The Galaxy Vol. 2 and Captain America: Civil War, which both opened ahead of Wakanda Forever and had second weekends of £6.1m and £4.8m, finishing on £41m and £37m respectively. That gives Disney a benchmark of over £40m for the Ryan Coogler-directed film.
Disney also took second spot with new title The Menu, which opened to £918,761 from 610 sites at a £1,506 average. Including previews, the film has £931,611.
Sony's Lyle, Lyle, Crocodile fell just 20% on its last session, with a £519,000 sixth weekend taking it to a £12.2m cume – enough to hold third spot after six weekends.
Former number one Black Adam dropped to fourth place for Warner Bros, adding £496,379 on its fifth session – a 36.7% drop. The film is now up to £19.3m, as the sixth-highest-grossing of 11 DC Extended Universe films, with 2017's Wonder Woman (£22.2m) next ahead.
Living held well on its third weekend, dropping just 31.2% with £338,287 taking it to £2.6m cume. With no opener crossing the £1m mark, takings for the top five were down 43% to £8.5m, but still well up on the £2.3m low point from September.
Aftersun starts well
Disney's awards contender The Banshees Of Inisherin posted a 43% drop on its fifth session, with £321,449 taking it to a £8.2m total. A final cume over £10m looks possible, which would mark a strong performance.
Mubi's Aftersun recorded a stellar £176,320 start from just 109 locations at £1,618-per-cinema. Fresh from winning three craft Bifa awards on Friday – and competing in seven further categories at the ceremony on December 4 – the film is up to £230,334 including previews.
Indian crime sequel Drishyam 2 opened to £146,847 from just 71 sites for Yash Raj Films, at an excellent £2,068 average – above that of fellow openers Aftersun and The Menu. It has already topped the £118,756 total of the first film from 2015.
Event cinema distributor Trafalgar Releasing had two titles with strong encore screenings this weekend. Having taken £106,028 on Thursday 17, Liam Gallagher – Knebworth 22 added £117,683 at the weekend and is at £223,711. Seasonal favourite Matthew Bourne's Nutcracker! took £107,484 on Tuesday 15 plus £117,382 on Sunday 20, and has a £233,399 total.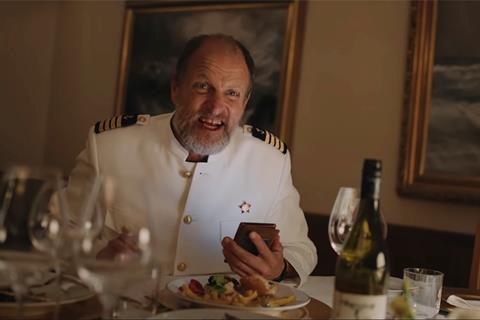 Ruben Ostlund's Triangle Of Sadness had a £92,944 fourth weekend, falling 33.3%. It is now up to near £1.2m for Lionsgate, justifying the distributor's acquisition of the film from Curzon last month.
Lionsgate horror Prey For The Devil added £90,390 on its fourth weekend, and is up to £2.2m.
Smile added £71,000 on its eighth weekend for Paramount. The former number one is up to £11.6m – a strong result for an 18-rated title.
James Gray's Armageddon Time led Universal's slate on its opening weekend, taking £64,502 from 312 sites at a £207 average. The film has £67,043 including previews.
Paramount comedy Confess, Fletch opened to £56,000 from 306 cinemas, at an average of just £183.
Still in cinemas after 21 weekends, Universal's Minions: The Rise Of Gru recorded a 21% increase on its previous session, with £55,302 taking it to £46.8m - £1m shy of the total of 2015's Minions. Universal stablemate Ticket To Paradise dropped 37.6% on its ninth weekend, with £41,443 taking it to a £9.8m total.
eOne's The Woman King starring Viola Davis fell 40% on its seventh weekend, with £40,000 taking it to nearly £3.8m.
For Trinity Film, Cheuk Tin Ho's crime drama The Sparring Partner opened to £32,176, and has £46,947 including previews.
With £31,185 on its sixth weekend – a 30% drop – Moviegoers Entertainment's Pakistani action feature The Legend Of Maula Jatt now has almost £1.4m. It is the highest-grossing film from South Asia in the last four-and-a-half years, passing the £1.35m of Sanju from July 2018. Moviegoers will release an uncut version of Maula Jatt in over 30 UK cinemas from December 2.
One Piece Film: Red added £28,128 for Anime Ltd, with the Japanese franchise title rising to £814,715 from three sessions.
DC League Of Super-Pets added £25,605 (dropping just 13.9%) on its 17th weekend in cinemas, and is up to £16.1m for Warner Bros.
Mrs. Harris Goes To Paris – a Bifa winner for costume designer Jenny Beavan – added £17,130 to reach £4.8m for Universal.
Yash Raj Films' Uunchai added £17,006 on its second weekend, and is up to £65,666.
Decision To Leave added £16,958 on its fifth session to reach £942,345 for Mubi. It will likely finish its run slightly shy of a £1m total.
Universal's Watcher is closing out with £11,313 taking it to £316,810 from three weekends.
Playing in five cinemas, Nathalie Alvarez Mesen's Clara Sola took £1,915 for Peccadillo Pictures.