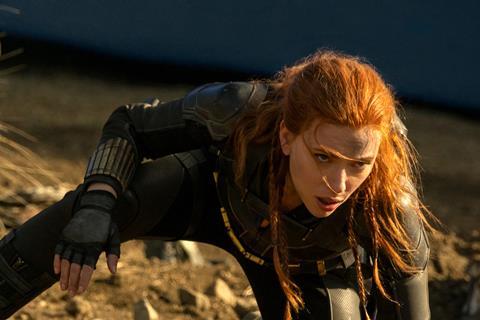 | Rank | Film (Distributor) | Three-day gross (July 9-11) | Total gross to date | Week |
| --- | --- | --- | --- | --- |
| 1 | Black Widow (Disney) | £4.6m | £6.9m | 1 |
| 2 | Fast And Furious 9 (Universal) | £1.1m | £13m | 3 |
| 3 | Peter Rabbit 2 (Sony) | £510,000 | £18.2m | 8 |
| 4 | In The Heights (Warner Bros) | £232,000 | £3.8m | 6 |
| 5 | Cruella (Disney) | £232,000 | £8.9m | 4 |
GBP to USD conversion rate: 1.39
Disney's Marvel title Black Widow stormed the UK-Ireland box office this weekend, opening in top spot with a £4.6m Friday to Sunday session.
This was the second-highest opening of the year behind the £4.8m of Fast And Furious 9 last month. Including two days of previews, Black Widow took £6.9m – the highest opening of the year ahead of Fast And Furious 9's £6m, although the latter title only previewed for one day.
Playing in 622 locations for Wednesday and Thursday and 649 for Friday, Black Widow's average was £7,149 for Friday-Sunday
The film is the first in Phase Four of the Marvel Cinematic Universe and the 24th MCU film overall. It sees Scarlett Johansson as Natasha Romanoff, the titular Black Widow operative who is on the run and forced to confront a conspiracy tied to her past.
It is the 16th highest of the 24 total openings, behind Iron Man 2's £7.7m from 2010. It performs slightly better amongst the first standalone films for a particular character, landing fifth out of 10.
All comparisons should be taken in the context of this being the first MCU release since the pandemic began; and of the social distancing measures in place at UK-Irish venues, including a 50% limit on all screenings in England. Takings were also substantially down on Sunday due to England's presence in the European Championship final; although the game did not kick off until 8pm, many people began preparing for it much earlier in the day.
Last week's number one Fast And Furious 9 fell 58.9% on its third session, with £1.1m taking it to £13m to date. It has passed the total grosses of the first three films in the franchise, with 2009's number four Fast And Furious next in its headlights with £13.7m.
Peter Rabbit 2 continued to chew away for Sony, posting a drop of just 38.6% on its eighth weekend with £510,000 bringing it to £18.2m.
For Paramount, A Quiet Place Part II added £254,000 – a 40% drop – to reach £10.9m on its sixth weekend, with the £12.1m of the 2018 first film still just about within reach.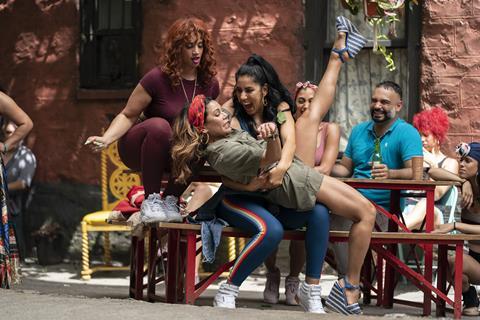 Lin-Manuel Miranda's musical In The Heights dropped 50% with £232,000 taking it to £3.8m on its fourth session. Warner Bros also had franchise title The Conjuring: The Devil Made Me Do It, which took a 43.8% drop on its seventh weekend with £128,000 and has £9.1m. It may just fall short of the £10.5m and £11m grossed by the first two Conjuring films.
Cruella dropped 45.7% on its seventh session with £223,000, and has £8.9m so far.
The Hitman's Wife's Bodyguard fell 56.9% on its fourth weekend, with £129,329 taking it to £3.5m. It will finish short of the £7.3m grossed by the first film in 2017. Distributor Lionsgate also has The Father, which fell 52.5% and is up to £1.9m.
Universal's Freaky dropped 68% on its second weekend, with £106,572 taking it to £682,982 overall.
Studiocanal's Oscar best international feature winner Another Round posted a good hold given the obstacles this weekend, dropping just 25% on its opening with £97,017. It actually went up 3% on its second Friday and 23% on its second Saturday, with a 71% drop on the Sunday indicative of the football effect. The film has £424,575 after two sessions.
The distributor also has Harry Macqueen's drama Supernova, which dropped 64% on its third session to £31,920, and has £625,810 to date.
Altitude's family animation Dogtanian And The Three Muskehounds dropped 51.8% on its third weekend with £37,473 taking it to £383,649 to date.
Sundance documentary Truffle Hunters opened to £15,000 from 37 locations for Sony, at an average of £405.
Moomins creator biopic Tove started with £6,857 from 22 locations at an average of £312.
Italian drama Martin Eden – winner of Screen's 2019 Toronto Platform jury grid – took £6,206 across its opening weekend through New Wave Films.
National Amusements' Violet Evergarden: The Movie added £5,496 on its second weekend and has £66,051 total.
Playing on seven screens for Studio Soho Distribution, pregnancy drama The Surrogate opened to £1,264 – a £181 average.