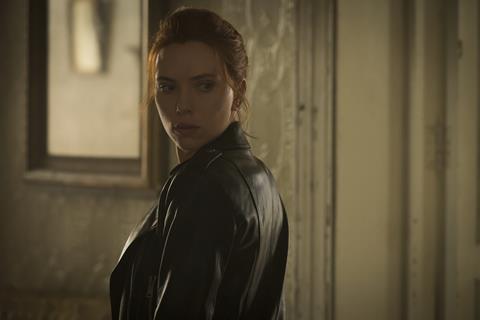 Marvel's Black Widow scored the biggest domestic box office opening since the start of the pandemic this weekend, grossing an estimated $80m in North America.
Distributor Disney also reported that the film earned over $60m from its worldwide day and date release as a Premier Access option on the Disney+ streaming service.
With another $78m coming from international markets, the film ended up with an estimated $215m from its global launch, said Disney.
Arriving as the first Marvel film in cinemas since July 2019's Spider Man: Far From Home, Black Widow was the focus of big expectations, with some sources predicting a domestic opening closer to $90m.
Disney said the film achieved the highest domestic opening weekend for a Marvel Cinematic Universe origin story after Black Panther and Captain Marvel, though that appears to be with the box office and streaming takes combined. The debut was the biggest domestic opening weekend since Star Wars Episode IX: The Rise Of Skywalker in December 2019, Disney added.
Disney's report of the film's take from Disney+, where it was available to subscribers for a payment of £19.99 or $29.99, was the first time the studio has put a figure on a streaming premiere.
Disney Media and Entertainment Distribution chairman Kareem Daniel said: "Once again, Marvel has delivered an exceptional film to the delight of fans worldwide with Black Widow achieving numerous milestones in the current marketplace. Black Widow's strong performance this weekend affirms our flexible distribution strategy of making franchise films available in theaters for a true cinematic experience and, as Covid concerns continue globally, providing choice to consumers who prefer to watch at home on Disney+."
Black Widow also powered the overall US box office top ten to its first $100m-plus weekend since the Presidents' Day holiday weekend of February 2020.
In second spot on the North American top ten, Universal's F9 took an estimated $10.8m over the weekend, bringing its domestic total to $141.3m and its worldwide tally to $541.8m.
In third place, The Boss Baby: Family Business, the DreamWorks Animation family film distributed by Universal, took an estimated $8.7m, bringing its domestic total to $34.7m.