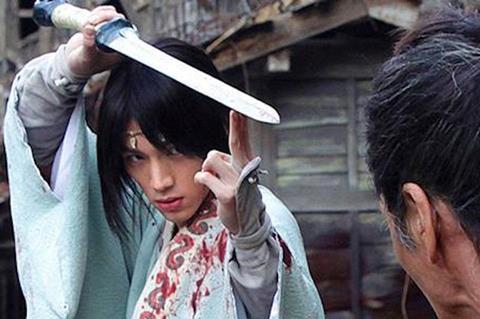 Opening on 111 screens this weekend, Blade Of The Immortal will surpass The Handmaiden as the widest opening for an arthouse foreign language title in 2017.
Takashi Miike's samurai epic, based on Hiroaki Samura's long-running manga series of the same name, follows an immortal warrior who is enlisted by a young girl to avenge her parents' slaughter at the hand of a group of master swordsmen.
Takuya Kimura (Hero), plays the lead alongside newcomer Hana Sugisaki. Sôta Fukushi and Ebizô Ichikawa (13 Assassins) round out the cast with veterans Min Tanaka and Tsutomu Yamazaki.
The Handmaiden is the only non-Bollywood and non-Polish foreign-language title to cross £1m this year and Blade distributor Arrow Films would be thrilled if their charge could get near that total.
Today, few arthouse foreign language movies dare open on more screens in the UK. The Handmaiden opened on 94 screens. Julieta, last year's best foreign language performer, opened on 109 for Sony. The Raid is among a handful of movies to go wider in the past decade after debuting on 298 screens for Momentum in 2012. Hero, House Of Flying Daggers and Curse Of The Golden Flowers all opened on more than 200 screens.
"Despite the ever-increasing challenges of releasing independent and especially foreign language titles in the UK, 2017 has bucked the trend with excellent results from Elle, The Handmaiden and Toni Erdmann, in particular," said Codie Entwistle, theatrical sales manager at Arrow.
"Key to this has been the BFI Audience Fund which has helped independent distributors widen the reach of their marketing campaigns and target a broader audience in order to give those films a chance to cross over beyond a traditional arthouse release."
Blade Of The Immortal received £100,000 via the BFI's Audience Fund, which is partly designed to help movies after opening weekend, something Blade will need to help combat the Star Wars: The Last Jedi screen crush. The campaign was tasked with trying to reach younger and regional audiences and capitalise on the Star Wars footfall.
The Handmaiden, Elle and Lady Macbeth received the fund's highest movie awards of £150,000 this year.
Polish and Bollywood movies have opened wider than Blade Of The Immortal in the UK this year but are generally considered by distributors to fall within a more commercial bracket than traditional arthouse.
Two weeks ago, for example, Polish comedy-romance sequel Letters To Santa 3 opened to an impressive £398,000 from 253 cinemas for growing specialist distributor Phoenix Productions. Meanwhile, Polish thriller Botoks arrived in the UK in October, quickly becoming the first Polish film to crack £1m.