Fiona O'Shaughnessy, Abigail Hardingham and Cian Barry star in darkly comic love story.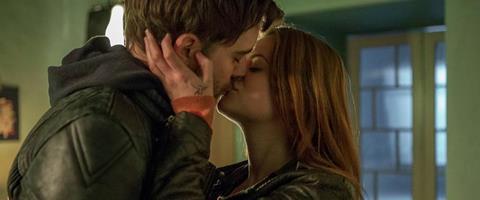 Nina Forever, the debut feature film from the Blaine Brothers, has gone into production in the UK.
Described as "a darkly comic love story", the film is produced by Cassandra Sigsgaard as a Casualties Bureau production presented by Charlie Productions and Jeva Films.
For production details visit
The original screenplay is by Ben and Chris Blaine (The Blaine Brothers), who were Screen Stars of Tomorrow in 2006 and were recently nominated for a BIFA with their short "0507".
Director of photography is Oli Russell, who was also a Screen Star of Tomorrow in 2006.
It stars Fiona O'Shaughnessy as Nina, Abigail Hardingham as Holly and Cian Barry as Rob, with support from Elizabeth Elvin, David Troughton and Sean Michael Verey.
In the film, Holly's attempt at helping Rob through his grief is not aided by his dead girlfriend Nina coming back, bloody and broken, every time they make love.
The Blaine Brothers said, "Nina Forever is a very personal story for us.
"Exploring themes of grief, the importance of people who aren't here and of the baggage you bring to a relationship, it shares the fantastical central conceits we use in much of our work, such as 'Hallo Panda', whilst finally connecting our dark side to our comedies.
"It is both as pitch black and cynical, and as innocent and open, as we have ever been."
The brothers have launched a Kickstarter campaign to help fund a car crash scene crucial to the story.
Nina Forever – an accident waiting to happen aims to raise £18,000 in crowd-funded cash by midnight on May 8.
The Kickstarter project offers rewards relating to the film, such as a one-to-one mentoring session with the Blaine Brothers, a pair of bloody pillowcases, a DVD copy of the film, signed copies of the storyboards and an executive director credit, in return for pledges to help fund Nina Forever.
Sigsgaard, who will at Cannes this month to garner interest in Nina Forever said: "We have an incredibly skilled, hard-working crew on board as well as an enchantingly talented cast, all of whom have brought the Nina Forever story to life in ways beyond our expectations.
"It's very encouraging to see it come together so fluently and with such stunning results. We're really looking forward to bringing Nina Forever to audiences and continuing the film's success by securing a distribution deal in the near future."