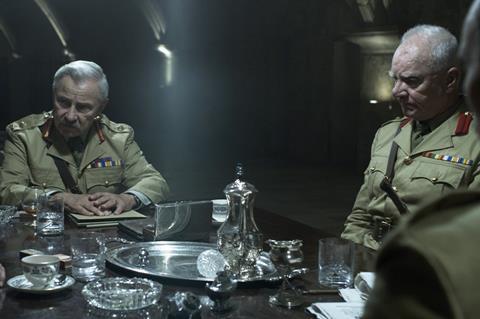 Davide Ferrario's Blood On The Crown leads the nominations for the first edition of Malta Film Awards, with the winners to be announced on January 29 in Valletta, Malta.
It has 15 nominations, including for best director, best film, three for best actor and best screenplay.
The drama, previously titled Just Noise, stars Harvey Keitel and Malcolm McDowell. Based on a true story, it chronicles how the citizens of Malta fought for independence from Britain in 1919. It is produced by Jean-Pierre Magro, Pedja Miletic and Aaron Briffa.
Winston Azzopardi's The Boat has nine nominations, including for best director, best screenplay and best film. The film is about an unnamed man, played by Joe Azzopardi, who heads out to fish in his small boat. All is idyllic until events take a nightmarish turn. The father-and-son duo of Winston and Joe Azzopardi have co-written the screenplay.
The nominated TV series are rled by L-Għarusa with 11, including for best TV series.
Malta Film Awards 2022 nominations
Best film
The Boat, dir. Winston Azzopardi
Ħabbilni ħa Nirbaħ dir.
Blood On The Crown dir. Davide Ferrario
Id-Destin dir. Dominic Said
Weeping House of Qala dirs. Mark Doneo, Keith Albert Tedesco
Best director
Winston Azzopardi, The Boat
Jonathan Farrugia, Pass Pass Għal Auschwitz
Davide Ferrario, Blood On The Crown
Justin Farrugia, Steven Dalli, Strada Stretta
Steven Dalli, Justin Farrugia, L-Għarusa
Best actor
Mark Doneo, Weeping House of Qala
Malcolm McDowell, Blood On The Crown
Godwin Scerri, Blood On The Crown
Mario Micallef, L-Ispettur
Harvey Keitel, Blood On The Crown
Best actress
Paula Mintoff, L-Għarusa
Mary Rose Mallia, Il-Mandraġġara
Clare Agius, Il-Madonna taċ-Ċoqqa
Mary Rose Mallia, Il-Madonna tac-Ċoqqa
Louise Doneo, Weeping House Of Qala
Best screenplay
Winston Azzopardi, Joe Azzopardi, The Boat
Audrey Brincat Dalli, Strada Stretta
Alan Fenech, Scrooge
Jean Pierre Magro, Blood On The Crown
Audrey Brincat Dalli, L-Għarusa