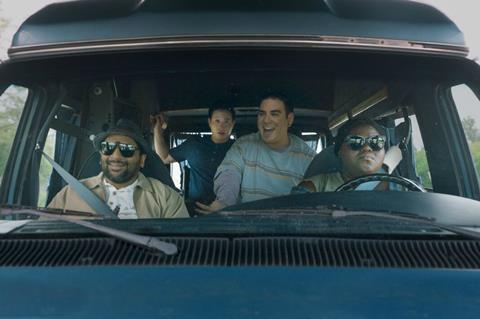 Blue Fox Entertainment announced has acquired international rights to the SXSW road trip comedy Come As You Are and will launch sales in Cannes.
Richard Wong directed the remake of Geoffrey Enthoven's 2011 Belgian comedy Hasta La Vista, and UTA Independent Film Group handles US rights.
The story inspired by the life of Asta Philpot follows three young men with disabilities who flee their overbearing parents on a road trip to a Montreal brothel that caters to people with special needs.
Grant Rosenmeyer, Hayden Szeto, Ravi Patel, Gabourey Sidibe, Janeane Garofalo, and C.S. Lee star. Erik Linthorst wrote the screenplay, based on the original script by Mariano VanHoof and Pierre de Clercq.
Rosenmeyer, Barrett Stuart and Jacqueline 'JJ.' Ingram produced Come As You Are, and executive producers are Kelly Waller and Ted Reilly on behalf of Chicago Media Angels, alongside Franklin Leonard of The Black List, through a financing partnership with Jennifer Dong's China-based Meridian Entertainment.
Blue Fox Entertainment's James Huntsman negotiated the deal with UTA representing the filmmakers.
"A film that can strike this perfect balance of making the audience laugh and cry is a rare gem that needs to be experienced," said Blue Fox Entertainment in a statement. "We know Come As You Are will resonate with audiences globally, and we love the way this film brings to the forefront these heroic, funny and empathetic characters who we haven't often seen on screen."
Wong added, "I am so pleased to share Come As You Are with an international audience. Between Asta Philpot and Hasta La Vista, our roots are international. Our message of overcoming obstacles and the power of the human spirit, along with some big laughs, are a universal language, and I believe audiences around the world will relate to our characters and their story. Blue Fox's passion and zeal for the film was evident from the first time we met them at our South By Southwest premiere and we look forward to an exciting partnership."