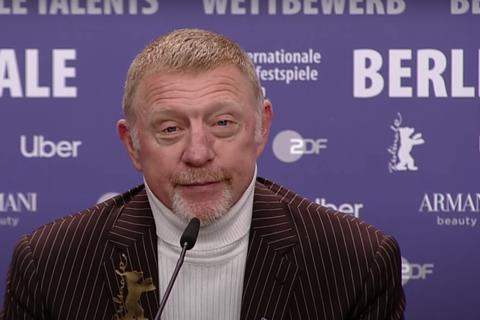 Boris Becker has revealed that he cried in prison when watching Novak Djokovic win the Wimbledon 2022 Men's Singles tennis championship; and has spoken about his cinematic inspirations including Sean Penn and Jack Nicholson.
Becker coached Serbian star Djokovic for three years from 2014 to 2016, and maintained a "close" relationship after their professional connection ended. "Especially my time inside, he supported me and my family," said Becker, who was sentenced to 30 months imprisonment in the UK in April 2022, serving eight in total. "The Wimbledon final where he beat [Nick] Kyrgios, I saw inside and I started crying when he started winning."
Becker is in Berlin for the world premiere of Special Gala documentary Boom! Boom! The World Vs. Boris Becker, today (Sunday 19) at 15.00.
"Talking about your life, it became as personal as it's going to get," said Becker, who was in good spirits for a large number of attending German press in his homeland. "When we first started [filming] we had neither the pandemic, nor a jail sentence. But as they say – at the end, all is good. Hopefully everybody gets to see a different side of the guy sitting in front of you."
"It feels great to be free again, free and at peace with myself," said the tennis star, who retired in June 1999 having won 49 career titles including six Grand Slams. "We all have to try to prove who we are, and be the better selves – whether that is possible is another question."
"I've faced criticism for the last 30 years," said Becker. "Some don't like my blue eyes, some don't like my long nose, some don't like my choice of women. I've never been able to achieve everybody's approval, and I'm not looking for it."
He also talked about his cinematic inspirations, naming Sean Penn – also at the Berlinale with documentary Superpower – Jack Nicholson, James Dean and Marlon Brando as his favourite film stars. "They're all a bit rebel – for some reason I like them…" joked Becker. "What I mostly love about movies is when it says it's based on a true story, because then I put my attention to it much more carefully," he continued. "This is what this film is about – it's not based on a true story, it is a true story. My life seems like a movie sometimes; it just happened to be real."
Becker was sat between director Alex Gibney and producer John Battsek at the conference for the Apple TV+ title. Gibney recalled how Battsek sent him a lengthy email several years ago pitching the project to the director, to which Gibney responded simply 'You had me at Boris'.
"The talent Boris has is his ability as a storyteller to tell his own story – that was hugely exciting to me," said Gibney.
Subjects in the film include Djokovic, plus former tennis players John McEnroe, Bjorn Borg, Mats Wilander and Ion Tiriac. "It's not difficult to get any of those people when Mr. Boris Becker is asking them to be in his film," said Battsek.
The Berlinale continues until Sunday, February 26.