Universal's animation adds $2.17m (£1.33m) to remain at number one for second straight week, just ahead of eOne's A Walk Among the Tombstones' $2.15m (£1.31m) debut.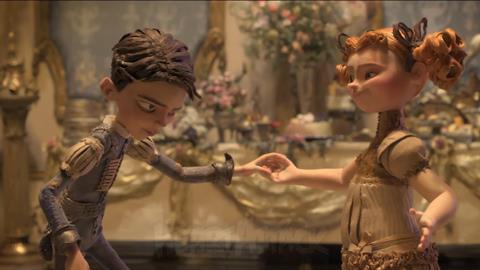 Thanks to a week-on-week rise of 2% (excluding previews), The Boxtrolls has held off stiff competition from A Walk Among the Tombstones to retain the UK box office lead.
Universal's latest Laika outing added $2.17m (£1.33m) in its second weekend and has now stacked up $5.9m (£3.62m) in the UK. At the same stage in its run, Coraline (Laika's best performer) stood at $6.9m (£4.2m).
Also for Universal, Lucy fell just 32% in its fifth weekend to take an additional $900,000 (£551,000) for $21.3m (£13.03m) to date. Luc Besson's best-ever UK performer is still in with a shot at £15m but, either way, it's had a strong run.
Stage adaptation The Riot Club didn't exactly shake up the box office with a $810,000 (£496,000) debut at a site average of $2,135 (£1,307). It still managed to become director Lone Scherfig's second best-ever bow ahead of An Education's $652,000 (£399,122), but it's worth noting that came from just 93 sites.
EONE
Pipped to the top spot by around $33,000 (£20,000) but boasting a better site average, A Walk Among the Tombstones was the week's highest new entry in second.
eOne's thriller scored a $2.15m (£1.31m) from its 445 sites for an average of $4,844 (£2,986). It's already director Scott Frank's best-ever UK performer, and faces an intriguing battle this coming weekend against The Equalizer.
Also for eOne, A Most Wanted Man dropped 46% in its second weekend with $536,000 (£328,000) for $2.16m (£1.32m) to date and, as expected, is now director Anton Corbijn's best-ever UK performer.
The Hundred-Foot Journey has travelled to $3.6m (£2.2m) after three weeks in play.
FOX
Posting a sturdy hold with a drop of just 11% (excluding previews), Pride remained in third with a $945,000 (£578,576) second weekend.
Fox's comedy-drama is now up to $3m (£1.9m) in the UK, having added just over $900,000 (£550,000) during Mon-Thurs in its first week of release. Similar returns will be needed if it's to push towards the £5m mark.
Also for Fox, Let's Be Cops has amassed $7.5m (£4.6m) following a $477,000 (£291,917) fourth weekend, while How to Train Your Dragon 2 and Dawn of the Planet of the Apes have reached $39.8m (£24.4m) and $53.3m (£32.6m), respectively.
SONY
Falling 37% in its third weekend, Sony's Sex Tape grossed a further $694,000 (£425,000) for $5.8m (£3.56m) to date.
Also for Sony, Think Like a Man Too bowed with $214,000 (£131,000) from its 101 sites. That's a debut ahead of its predecessor's $133,000 (£81,516) from 53 sites on its way to $1.1m (£647,872), a target that the sequel is in a decent position to challenge.
DISNEY
Guardians of the Galaxy is now the highest grossing comic book/superhero outing in 2014 at the UK box office.
Disney's latest Marvel effort dropped just 19% in its eighth weekend for $681,000 (£417,000) and reach $44.5m (£27.28m), overtaking X-Men: Days of Future Past's $44.3m (£27.1m).
PICTUREHOUSE
Well-received Nick Cave documentary 20,000 Days on Earth recorded one of the performances of the week.
Released in 31 sites through Picturehouse, the film took $117,000 (£71,833) over Fri-Sun and was boosted by a live event on Wednesday [Sept 17] at 149 sites, lifting its official UK opening to a terrific $578,000 (£353,903).
STUDIOCANAL
Now in its third week, StudioCanal's Before I Go to Sleep grossed $500,000 (£306,223) from its 347 sites for $4.2m (£2.6m) to date.
Also for StudioCanal and both from one-site releases, The Kidnapping of Michel Houellebecq and Barbecue recorded UK debuts of $3,000 (£1,834) and $1,900 (£1,150), respectively.
WARNER BROS
Woody Allen's latest Magic in the Moonlight failed to sparkle as it landed with $441,000 (£270,000) from its 178 sites through Warner Bros.
In terms of the director's output in the UK, that's just ahead of Vicky Cristina Barcelona's $398,000 (£243,684) taken from just 34 sites, and some way short of Allen's best-ever UK opening, Blue Jasmine's $1.4m (£833,798) from 188 sites.
The likes of Vicky, Midnight in Paris and Match Point all ended up slight above or below the £2.5m mark in the UK, a target that's likely too far for Magic in the Moonlight.
ENTERTAINMENT
The latest in a line of young adult adaptations, Entertainment's The Giver could only manage a soft $305,000 (£186,729) from its 288 sites. Even discounting the big hitters of Twilight and The Hunger Games, the likes of Divergent and The Mortal Instruments all posted debuts of over £1m.
Also for Entertainment, The Inbetweeners 2 is up to $54.3m (£33.2m) after a $217,000 (£132,634) weekend. It will fall short of 2014's best performer The Lego Movie, but it's been an excellent run regardless.
UPCOMING RELEASES
This week sees saturation releases for Lionsgate's What We Did on Our Holiday and Sony's The Equalizer, as Universal's Billy Elliot the Musical - Live screens for one day on Sunday [Sept 28].
eOne's Maps to the Stars receives a wide release, while Fox's I Origins, Curzon Film World's Ida and Arrow Films' Honeymoon are among the films receiving a limited release.