Porta dos Fundos - Contrato Vitalicio, from the YouTube comedy troupe, is now filming in Rio de Janeiro.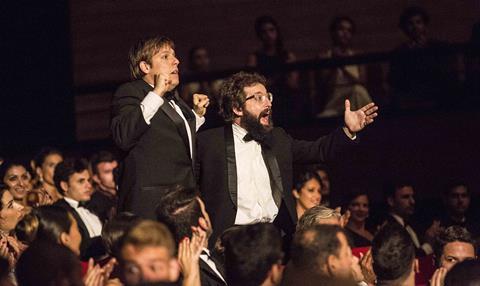 The dry, acidic humour of Porta Dos Fundos (Back Door), an online phenomenon in Brazil since 2012, is ready to transfer to cinemas. The Brazilian comedy troupe, whose YouTube channel has the highest number of subscribers in the country (with over 11.2 million), is currently filming its first feature in Rio de Janeiro.
Scheduled for release in cinemas in June, Porta Dos Fundos - Contrato Vitalicio (Lifetime Contract) is the most anticipated local film of the year, given the size of the group's fan base. In Brazil, their channel of comedy sketches has reached 2.1 billion views and counting, according to latest data from SocialBlade.com. In January, they had their best monthly result ever, with 74.7 million YouTube views.
"We do not see the film as a new format necessarily. Our humour is the same regardless of the media. We haven't made larger productions for the internet because we haven't had the time or the money needed," says Ian SBF, who is directing the film and is one of the group's five founding partners. The other four are Fabio Porchat, Gregorio Duvivier, Antonio Tabet and João Vicente de Castro.
All in their 20s and 30s, the quintet worked as comedians, scriptwriters and directors for Brazilian television before quitting their jobs to dedicate themselves to Porta Dos Fundos. The group's success has come from a bold, irreverent, satirical approach to subjects such as religion, sex, drug use and corruption, always a hot topic in Brazil.
Produced by Porta Dos Fundos with Paramount Pictures and Telecine, the film is a natural next step for the group, which has also created a series for the local Fox pay-TV channel and performed in theatres. "From the beginning, we never thought about what the public wanted. We just do what we like and what makes us laugh. We remain true to ourselves, despite the fact that we are no longer novelty," says Porchat.
Budgeted at $1.7m (R$7m), Contrato Vitalicio won't be a collection of sketches but will build a narrative around two friends: a film-maker named Miguel (played by Duvivier) and his favourite actor Rodrigo (Porchat). After the pair win the top prize at an international film festival, they get very drunk and sign a lifetime contract on a napkin that commits Rodrigo to appear in all of Miguel's upcoming films.
Miguel subsequently disappears for 10 years. Upon his return, he wants to make a movie about what happened to him, claiming he had been abducted by aliens. While questioning his friend's sanity, Rodrigo is bound to make the film, which puts his own life in danger.
Besides Brazil, where the vast majority of Porta's YouTube audience live (94% of users), the film is also likely to receive a cinema release in Portugal, which contains the second largest group of Porta followers (2.5%). The producers are exploring other markets where the group have a fan base, including the US (0.8%), UK (0.3%) and Japan (0.2%).