Streaming giant stages first film panel at Comic-Con in support of Bright, Death Note.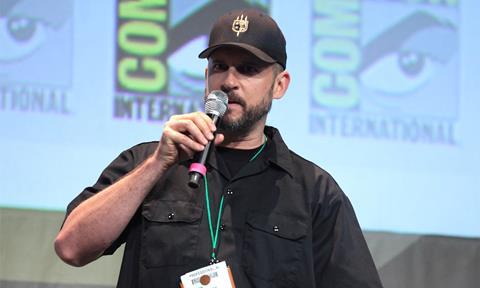 Bright director David Ayer unsurprisingly enthused over the freedom Netflix grants directors during a lively and opinionated session on Thursday afternoon.
Tough guy actor Terry Crews hosted Netflix's first Hall H session and introduced Ayer, who reunites on the upcoming supernatural crime thriller with his Suicide Squad star Will Smith. They were joined on stage by Joel Edgerton and Noomi Rapace, Con debutants Edgar Ramirez and Lucy Fry, as well as producers Eric Newman and Bryan Unkeless.
The session kicked off with a first-look at the new trailer, which sets the scene of a Los Angeles where humans live side-by-side with magical creatures. Smith's LAPD officer teams up with an orc police officer played by Edgerton as they get involved in the hunt for a magic wand with devastating power. Max Landis wrote the screenplay.
"This isn't some bullshit standard issue PG-13 studio move," Ayer, whose directing credits include Fury and End Of Watch, said. "I was able to do my shit… You haven't seen this before."
Ayer reserved special praise for Netflix and the way it champions directors. "They let you be a filmmaker. They said, 'What's the best place to shoot this?' and they gave me all the tools… there was a lot of love on set and a lot of support from Netflix. They gave the actors space and gave us space to be something quite incredible.
"You have to understand what the opposite it… Netflix are going to pull a lot of talent because they are so supportive."
Smith weighed in with his support of the streaming service. "I am extremely excited to see where this thing goes. There's been a lot of debate about it but I have a 16, an 18 and a 25-year-old at home and the films they go to the theatre to see and [what they see on] Netflix don't necessarily cross."
His comments echoed remarks he made in May while serving on the Cannes competition jury when he clashed with the more traditional opinion expressed by festival jury president Pedro Almodovar.
"It is such a bizarre world," Smith said of the Bright milieu, adding: "[This film] was the hard grime of Training Day [which Ayer wrote] smashed with Lord Of The Rings." Smith got a loud laugh when he said the interspecies law enforcement partnership with an orc was a change for the depiction of an African-American police officer. "They found somebody else to be racist against."
Edgerton, who is unrecognisable beneath layers of make-up as the orc cop, noted wryly: "Driving down LA in a car… and I'm looking how I look… The power of Will Smith: nobody cared he was with a monster."
Netflix reportedly stumped up more than $90m for Bright in 2016 after several Hollywood studios passed on the package. The feature is set to air on Netflix on December 22.
Death Note director Adam Wingard kicked off the session with producers Roy Lee and Masi Oka (star of Heroes), alongside stars Margaret Quailly, Lakeith Stanfield and Nat Wolff in support of the August 25 release.
Willem Dafoe, who did not attend, plays the demonic villain of the piece. His voice booked over the Hall H PA system and teed up a sequence in which his character persuades Wolff's character to use a mystical notebook that kills people.
Death Note is based on a Japanese manga comic. The film was revealed last week as the Netflix secret screening and plays on Thursday night at Horton Grand Theater.
"In a lot of way this is this ultimate genre mash-up," Wingard said, explaining the film contained horror, thriller, dramatic, comedy and even musical elements. "It's more about the cat-and-mouse [element]."
Asked who scares him, the director replied: "The president of the United States."