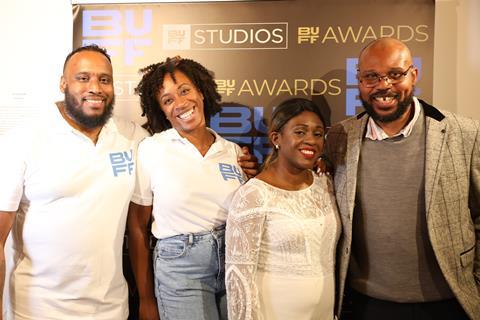 The British Urban Film Festival (BUFF) has revealed the line-up for the 2022 edition, opening with the world premiere of festival founder Emmanuel Anyiam-Osigwe's directorial debut, Absolutely Marvellous.
The feature was filmed over a five-year period, and profiles Marvel Opara, the visually impaired mother of British Olympic boxer Joe Joyce.
The line-up features four world premieres, including Isaac Odeniran's Child Of The Occult, which follows tension within a family between belief in God and the occult, plus 11 UK premieres, such as The Anger from Lebanese filmmaker Marie Surae, about a Muslim girl who escapes from her alcoholic mother to find love and salvation in an older, European man.
Rift is the only animated feature to be premiering at this year's festival. It is directed and produced by Hasraf 'HaZ' Dulull, and produced by Paula Crickard. A former marine goes to extreme measures to save his younger brother who has the ability to tap into multi-dimensions across space and time.
BUFF runs from November 26 to December 2, and will for the first time be held at Rich Mix in London's Shoreditch, having previously taken place at south London cinema Peckhamplex. The BUFF awards is set for December 2, with British-Nigerian filmmaker Obi Emelonye receiving this year's honorary award, whose credits include Black Mail and The Mirror Boy.
BUFF 2022 line-up
*denotes world premiere
Absolutely Marvellous dir. Emmanuel Anyiam-Osigwe*
Something Ain't Right dirs. Susan Ruth Downs, Alex Voss
The Sun Rises In The East dir. Tayo Giwa
Child Of The Occult dirs. Adesola Sunday Oyin-Adejobi, Isaac Oluwole Olaleye*
No Bad Guys dir. George Gittoes
The Full Moon's Selfie dir. Natalia Girlina
Kash Kash – Without Feathers We Can't Live dir. Lea Najjar
Black Daddy The Movie dir. Damon Jamal Taylor
Savage Land dirs. Campbell Dalglish, Henrietta Mann
Pattern dir. Ivan Madeira
The Anger dir. Marie Surae
Remember Me: The Mahalia Jackson Story dir. Denise Dowse
Hostile dir. Sonita Gale
When We Speak dir. Tas Brooker
Mere Desh Ki Dharti dir. Faraz Haider
Collision Course dir. Bolanle Austen-Peters
Fenom dir. Kayla Johnson
Donkey Dust dir. Kit Akinluyi
Rift dir. Hasraf Dulull
The Wife And Her House Husband dir. Marcus Markou*
Four O'Clock Flowers dir. Peter Callow*