New festival director Leena Pasanaen also talks future plans.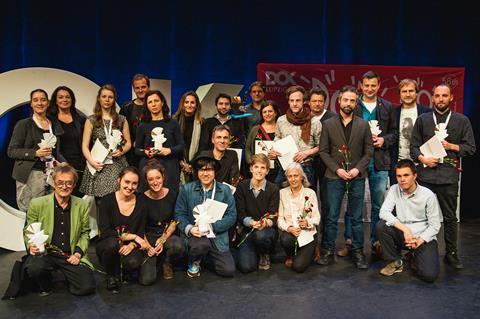 Polish DoP-director Wojciech Staron's Brothers was the big winner at this year's DOK Leipzig (Oct 26 to Nov 1), the first edition under the new festival director Leena Pasanen.
The International Competition jury, which included Bosnian filmmaker Jasmila Zbanic and Docpoint Helsinki's artistic director Ulla Simonen, awarded the festival's main award, the €10,000 Golden Dove, to Brothers about the love-hate relationship between two Polish brothers in their 80s.
Handled internationally by Capricci Films, the film had its world premiere in Locarno's Semaine de la Critique in August where it won the Best Film Award.
This award is Staron's second Dove after receiving the Silver Dove for his documentary Argentinian Lesson at DOK Leipzig in 2011.
He had also served as the DoP on Jerzy Sladkowski's Vodka Factory which won the main Golden Dove in 2010.
In addition, a co-production with Poland - Romanian filmmaker Anca Damian's animated documentary The Magic Mountain (La Montagne Magique) - received the film prize awarded by Leipzig-based public broadcaster MDR for an outstanding East European documentary.
Golden Doves in the other competition sections were awarded to Tom Lemke for Land On Water in the German Competition for Long Documentary and Animated Film, Russian director Anastasia Novikova's The Conversation as Best Short Documentary Film, Switzerland's Georg Schwizgebel's Erlking as Best Short Animated Film, and to the German video artist Betina Kuntzsch for Spirit Away as the Best Animated Documentary Film.
Furthermore, a three-man FIPRESCI Jury gave its International Film Critics Prize to Crystal Moselle's The Wolfpack.
New awards presented this year included the Golden Dove in the German Competition for Short Documentary and Animated Film to Benjamin Kahlmeyer's Eisen, the Young Eyes Film Award for Patrick O'Brien's TransFatty Lives (the Audience Award winner at Wroclaw's American Film Festival last month), while the DOK Neuland Audience Award for the favourite work in an interactive exhibition on Leipzig's market square went to Owen Harris and Niki Smit's virtual reality installation Deep.
A full list of DOK Leipzig's prize-winners can be found at www.dok-leipzig.de.
Looking back and forward
Speaking about her first outing as festival director, Leena Pasanen said that she had been curious to see how bringing documentary and animated films together in the same competition sections would be accepted.
"It went very well and it's definitely something we will continue and develop further," she noted, adding that the feedback from the filmmakers with films at the festival had been particularly positive about this change.
Another successful two innovations this year had also encouraged Pasanen to continue in the same direction: the screening of the festival's opening film Time Will Tell by Andreas Voigt attended by almost 1,000 people in the historic waiting room at Leipzig's Main Railway Station, and over 4,000 visitors to the DOK Neuland installations in two igloos on the city's market square.
In total, around 48,000 people attended the festival week's screenings and events, up 4,000 on 2014.
"The feedback from the filmmakers is that they get more visibility for their films in Leipzig," she said. "They really appreciate the audiences here and, even when they have late-night screenings, the people are still asking questions an hour after the film has finished."
Pasanen pointed out that the festival's business dimension, DOK Industry, is also growing: around 1,750 professionals from 76 countries attended the week's programme of pitching events, workshops, and panels, and 750 individual meetings were organised for the Co-Production Meeting alone.
She added that two German productions - Matthias Kossmehl's documentary Heimatfilm Cafe Waldluft and Stefan Eberlein and Manuel Fennn's Parchim International - were the two most viewed titles in the DOK Market videotheque.
Looking to the festival's future development, Pasanen said that she would be looking to fine-tune the selection and curation of documentaries and animated films together. "It's a big change in the selection process but that's more of an internal challenge for us to master."
Call for festival fund
"When it comes to the tough competition between festivals, we need a festival fund for us to really be able to have an international impact," Pasanen suggested.
She said that "concrete steps" have been taken to create a fund - similar perhaps to the IDFA Bertha Fund - to be launched either next year or in 2017.
The fund's support would not necessarily be restricted to a project's development, but could conceivably be used as finishing money, and would also include a workshop element.