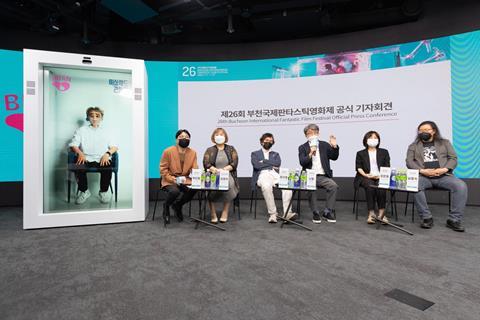 The 26th Bucheon International Fantastic Film Festival (BIFAN) will open with British director Alex Garland's Cannes horror title Men and close with the world premiere of Korean director Jung Bum-shik's New Normal.
At a press conference in Seoul today (June 14), BIFAN organizers announced it will screen 268 titles from 49 countries. Of these, 80 titles will be world premieres and 20 international premieres.
BIFAN will run July 7-17 with the awards ceremony and closing film screening on July 14.
The festival plans to continue screening part of its selection on the OTT platform wavve, but is putting an emphasis to getting back to normal and celebrating cinema in physical gatherings.
"User experience is important for our festival-goers and citizens of Bucheon and Korea. So in accordance with our characteristic of fantasy, we are preparing a festival with Halloween in July – a Bucheon-style, Asian-style interpretation of Halloween where we can have an ice party in hot, humid summer," said festival director Shin Chul. "The dream is to make it like Oktoberfest or tomato fest and we're bringing in professionals to make it happen."
The Halloween in July event will work with the community – including festival venues and hotels, commercial districts and a local arts school - to include parades, dance parties, water gun fights, costume-wearing and a junk art garden.
A24's countryside body-horror film Men, starring Jessie Buckley, Rory Kinnear and Paapa Essiedu, picked up buzz when it screened in Cannes Directors' Fortnight last month. Shin noted it is the rare R-rated film to open BIFAN.
"So it won't be able to be screened outdoors," he said. The opening ceremony is to take place Bucheon City Hall Lawn Square with the screening in City Hall's main theatre.
Closing film director Jung is known for his horror films Epitaph and Gonjiam: Haunted Asylum. His latest film New Normal records four days in Seoul, 2022, a time of chaos, loneliness and exhaustion, "creating cutting-edge horror and suspense" according to Shin. The film stars Choi Ji-woo, Lee Yoomi, Choi Min-ho, Pyo Ji-hoon, Jung Dong-won, and Ha Da-in.
Revamped programme
This year, BIFAN has revamped all its sections except the Bucheon Choice and Korean Fantastic competitions. Head programmer Ellen Kim explained the Mad MaxX section will introduce master filmmakers' new works and other sections such as Adrenaline Ride, Metal Noir, Merry-Go-Round, Odd Family and XL are all meant to "allow viewers to choose and watch films to suit their tastes."
The Bucheon Choice: Features competition includes world premieres of Gilitte Leung's nightmare about smartphones and games, Social Distancing, and Fajar Nugros' The Womb, a tale of shamanism and curses seen through the eyes of a modern character.
Lertsiri Boonmee and Vutichai Wongnophadol's SLR, a previous It Project selected by BIFAN's Network of Asian Fantastic Films (NAFF), and 23-year-old director Hoya Seiyo's Alien Artists will make their international premieres in this section.
All but one of the ten Korean Fantastic: Features competition films will be making world premieres. Programmer Mo Eunyoung said, "We're starting to see the fruits of the seeds of interest we have been sowing. There are a lot of films that are full of momentum and energy. I think it will be good if you pay attention to how it is reborn as new talent for the future of Korean cinema."
Special showcases include one on actor Sul Kyung-gu, screening seven films of his own choosing including Peppermint Candy, Oasis and The Book Of Fish; a retrospective of films from the Korean Academy of Film Arts (KAFA) which is about to celebrate its 40th anniversary next year; and Boys, Be, Love, a showcase of Boy Love (BL) films.
BIFAN will host international guests such as director Harada Masato (Killing For The Prosecution), who will head the Bucheon Choice: Features jury which includes producer Kang Hye-jung, actress Sim Hye-jin and critic Nick James, and producer Brian Yuzna (Re-Animator) who is dean of this year's Fantastic Film School.
Beyond Reality
BIFAN's XR curator Jay Kim, who is currently attending the Annecy film festival, presented the Beyond Reality programme at the Seoul press conference through a hologram device called Proto which showed him projected in a box, life-size next to his colleagues onstage.
"Although it is visually interesting, the aim for using Proto was to see if viewers could accept this sort of teleportation. The metaverse depends on whether people can accept a concept that transcends established time and space," he explained to Screen after the event. "We plan to make Proto available to festival attendees so they can try it out, too."
Celebrating its seventh anniversary, the Beyond Reality programme will showcase 42 works such as Moon Joon Yong's Augmented Shadow: Chasing Stars In Shadow, an XR installation that doesn't require headsets. Kim described it as "immersive with a fun and moving story", recommending it as a rare experience. Kwon Hayoun's Kubo Walks The City lets the viewer walk with novelist Kubo - a character in a modern Korean short story - in the streets of 1920s Japanese-occupied Seoul.
The BIFAN Industry Gathering (BIG) will continue its on- and offline hybrid format shifting increasingly to the physical, including in-person masterclasses and talks that will go online to YouTube. Previously announced NAFF selections include projects from Maika director Ham Tran and a Japan-Ireland co-production directed by Kameyama Mutsumi.