This year's Asian Film Market has been streamlined to keep the focus on business and deal-making, while a spotlight on transmedia projects offers new opportunities.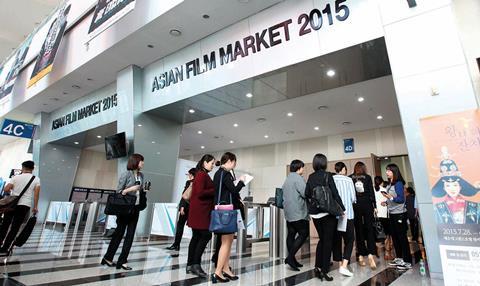 The Asian Film Market (October 8-11) at Busan International Film Festival (BIFF) has been steadily attracting an increasing number of international buyers and sellers in the past few years.
It has launched an Entertainment Intellectual Property (E-IP) Market focusing on transmedia content to complement its well-established Asian Project Market (APM) which runs from October 9-11. (To avoid confusion with the American Film Market, the Asian Film Market never uses the acronym AFM.)
For international buyers in town to look for Asian content, as well as international sales companies aiming to sell content into Asia, Busan is an invaluable meeting point in between the other festivals and markets which flank it.
"[The] timing is good for us because it's after Toronto but before AFM, and although you may see some of the same companies at all three, there are still a number of companies that do not attend either," says Doris Pfardrescher, president and CEO of Well Go USA, who feels she needs to attend Busan to acquire enough content for Well Go to stay at the top of its game distributing Asian films in North America.
Prime position
It is a similar story for many European companies. "After Cannes and in between Toronto and AFM, Busan is very useful for seeing clients from territories like Taiwan, Hong Kong, Japan and Korea," says Nicholas Kaiser, sales and acquisitions executive at Paris-based Memento Films. "I always sign two to three deals and then there's always China VoD that can happen, too."
BIFF's budget cuts this year translate to "fewer side events and more focus on deal-making" says Asian Film Market/Asian Project Market selection committee member Susan Chae. The market last year had a modest budget of around $1.08m (won1.2bn), which was reduced this year to $903,360 (won1bn).
Locations and post-productions fair BIFCOM this year is focusing on business meetings in the Paradise Hotel, so the Asian Film Market floor space will be much reduced. But Chae says registration is on the rise. By late September, the Asian Film Market had registered 548 companies from 46 countries, up from last year's 535 companies from 42 countries.
This year's participants include China's Iqiyi, Huace Union Pictures and Baidu; Japanese stalwarts such as Gaga, Nikkatsu, Toei and Kadokawa — despite TIFFCOM starting less than two weeks later; Gaumont, Wild Bunch, Reel Suspects, Trust Nordisk and Splendid Film from Europe; and the local companies led by CJ Entertainment, Finecut and M-Line Distribution.
Although foot traffic can sometimes be quiet in the corridors, pre-booked meetings usually buzz along inside stands, so Busan can be a cost-effective market. Sales booth prices range from $1,610 for nine sq m to $5,850 for 54 sq m, with a 30% discount for early-bird registration. (To compare, Hong Kong Filmart 2017 is offering booths from three sq m for $2,670 and up. A nine sq m booth goes for $4,785 and a 54 sq m booth goes for $23,369, with 5% off for early-bird registration.)
Asian Film Market booths all come with five nights' accommodation and between two and eight free market badges, depending on booth size. Exhibitors can also opt for an $800 pop-up stand which comes with one market badge but no hotel nights, or 'raw space' subject to rates upon inquiry. For companies attending under umbrella stands such as the one European Film Promotion (EFP) sets up annually, it can be even cheaper.
"We have support from the EFP so it's not that expensive," says Memento's Kaiser. "It's a very business-oriented environment. We're there only three days so it's better to have everybody working in one place like that, rather than going out of the BEXCO."
Standing apart
Focusing on Korean content —although this may change in the future — the E-IP Market comprises the E-IP Pitching event for web comics, web novels, scripts and other mobile platform content, the Book to Film event and the E-IP Forum and Legal Seminar.
Chae believes the E-IP Market sets itself apart from other content markets. "You can usually see remake rights sold at markets like TIFFCOM or Filmart, but there isn't any other place that brings together original source material to be developed into transmedia content for multiple platforms from the planning stage," she says. "Conglomerates can do this in-house, but small and medium-sized businesses need a place to meet. Fifty per cent of last year's E-IP Market projects signed deals."
This year's E-IP Pitching selections include the Naver web comic Check Point, Dahci Ma's script Bluebeard's Castle and An Jongjun's web novel Sprinter: Underworld.
Book to Film selections include Kim Kyung-uk's novel based on a true story Time Between Wolf And Dog, Lee Ha's thriller Monster Hunter and Oh Ji-hye's historical romance Chunyeondang Photo Studio.
ASIAN PROJECT MARKET 2016
This year's Asian Project Market (APM) is showcasing up-and-coming talent with a selection that includes the thriller Mountain Eyes — the new feature from Serbian director Pavle Vuckovic, who made a splash at Cannes last year with Panama, which screened in Special Screenings — and Ningdu, the debut feature animation from Hong Kong-China director Lei Lei.
Women are represented by film-makers including Malaysia's Tan Chui Mui, who is at APM with her coming-of-age drama All About Yuyu; Latvian director Laila Pakalnina, who is making an Estonian-Latvian fantasy called Insect Night; and Thai director Pimpaka Towira, who is working on a drama about an army officer, a masseuse and a journalist called The General's Secret. The projects were chosen by selections committee member Susan Chae, BIFF executive programmer Kim Ji-seok and Korean Cinema programmer Nam Dong-Chul, who considered 10-page treatments, film-maker backgrounds, budgets and plans in order to choose the final 27 projects.
Recently completed APM films include Yang Chao's Crosscurrent, which screened in Competition at Berlin earlier this year, Joko Anwar's A Copy Of My Mind, which was in Venice's Horizons section in 2015, and Davy Chou's Diamond Island — also a recipient of Busan's Asian Cinema Fund — which premiered in Cannes Critics' Week this year and is screening in Busan in A Window on Asian Cinema.
Full APM project list:
All About Yuyu (Mal) Dir Tan Chui Mui, Prod Foo Fei Ling
Aylan Kurdi (Iran-Tur) Dir Batin Ghobadi, Prod Bahman Ghobadi
Beautiful Shadows (Indon) Dir Nan T. Achnas, Prod Nurman Hakim
Blame It On My Youth (Taiw) Dir Wang Wei-ming, Prod Yu Wei-yen, Jay Miao
The Chrysanthemum And The Guillotine (Jap) Dir Zeze Takahisa, Prod Sakaguchi Kazunao, Takamatsu Miyuki
The Cold-Blooded Penguin (S Kor) Dir Jang Kunjae, Prod Kim Woori, Kim Hwabeom, Youn Heeyoung
Cu Li Never Cries (Viet) Dir Pham Ngoc Lan, Prod Phan Dang Di
The Emperor (S Kor) Dir Min Byung-Hun, Lee Sang-Hun, Prod Kim Suk-bum
The French Woman (S Kor) Dir Kim Hee-Jung, Prod Yoo ByungOk
The Gambler (HK) Dir Freddie Wong, Prod Freddie Wong
The General's Secret (Thai) Dir Pimpaka Towira, Prod Donsaron Kovitvanitcha
The God Of Karatas Village (Kaz) Dir Adilkhan Yerzhanov, Prod Olga Khlasheva
The India Story (Ind) Dir Suman Ghosh, Prod Suman Ghosh
Insect Night (Lat-Est) Dir Laila Pakalnina, Prod Laila Pakalnina, Kaspar Kallas
Love And Vengeance (Indon) Dir Edwin, Prod Meiske Taurisia, Lorna Tee, Muhammad Zaidy
Mountain Eyes (Ser) Dir Pavle Vuckovic, Prod Tatjana Zezelj Gojkovic
Ningdu (HK-Chi) Dir Lei Lei, Prod Isabelle Glachant, Liang Ying, Lei Lei
Paradise Lost (S Kor) Dir Gina Kim, Prod Kim Seonah
Parvona (Ind-Taj) Dir Sharofat Arabova, Prod Pushpendra Singh
Project Lee Jung-Seob (S Kor) Dir Yim Soon-rye, Prod Jason Chae
Sayakbay. Homer Of The 20th Century (Kyrg) Dir Ernest Abdyjaparov, Prod Samatbek Ibraev
Silence (Kaz) Dir Yerlan Nurmukhambetov, Prod Julia Kim,
Starring Ranbir & Hrithik (Ind) Dir Sanjoy Nag, Prod Sanjoy Nag
Stone Land (Iraq-Jap-Ger) Dir Shawkat Amin Korki, Prod Mehmet Aktas, Shohreh Golparian
Undefined (S Kor) Dir Seo Eunyoung, Prod Park Youngsoo
White Building (Cam-Fr) Dir Neang Kavich Prod Davy Chou, Marine Arrighi De Casanova, Steve Chen
Youth And Other Stories (Jap-Fr) Dir Fukada Koji, Take Masaharu, Matsunaga Daishi, Uchida Eiji, Prod Bryerly Long