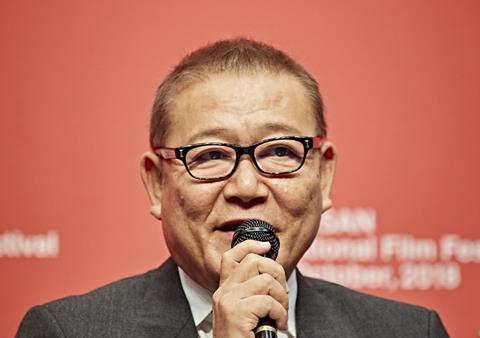 Busan International Film Festival (BIFF) officially apologised today to New Currents jury member Kunimura Jun after the Japanese actor was criticised in his country's media for remarks he made at the jury press conference on October 5.
The veteran actor, whose credits include Godzilla Resurgence, Kill Bill Volume 1 and Outrage, is best known in Korea for his role as a demon in Na Hong-jin's supernatural thriller The Wailing.
In recent weeks, Koreans had been protesting the Japanese navy's planned use of the "rising sun" flag while participating in an international fleet review set for October 10-14, hosted by South Korea near Jeju Island.
Many in Asia see the flag, which depicts a red sun with rays extending outward, as a symbol of Japan's expansionist aggressions leading up to and during the Second World War. In South Korea, it is also often referred to as the "war criminal flag".
In what seemed a move to address recent outcry, South Korea's navy requested that participating countries only fly their national flags at their event. But Japanese officials on October 5 – the day of BIFF's New Currents jury press conference – announced they would not participate if not allowed to fly the rising sun flag, saying it is mandatory on Japan's naval ships.
Asked by a local reporter what he thought of the matter, Kunimura suggested it was inappropriate to fly the flag.
"I understand deeply that generations that preceded us, and especially Koreans, think differently about the flag," the actor said. "The Self-Defence Force would say that they cannot concede because it is their tradition, but I wonder how it would be if they could give past history a thought."
He added: "Actually, the Abe administration takes a conservative position on all fronts, not just about the rising sun flag, and is causing several social problems. In terms of this issue, not as an actor but personally, I don't think it is desirable."
Once this was reported in Japan, the backlash against the actor was harsh and it is understood Kunimura's representatives were even considering returning him home in the middle of the festival.
BIFF festival director Jay Jeon said in a statement sent out to the press in Korean, English and Japanese: "Questions about sensitive aspects of Korea-Japan relations came up at a press conference and I am afraid to say that Mr Kunimura is suffering extreme mental and emotional pain due to a series of illogical speculations and misunderstanding. The issues at question are such that they would need months of discussion. A brief session of press conference is in no way enough to give us the answers to the problems that have been around for more than a century."
He added: "As the main host of Busan International Film Festival, I would like to apologise for not being sufficiently prepared for such an unfortunate incident. I think it is possible for us to share political opinions at film festivals, but I also do believe that guests from overseas should be protected from illogical speculations and misunderstanding. Busan International Film Festival will do our level best to ensure that guests are not exposed to unnecessary and painful misunderstandings and speculation in the future."
An official response sent out by Kunimura said: "I'm not someone who digs deeply into issues, but even someone like myself thinks about some issues at times. In this world, there are few places without conflict, but do we really want to live in conflict? Well, I don't think so, and I think we can pass that message on to our children and other grown-ups through films.
"I believe that many films are made all over the world as we are all eager to find out why we're in such a terrible situation. We visit film festivals with the films we have made. So, I hope that a film festival can be a place where everyone's thoughts and opinions are mixed, melted, and crystallised into beautiful results."
He ended by thanking "everyone who runs the 23rd Busan International Film Festival and the citizens of Busan who have given such hearty and continued support and hard work."
Busan's New Currents jury is headed by Korean filmmaker Kim Hong-joon and also includes Macedonian actor and producer Labina Mitevska, Hong Kong producer Nansun Shi and Sydney Film Festival director Nashen Moodley.