Selection includes films from Siddiq Barmak, Yoon Gaeun and Min Bahadur Bham.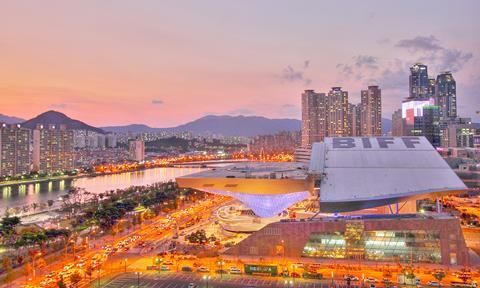 In South Korea, the Busan International Film Festival (BIFF)'s Asian Project Market (APM) has announced 28 titles from 17 countries for this year.
The 20th APM's selection includes projects from Golden Globe best foreign language film award winner Siddiq Barmak (Osama) and Berlinale Generation director Yoon Gaeun (The World Of Us).
Afghan filmmaker Barmak's Georgia-France co-production The Pass is a wartime drama about two soldiers from opposite sides who are forced to cooperate in order to cross a dangerous mountain pass alongside refugees.
Korean director Yoon's Sora is a drama about a middle school girl who finds out a secret about the new kid in the neighborhood.
According to organizers, the number of projects submitted to APM this year went up "almost 25%" from the previous year to reach 317. In the 19 previous years, "a total of 499 projects have been selected with more than 220 of these projects realized into films."
East-West collaborations amongst this year's selection include Nepalese director Min Bahadur Bham's A Year Of Cold, which has award-winning French producer Catherine Dussart (The Missing Picture) attached, and Hong Kong director Ray Yeung's Suk Suk, which has American producer Michael J. Werner (Tokyo Sonata) attached.
Other projects include Gasoline from Korean director Oh Seung-uk, whose The Shameless was invited to 2015 Cannes' Un Certain Regard; Dirty, Difficult, Dangerous from Lebanese-French filmmaker Wissam Charaf whose Tombé Du Ciel was selected byFrance's Association for the Diffusion of Independent Cinema (ACID) for its 2016 Cannes showcase, and Francis Chit Of Siam, a suspense drama from Thai veteran Nonzee Nimibutr (Nang Nak), based on the story of the first photographer at Siam's royal court.
Since Asian Film Market head Jay Jeon was put on leave last year pending fraud charges and subsequently resigned in late 2016, Asian Film Market general manager Daniel Kim has been taking responsibility for market operations including the APM. (Deputy director Kim Ji-seok was advising until his untimely death in Cannes this year.)
The Asian Film Market will run Oct 14-17 with the three-day APM starting Oct 15 at the BEXCO Exhibition Center II. The 22nd BIFF runs Oct 12-21.
Full APM 2017 selection
(title/country/director/producer)
Black Cattle (Japan) dir. Tsuta Tetsuichiro, prod. Ichiyama Shozo
Dawn (working title) (Japan) dir. Hirose Nanako, prod. Nishikawa Asako
Death of Insane (India) dir. Sanal Kumar Sasidharan, prod. Shaji Mathew
Dirty, Difficult, Dangerous (France, Lebanon) dir. Wissam Charaf, prod. Charlotte Vincent
Doi Boy (Thailand) dir. Nontawat Numbenchapol, prod. Steve Chen, Supatcha Thipsena
Francis Chit Of Siam (Thailand) dir. Nonzee Nimibutr, prod. Nonzee Nimibutr, Namon Pongvilai
Gasoline (Korea) dir. Oh Seung-uk , prod. Han Jae-duk
Glorious Ashes (Vietnam) dir. Bui Thac Chuyen, prod. Tran Thi Bich Ngoc
The Gospel Of The Beast (Philippines) dir. Sheron Dayoc, prod. Sheron Dayoc
Herstory (working title) (Korea) dir. Min Kyudong, prod. Min Jinsoo
His Son, Our Sun (Korea) dir. Lee Hyuksang, prod. Hwang Hei-Rim
The Horse Thieves (Kazakhstan, Japan) dir. Yerlan Nurmukhambetov, Lisa Takeba, prod. Julia Kim
Humba Dreams (Indonesia) dir. Riri Riza, prod. Mira Lesmana
I am 14 Years Old (Korea) dir. Nam Yeonwoo, prod. Lee Wanghyung
Increasing Echo (Taiwan) dir. Chienn Hsiang, prod. Chen Pao-Ying
Iran K9 (Iran) dir. Vahid Vakilifar, prod. Maryam Najafi
Revenge (China) dir. Li Xiaofeng, prod. Shen Yi
See Me in You (China) dir. Shu Haolun, prod. Nai An, Le Bei
Shade (Philippines) dir. Loy Arcenas, prod. Alemberg Ang
Sing, Sally (working title) (Japan) dir. Kawaguchi Hirofumi, prod. Kakurai Makoto
Sora (Korea) dir. Yoon Gaeun, prod. Kim Jihye
Suk Suk (Hong Kong, China) dir. Ray Yeung, prod. Michael J. Werner
The Pass (Georgia, France) dir. Siddiq Barmak, prod. George Ovashvili, Guillaume De Seille
Three Sisters (Korea) dir. Lee Seungwon, prod. Kim Sangsu
The Three Women From Myanmar (Myanmar) dir. The Maw Naing, prod. The Maw Naing, Oh Youngjeong
Voracious (India) dir. Bhaskar Hazarika, prod. Poonam Deol, Shyam Bora
Wrong Man (Sri Lanka) dir. Prasanna Vithanage, prod. Iranthi Abeyasinghe
A Year Of Cold (Nepal, France, Germany) dir. Min Bahadur Bham, prod. Catherine Dussart, Anna Katchko, Min Bahadur Bham