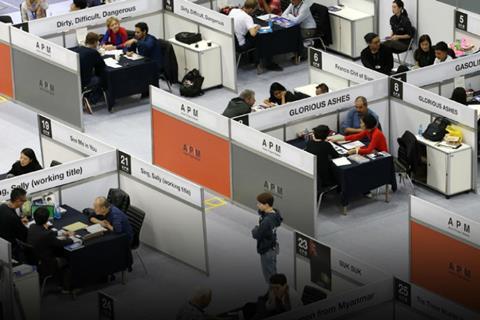 The Asian Project Market, the biggest investment and co-production market in Asia, is to shift online due to the Covid-19 pandemic.
The industry platform, which takes place during the Busan International Film Festival (BIFF), will run as a virtual event from October 12 to 14 alongside the Asian Contents and Film Market, which previously announced it would run as a hybrid event.
This year will feature 22 projects, which is down on the 29 titles presented in both 2018 and 2019.
The selection includes Ripple Of Life by Chinese director Wei Shujun, whose latest film Striding Into The Wind received a Cannes 2020 label, and Japanese director Koji Fukada, whose drama The Real Thing was also granted a Cannes label. Fukada won the jury prize in Cannes' Un Certain Regard section in 2016 with Harmonium.
Several projects in the line-up are from filmmakers that previously won awards at BIFF.
They include Vietnamese director Tran Thanh Huy, winner of BIFF's New Currents Award in 2019 with Rom, whose latest project is Tick It. Bhutanese filmmaker Tashi Gyeltshen, who won the Fipresci prize in 2018 with The Red Phallus, has also been selected with his new feature A River In The Mirror.
Filipino director Sheron Dayoc, winner of BIFF Mecenat Award in 2016 with The Crescent Rising, will present 6th Finger, while Kazak filmmaker Elzat Eskendir who won the Sonje Award in 2016 with short Off-season, will present Abel.
Bangladeshi director Mostofa Sarwar Farooki, whose film Television closed BIFF 2012, will present new feature A Burning Question.
Six Korean projects in the selection include The Survivor from director Kim Seungwoo, whose debut feature Bring Me Home received its world premiere at Toronto 2019. Director Ahn Jaehuun, who won a jury distinction prize at this year's Annecy with The Shamen Sorceress, will present his latest animated feature A Thousand Years Together.
Since its launch in 1998, APM has presented 585 projects, of which more than 250 have been made as films.
Asian Project Market 2020 titles
6th Finger (Phil)
Dir. Sheron DAYOC
Pro. Alemberg ANG
Abel (Kaz)
Dir. Elzat ESKENDIR
Pro. Anna VILGELMI
A Bite of the Cosmos (Kor)
Dir. SHIN Dongseok
Pro. JE Jeongju
A Burning Question (US-Bang)
Dir/Pro. Mostofa Sarwar FAROOKI
Pro. Shrihari SATHE, Nusrat Imrose TISHA
Castle Peak (Tai-HK)
Dir. Rita, Nga Shu HUI
Pro. Arden, Ching I TENG
Commodity (Ind)
Dir. Kislay
Pro. Shwetaabh SINGH
The Elysian Field (Ind)
Dir/Pro. Pradip KURBAH
Flowers Of Mold (Kor)
Dir. SHIM Hyejung
Pro. KIM Suntae
Hanging Gardens (Iraq-UK-Swe)
Dir. Ahmed Yassin AL DARADJI
Pro. Huda AL KADHIMI, Margaret GLOVER, Shaker K. TAHRER
Lava (Chi)
Dir. QU Youjia
Pro. XIE Meng
Love Life (Jap-Fr-Kor)
Dir. FUKADA Koji
Pro. KAMEDA Yuko, OYAMA Yoshito, SAWADA Masa
Nowhere To Hide Ii (Kor)
Dir. LEE Myungse
Pro. KANG Moonseok, LIM Wontaek
Quicksand (Indo)
Dir. Luthfan NUR ROCHMAN
Pro. Yuki Aditya HUSANDY
Ripple Of Life (Chi)
Dir. WEI Shujun
Pro. CHEN Hong
A River In The Mirror (Bhu-Nep)
Dir. Tashi GYELTSHEN
Pro. Ram Krishna POKHAREL, Tashi GYELTSHEN
Romeo Crème Brulee (Tai)
Dir. KUO Dawei
Pro. HSU Li-Kong, LIN Jong
Song Bird (Sri L)
Dir. Prasanna VITHANAGE
Pro. Susara DINAL
The Survivor (Kor)
Dir. KIM Seungwoo
Pro. NAM Sora
A Taegueki Boy (Kor)
Dir. JEONG Heejae
Pro. SEO Yunhee
A Thousand Years Together (Kor)
Dir. AHN Jaehuun
Pro. HAN Seunghoon
Tick It (Viet)
Dir. TRAN Thanh Huy
Pro. NGUYEN Bao, BUI LE Nhat Tien
Who Created Human Beings (Viet-Sing)
Dir. LE Binh Giang
Pro. LE Quynh Anh, Panuksmi HARDJOWIROGO