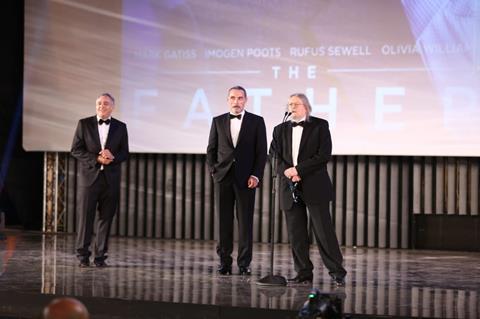 A streamlined edition of the Cairo International Film Festival (CIFF) kicked off on Wednesday evening with a special video message of solidarity and support for the event and its director Mohamed Hefzy from the heads of the Berlin, Cannes and Venice film festivals.
"I wish I was there with you tonight attending the opening ceremony," said Venice Film Festival director Alberto Barbera, who was one of the few A-list festival directors able to hold a physical edition this year. "We need cinema and we need to show it is alive."
"In these times when we're feeling lonely and disconnected, I believe stories told through cinema are the best way to unite," said Carlo Chatrian, co-head of the Berlinale, the 2021 edition of which is looking increasingly fragile.
"We need Cannes, Venice, Locarno, Berlin and Cairo," said Cannes delegate general Thierry Frémaux, who was unable to host a physical edition of his festival this year.
Egypt's oldest festival and the only official A-list festival in the region, CIFF runs December 2 to 10. It will be one of the last big festivals to run in 2020, in what has been a turbulent year for the entire world festival circuit.
For the opening night at the Cairo Opera House, guests hit the red carpet in the black-tie, gowns and masks. Some 200 international guests are expected to attend in spite of the obstacles around travel due to the coronavirus pandemic.
Florian Zeller's The Father, starring Anthony Hopkins and Oliver Colman, was the opening film. It originally premiered at Sundance earlier this year and then went to play at most of the key festivals that were able to run physical events, including Zurich and San Sebastian, where it won the main audience award.
Oscar-winning playwright and screenwriter Christopher Hampton, who wrote the screenplay, was feted at CIFF's opening night with a Golden Pyramid Lifetime Achievement Award. Supporting cast member Rufus Sewell has also accompanied the film to Cairo.
Egyptian author and screenwriter Whahid Hamid, Egyptian author was also presented with a lifetime achievement award while Egyptian actress Mona Zaki received the Faten Hamama Excellence Award for her work in cinema.
Egyptian director Yousry Nasrallah also took to the stage to talk about Italian director Federico Fellini. CIFF is celebrating the late director's centenary by showing restored copies of four of his most famous films, Nights of Cabiria, La Dolce Vita, 8 1⁄2 and Juliet of the Spirits.
Other opening night attendees included this year's jury president Russian filmmaker Alexander Sokurov as well as jurors German filmmaker Burhan Qurbani, Egyptian producer Gaby Khoury, Brazilian producer Karim Ainouz, Egyptian film star Lebleba, Mexican film star Naian Gonzalez Norvind and Palestinian filmmaker Najwa Najjar.
Norvind is also at the festival to accompany Mexican director Michel Franco's drama New Order, which is among nine Out of Competition titles screening in the programme alongside Bassam Tariq's Mogul Mowgli, Andrey Konchalovskiy's Dear Comrades and Chloé Zhao's Nomadland.
CIFF director Hefzy and his team have pulled together a compact programme of 83 films this year, 52 of which are Middle East and North Africa premieres.
The international competition, which comes with a $15,000 cash prize, features 15 titles including Egyptian director Islam Azzazi's drama About Her, Palestinian directorial duo Arab and Tarzan Nasser's Gaza Mon Amour and French filmmakers Fanny Liatard and Jérémy Trouilh's Gagarine.
Outside of the main international competition, Arab cinema is also being showcased in the Horizons of Arab Cinema Competition, which spans six titles including Lebanese director Wissam Tanios's We Are From There and Moroccan filmmaker Mohamed Mouftakir's The Fall Of Apple Trees.