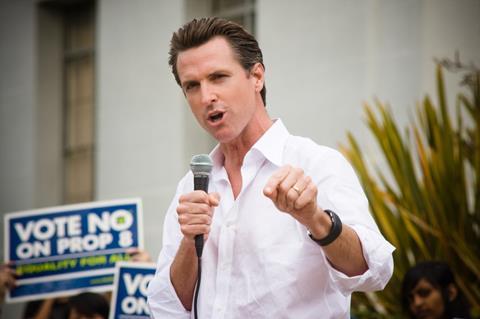 California governor Gavin Newsom has said cinemas and other indoor businesses in Los Angeles County and 18 other counties should remain closed as the number of Covid-19 cases soars heading into the July Fourth holiday weekend.
Speaking at his press conference on Wednesday (July 1) Newsom said the new guidance was expected to remain in place "for at least three weeks".
Los Angeles is one of the key cinema-going markets in the US and a huge box office driver alongside New York City. The studios and other distributors are tracking all Covid-19 measures coming out of Los Angeles and California closely.
This week the major US exhibitors pushed back their reopening plans. AMC Theatres will start on July 30, Cinemark on July 24, and Cineworld-owned Regal on Jul 31.
Warner Bros has postponed the release of Tenet until August 12, and Disney has rescheduled Mulan for August 21. All dates are accurate at time of writing and the exhibition and distribution sectors occupy a dynamic environment prone to change at any minute.
State and county officials are scrambling to avert public gatherings and stave off what they fear could become another catastrophic rise in the level of Covid-19 infections after a week that has brought a gloomy string of records.
Governor Newsom said California reported 5,898 new cases on Tuesday (June 30) as the number rose above 233,000. The number of infected people in Los Angeles County has crossed 103,000.
The state rolled into reopening in early May and some reports have attributed the sharp rise in cases to mass gatherings over the Memorial Day holiday period in the last week of May.