Other winners of the independent jury awards at the Berlin Film Festival include Stations of the Cross, At Home and documentary The Square.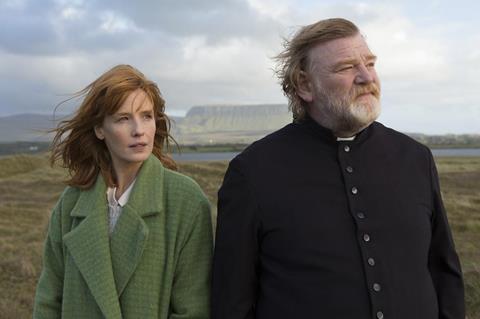 Ahead of this evening's glitzy Berlinale awards ceremony, when the winners of the coveted Golden and Silver Bears will be announced, the festival has revealed films chosen for additional prizes by the Independent Juries.
Richard Linklater's Boyhood, which was shot over a 12-year period and topped Screen's jury grid, picked up two awards: the Prize of the Guild Of German Art House Cinemas and the Berliner Morgenpost Readers' Jury Award.
The Ecumenical Jury named Dietrich Brüggemann's Stations of the Cross (Kreuzweg) best Competition film; John Michael McDonagh's Calvary best film in the Panorama strand; and Athanasios Karanikolas At Home (Sto spiti) best Forum film.
Jehane Noujaim's documentary The Square (Al midan), about the ongoing uprising in Egypt, added to its growing haul of festival prizes with the Amnesty International Film Prize.
Australian film 52 Tuesdays, which picked up the Crystal Bear for Best Film in Berlin's Generation 14plus strand, won the Else - Siegessäule Readers' Jury Award.
Winners list
PRIZES OF THE INDEPENDENT JURIES PRIZES OF THE ECUMENICAL JURY
Best Competition film
Stations of the Cross (Kreuzweg) by Dietrich Brüggemann
Special Mention
'71 by Yann Demange
Best Panorama film
Calvary by John Michael McDonagh
Special Mention
Triptych (Triptyque) by Robert Lepage, Pedro Pires
Best Forum film
At Home (Sto spiti) by Athanasios Karanikolas
AMNESTY INTERNATIONAL FILM PRIZE
The Square (Al midan) by Jehane Noujaim
FGYO-AWARD DIALOGUE EN PERSPECTIVE (€5,000)
Anywhere Else (Anderswo) by Ester Amrami
Special Mention
fog (nebel) by Nicole Vögele
PRIZE OF THE GUILD OF GERMAN ART HOUSE CINEMAS
Best Competition film
Boyhood by Richard Linklater
CICAE ART CINEMA AWARD
Panorama Jury
The Lamb (Kuzu) by Kutluğ Ataman
Forum Jury
She's Lost Control by Anja Marquardt
NETPAC PRIZE
A Dream of Iron (Cheol-ae-kum) by Kelvin Kyung Kun Park
and
Non-fiction Diary by Jung Yoon-suk
BERLINER MORGENPOST READERS' JURY AWARD
Boyhood by Richard Linklater
TAGESSPIEGEL READERS' JURY AWARD
Velvet Terrorists (Zamatoví teroristi) by Pavol Pekarčík, Ivan Ostrochovský, Peter Kerekes
ELSE - SIEGESSÄULE READERS' JURY AWARD
52 Tuesdays by Sophie Hyde
International Short Film Jury Prizes
DAAD SHORT FILM PRIZE
Person to Person by Dustin Guy Defa
BERLIN SHORT FILM NOMINEE FOR THE EUROPEAN FILM AWARDS
The Jury appoints as Berlin Short Film Nominee for the European Film Awards
Taprobana by Gabriel Abrantes