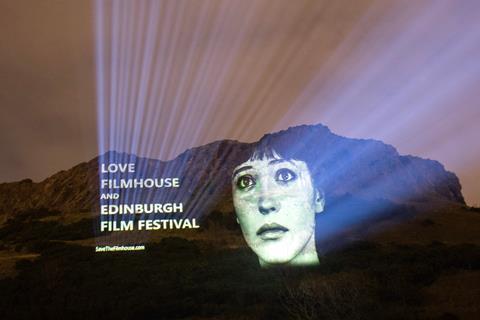 Images from classic films including Gregory's Girl, The Wizard Of Oz, It's A Wonderful Life, The Illusionist and Moonlight were projected onto buildings across Edinburgh on Monday (October 31) night, as part of a campaign to save the Filmhouse cinemas and the Edinburgh International Film Festival (EIFF), after parent charity, the Centre for the Moving Image, folded at the start of October.
The projections were organised by filmmaker Mark Cousins, who was EIFF artistic director from 1996-7, and form part of a public staff and filmmaker campaign to rescue the Filmhouse Cinema in Edinburgh and Belmont Filmhouse in Aberdeen.
The images included messages such as "A cinema is the heart of a city" and "EIFF and Filmhouse: windows on worlds".
Filmmaker Paul Sng alongside Amanda Rogers of Cinetopia started a petition to save the organisations, signed by more than 23,000 people.
Cousins said: "The campaign will bring together interested people across the city and further afield to lobby, monitor developments, advocate, share information, ensure transparency and fundraise. Creative responses to such crises are important too. I'd like to keep the flame alive, to express the love of Filmhouse and EIFF and their loss – our shock, grief and anger – by projecting images. Scottish and International films, classics and new movies."
Kristy Matheson, creative director of the most recent edition of EIFF, said, "Independent cinemas bring light and joy to local communities. A space for us to be together, commune with great directors, be energised by new voices and take comfort in knowing that no matter what the day has thrown, you can take yourself to the cinema, see familiar faces at the box office, and settle into your favourite seat to journey someplace new and emerge with your emotional tank refuelled – vive le cinéma!"